Games Beaten 2018
1. Letter Quest Remastered
Switch eShop
2. Batman
NES
3. Little Nemo: The Dream Master
NES
4. Mickey's Wild Adventure
PS1
5. Mario & Luigi: Dream Team Bros.
3DS
6. Layton's Mystery Journey: Katrielle and the Millionaires' Conspiracy
3DS
7. Nier Automata
PS4
8. Legacy of the Wizard
NES
9. The Legend of Zelda (starring Zelda)
NES
10. Tobu Tobu Girl
Game Boy
11. Rhyme Rider Kerorican
WSC
12. Sonic Advance 3
GBA
13. Wonder Boy: The Dragon's Trap
PS4
14. Super Adventure Island
SNES
15. Dynamite Cop
DC
16. Pokkén Tournament
Wii U
17. Mega Man 7
PS4
18. Rhythm Tengoku
GBA
19. Portal 2
360
20. Shinobi X
Saturn
21. Gravity Rush Remastered
PS4
22. Mario & Rabbids Kingdom Battle
Switch
23. Metroid Samus Returns
3DS
24. Shinobi
3DS
25. Resident Evil HD Remaster
PS3
26. Advance Guardian Heroes
GBA
27. Alien Storm
Mega Drive
28. Ecco: The Tides of Time
Mega Drive
29. Earthbound Beginnings
Wii U VC
30. Mega Man 8
PS4
31. Dragon Quest Builders
Switch
32. Vertical Force
Virtual Boy
33. Snipperclips Plus: Cut It Out,Together!
Switch
34. Conker's Bad Fur Day
Nintendo 64
35. Ever Oasis
3DS
36. Wario World
Gamecube
37. Solar Striker
Game Boy
38. Pop'n Twinbee
GBC
39. Halley Wars
Game Gear
40. Overcooked! 2
Switch
41. Fire Emblem: Fuuin No Tsurugi

GBA

*NEW*
Fire Emblem: Fuuin No Tsurugi
I'm a big fan of the Fire Emblem series, and the first game in the series I played was Fire Emblem, the GBA release and the first of the franchise to be localised outside of Japan. Unbeknownst to me at the time though, Fire Emblem was actually Fire Emblem: Rekka No Ken in Japan, and was designed to be a prequel to the previous game in the series – Fuuin No Tsurugi, the first of the GBA games in the series.
Fuuin No Tsurugi stars Roy, of Smash Bros fame (literally, he was in Melee before this game was actually released), on a quest to defeat the invading army of Bern led by the evil King Zephiel. Like most of the games in the series, the story is serviceable enough but isn't the main appeal of the game, and that's fine by me. It was interested to see what were essentially callbacks to the prequel from my perspectives, but were actually the original source of references in the prequel though.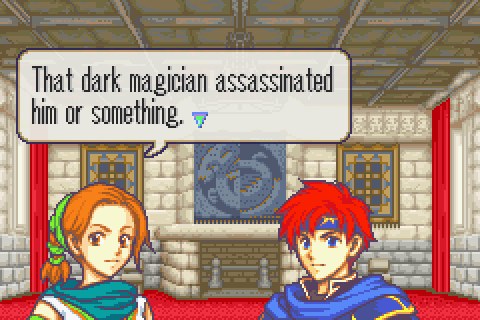 I'm not going to spend ages going into the mechanics of the game, because it's very much 'another day, another Fire Emblem' in that respect – nothing particularly new on display here for series veterans. The game features 20-something main chapters with a host of tough secret chapters to access as you play through – which normally require beating the previous levels in under a certain turn count or without a certain unit dying. Finding all 8 of these chapters unlocks the final two missions and the good ending, with the story finishing sooner otherwise. You're also rewarded with some very powerful weapons for each chapter, but if they break early you'll miss those last two chapters still, so you'll want to save them for the end.
Fuuin No Tsurugi seems to have a reputation amongst a couple of people here as being cheap or unfair, and I can see why some might think that. Enemies often spawn, move and attack in the same turn making them impossible to plan for, hit rates in general are much lower and less consistent meaning there's a bigger luck element to your attacks, and enemies are also equipped with some very tough weapons from early parts of the game, including the potentially deadly killer weapons which offer 30% critical hit rate boost. Late game has lots of magic users armed with status staffs who will reliably sleep, berserk or silence your units from across the map.
That said, I found the game to be challenging, but entirely manageable, and I had a great time playing through the game. The middle of the game was definitely the hardest, with some crazy missions that required to to handle objectives at different corners of the maps only a few turns apart in order to rescue everyone, but in all honesty, if you were playing Fire Emblem honestly then you would just have to suck it up and accept it and move on. I, like most other people, reset when I lose a unit, and the extra difficulty there just feels like a consequence of trying to cheat the system to me.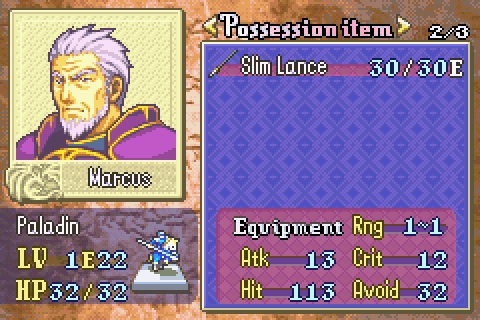 Like most Fire Emblem games, I felt like the difficulty curve is a bit off – in the early game enemies are much closer in stats to your unit, the middle features promoted units and stronger weapons which are a real threat to your units, but in the late game you have such a big stat advantage that the list of things which can truly threaten you is far smaller so you dominate the last few chapters with ease.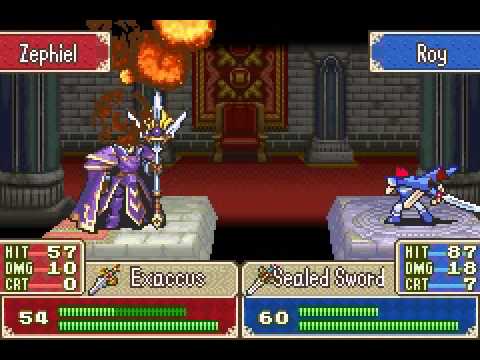 Overall, like I said, it's more Fire Emblem, and that's never a bad thing in my eyes. The GBA era of the series is my favourite as I think it's a nice balance between the more refined mechanics of modern Fire Emblem and the simplicity and focus of the gameplay of the older games. Whilst Fuuin No Tsurugi shows a few rough edges from being the first GBA game in the series which were fixed in the next game, I think it still holds up nicely and I had a great time playing it. Oh, and the translation patch I used is also pretty great, unlike some of the other games in the series which are a bit hit and miss in the translation department. Give the game a go if you can, it's a good time and I recommend it.
Recommended Listening:
Fire Emblem 6 has a solid soundtrack which is fairly memorable, but choosing a standout song was difficult - none of them other than the series' main theme really stand out as iconic to me. Here's a pleasant one though,
click the image below to take a listen: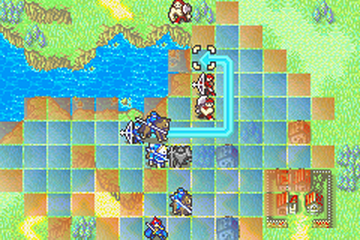 BONUS:
I love Fire Emblem on GBA's super dynamic and over the top animations. Here's a few gifs showing them off: