Well, I suppose I should finally get round to posting, huh. I've actually beaten 5 games so far this year and posted about 0 of them here
Games Beaten 2018
1. Letter Quest Remastered
Switch eShop
*NEW*
2. Batman
NES
*NEW*
3. Little Nemo: The Dream Master
NES
*NEW*
Letter Quest Remastered
Letter Quest Remastered is a puzzle game of sorts for Switch, but let's face it, it's actually a puzzle game for tablets. It looks like a mobile game, it plays like a mobile game, and it feels like it had a budget that was intended for a mobile game.
That's not to take away from the game though, which is a fun time waster. You play a grim reaper character who is trying to find pizza but is being accosted by evil bunnies for reasons which are never elaborated upon. Fighting enemies is done by making words out of 15 randomised tiles. The longer the words, the more damage you will do, and the harder to use the letters in it are, the more damage they're do. Thus, a word like Judgement will be exponentially more powerful that a word like Lair.
However, Letter Quest also has a layer of RPG-light mechanics baked in on top of this word puzzle gameplay. Enemies will attack you after each of your turns, and these can leave status effects on your tiles – rock tiles are unusable for a few turns, spike and poison tiles hurt you if used, tornado tiles change to a new letter each turn, virus tiles duplicate themselves (which sucks if a Q becomes viral) and more. This makes you carefully think about what words to play – sometimes taking damage is worth it to pull off a big attack, and at other times doing minimal damage to clear a problematic status effect tile is worth it too.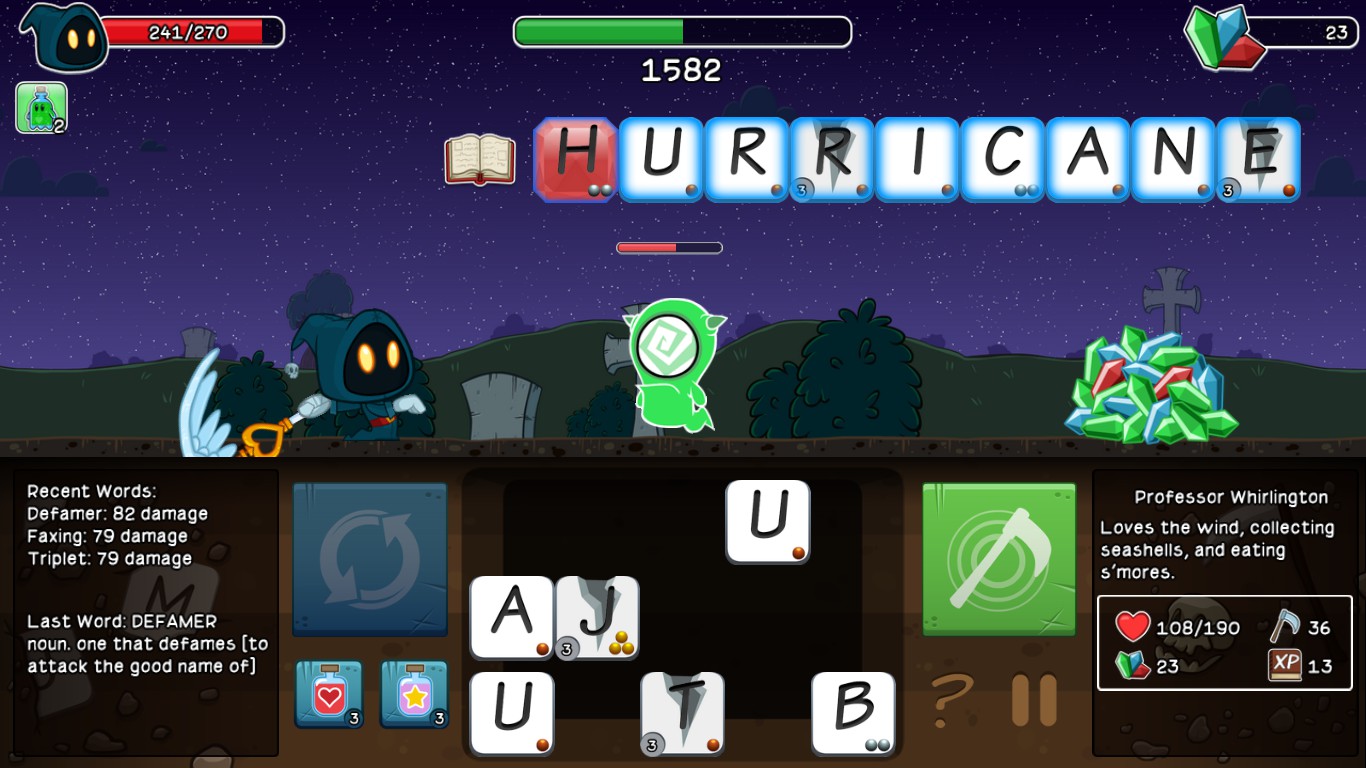 In addition, you can get crystals which are used to upgrades stats and provide buffs. There's the obvious hp, defence and attack buffs, but also more weird effects such as 'healing when you use the letter E' or 'Doing more damage if the word contains the same letter twice in a row'. You can also buy potions with your crystals to heal yourself in a pinch.
The game is fairly short at 30 stages, but each stage features 4 variations – the standard mode, a time attack version, a version with a limiting rule (like 'enemies do double damage' or 'Only letters from M-Z are available') and a hard mode version where enemies all have some kind of buff too (like 'only takes damage if 2 or more corner letters are used' or 'takes no damage from words containing the letter A').
Letter Quest is simple and fun, but it does get repetitive after a while. I found myself using the same words regularly too (Quince was a favourite!). It's worth a shot and is a great time filler, but don't expect a lot of depth. The art and music is kinda odd too and I'm not fond of the style. That said, I enjoyed my time with the game and it was a great game to play on my train journeys around Christmas and New Year. It's worth a crack if you like this kind of thing.
Batman
This was the first game I beat for Together Retro this month, and like all of the games I had picked out to play through, I was somewhat apprehensive about it. I'd played it a little bit before and found it very difficult, so I wasn't sure how it would go.
Well, I needn't have worried, because once you get into the groove, Batman isn't too bad difficulty wise. It's also a ton of fun to play, thanks to the versatility of Batman's moveset. Besides the usual running and jumping, Batman can also walljump, which is used extensively throughout the game. You also have a choice of 4 weapons, each of which has different uses. The punch is powerful and uses no ammo, so you'll use it a lot. Obviously the downside is it's range. Batarangs are fairly weak but can hit multiple times and have better range, but use 1 ammo a throw. The harpoon gun or whatever it is used 2 ammo and shoots right across screen, but it's slow and weak. I found it mostly worthless. Luckily, the spread shot, which uses 3 ammo, is fairly powerful, covers the length of the screen, and is incredibly useful, despite being an ammo hog.
The level design in Batman is pretty basic, and the design of the levels is not very exciting, but they offer lots of ways to use all of Batman's skills creatively to proceed. Health is limited, but later levels offer respawning enemy points which you can farm, Metroid style, to recover live and ammo. These can be frustrating though, as it's easy to get hit and lose some of your hard work.
Bosses are unfortunately not very inspired, and I found just spamming attacks was often the best strategy – even bosses who killed you before you could kill them had to make use of some spamming, and accepting you would take a few hits along the way.
Unfortunately despite my earlier comments about difficulty, the last stage of Batman does ramp it up considerably with an absolutely brutal gauntlet of wall jump through tiny gaps surrounded by damaging hazards and around dangerous enemies which ups the difficulty considerably. This is followed by 2 boss fights, both of which are rather challenging unfortunately, and were easily the worst part of the game. The Joker was definitely the worst, with inconsistent movements, hitboxes and damage output which meant that you could do the same thing on 2 separate ones, and have completely different levels of performances. A game over meant back to the start of the brutal final level, and that really sucked.
However, this brutal end gauntlet is an unfortunate blemish on a generally solid game. Sunsoft's music output on NES is fantastic, and this is another bit of evidence to support that statement. The gameplay is smooth, if demanding towards the end, and the level design is well constructed if a bit uninspired visually. Batman is a fun licensed game that's worth your time. But bring some patience, because that last level can hurt.
Little Nemo: The Dream Master
Here's the second game I beat for this months Together Retro, and it's another one I was concerned about the difficulty of. And it can be pretty tough – enemies are pretty aggressive, and nemo can't hurt them at all a lot of the time.
In Little Nemo, you play as Nemo on a quest to save Dream Land, which you do by feeding the local wildlife sweets. When certain animals eat 3 sweets, they start snoozing, and then you can jump into them to benefit from their powers. Sometimes you ride on the animals back, and sometimes you wear their skin in a slightly horrific way. Animal powers offer many benefits – some can attack, some can fit through small spaces, some can fly, or climb walls, or break blocks. You need to make use of all of these skills in order to scour the level thoroughly – because unfortunately, this game requires you to find hidden items to beat the levels. Most stages require you to find 5-8 hidden keys scattered throughout, and getting to the end of the level minus one key is all too common and depressing.
And it's this mechanic that killed off any enjoyment I had with this game initially. I found the aggressive enemy placement and the forced exploration gelled badly, and at a more basic level I just didn't find searching out the keys very fun. Eventually I gave up trying to play through this game legit, and came back armed with level maps to show where I could find the keys.
Armed with this information, Little Nemo started to become fun. Knowing where to go meant that the focus was on how to get there and not where to go in the first place, and swapping animal skills and progressing through the levels became far more enjoyable as a result.
The game still had it's flaws. I swear there are a few instances where I just couldn't see how avoiding damage was possible (a part where you climb a wall as the mouse whilst evil homing dandelion seeds rain down on you comes to mind), and the difficulty level was inconsistent too, with a spike during the last level, where you're forced to fight bosses for the first time using a magic wand.
However, thanks to unlimited continues, some persistence saw me through, and I saved the world of Dream Land and got a nice kiss which Nemo didn't seem to appreciate much. Whilst I enjoyed the game in the end, I still swear by the fact that playing it with maps is far more enjoyable, so if like me you can't get into the game legitimately, give that a go.
Overall, Little Nemo isn't a must own classic in my eyes, but it's a decent, affordable platformer that offers up some solid challenge on the NES. It's at least worth giving it a go.