Games Beaten in 2016 So Far - 100
January
(20 Games Beaten)
February
(8 Games Beaten)
March
(8 Games Beaten)
April
(13 Games Beaten)
May
(6 Games Beaten)
June
(13 Games Beaten)
July
(7 Games Beaten)
August
(15 Games Beaten)
September
(8 Games Beaten)
October
(2 Games Beaten)
100. Gears of War: Judgement - Xbox 360 - October 8
I first started Gears of War: Judgement two or three years ago, and I started playing it immediately after marathoning the first three games. I quit after about an hour because it just felt so...meh. Picking it up again years later when I remember next to nothing about the previous games except that I loved them, it's a much more enjoyable game. Judgement suffers from the same problem that plagued Halo 3, Bioshock 2, Soul Calibur III, and Star Trek: Elite Force II - it's a fantastic game, but because its predecessor was a much better game, it
feels
like a disappointment when directly compared. When you play it on its own without comparing it to its predecessors - either intentionally or subconsciously - it's actually quite a fun, enjoyable experience.
Most of the game takes place before the events of the first Gears of War game, although the extra campaign chapter - Aftermath - takes place during the events at the end of Gears of War 3 and is unlocked after earning a certain amount of stars in the main campaign. The story revolves around Baird (though I think we all played it just for more Cole), and truthfully, it's not bad. As I mentioned, it's just not as good as the previous games. The game's visuals are about what you'd expect from a late-in-life Xbox 360 exclusive - good but 95% just varying shades of grey and brown (gotta have that "edgy" color scheme).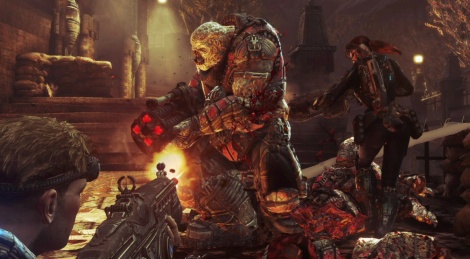 If you've played a Gears of War game before, then you know how the gameplay works. You run around as walking advertisement for anabolic steroids, shooting aliens in the face with your machine gun and cutting them in half with the chainsaw attached to it. They do nothing to break from the formula with Judgement. Where the game really shines in my opinion is the writing. It's not that the story is particularly revolutionary or outstanding (although I do love that it's told as a frame story), but the dialogue really makes the characters distinct and likable. This is especially true in each character's chapter. While you spend probably 2/3 of the game playing as Baird (he is the main character, after all), each of the other characters - Paduk, Cole, and Sofia - get a chapter in which he or she is the player character, so the dialogue is more from his or her perspective. It's nothing crazy different, but it does give a nice subtle variety.
All in all, I enjoyed Judgement once I finally got around to playing through the whole thing with some distance between me and the first three games. It's not a game that I would recommend the average gamer go pick up, but it's quite cheap these days, and I definitely
would
recommend the game for fans of the Gears series. I played it this weekend to finish up the already released games before Gears of War 4 comes out Tuesday, but unless you've already played Gears 1-3 and really enjoy the series, I can't say that there's a pressing need to go find this one.