1. Ys: The Oath in Felghana PSN
Vita
2. Final Fantasy XII: The Zodiac Age
Switch
3. Super Mario Party
Switch
4. Moss
PSVR
5. Paper Mario: Colour Splash
Wii U
6. The Firemen
SNES
7. Bishoujo Senshi Sailor Moon
SFC
8. Kuukiyomi: Consider It!
Switch eShop
9. Valkyria Chronicles
Switch eShop
10. Illusion of Time
SNES
11. Trials of Mana
Switch
12. Undertale
Vita
13. Rastan
SMS
14. Rainbow Islands
SMS
15. River City Girls
Switch
16. Animal Crossing: New Horizons
Switch
17. Streets of Rage 4
Switch eShop
18. Dragon Warrior IV
NES
19. Super Tennis
SNES
20. Castlevania III: Dracula's Curse
Switch eShop
21. Pilotwings
Switch eShop
22. Castlevania: The Adventure
Switch eShop
23. Streets of Rage
Game Gear
24. Hatsune Miku: Project DIVA Mega Mix
Switch eShop
25. Ninja Gaiden
Game Gear
26. Psychic World
Game Gear
27. The G.G. Shinobi II: The Silent Fury
Game Gear
28. Sonic the Hedgehog: Triple Trouble
Game Gear
29. Fire Emblem: Seisen No Keifu
SFC
30. Pokémon Sword: Isle of Armour DLC

Switch

*NEW*
31. Turok: Dinosaur Hunter

N64

*NEW*
32. Land of Illusion starring Mickey Mouse

Game Gear

*NEW*
33. Deep Duck Trouble starring Donald Duck

Game Gear

*NEW*
34. The Legend of Zelda: Link's Awakening

Switch

*NEW*
Pokemon Sword: Isle of Armour DLC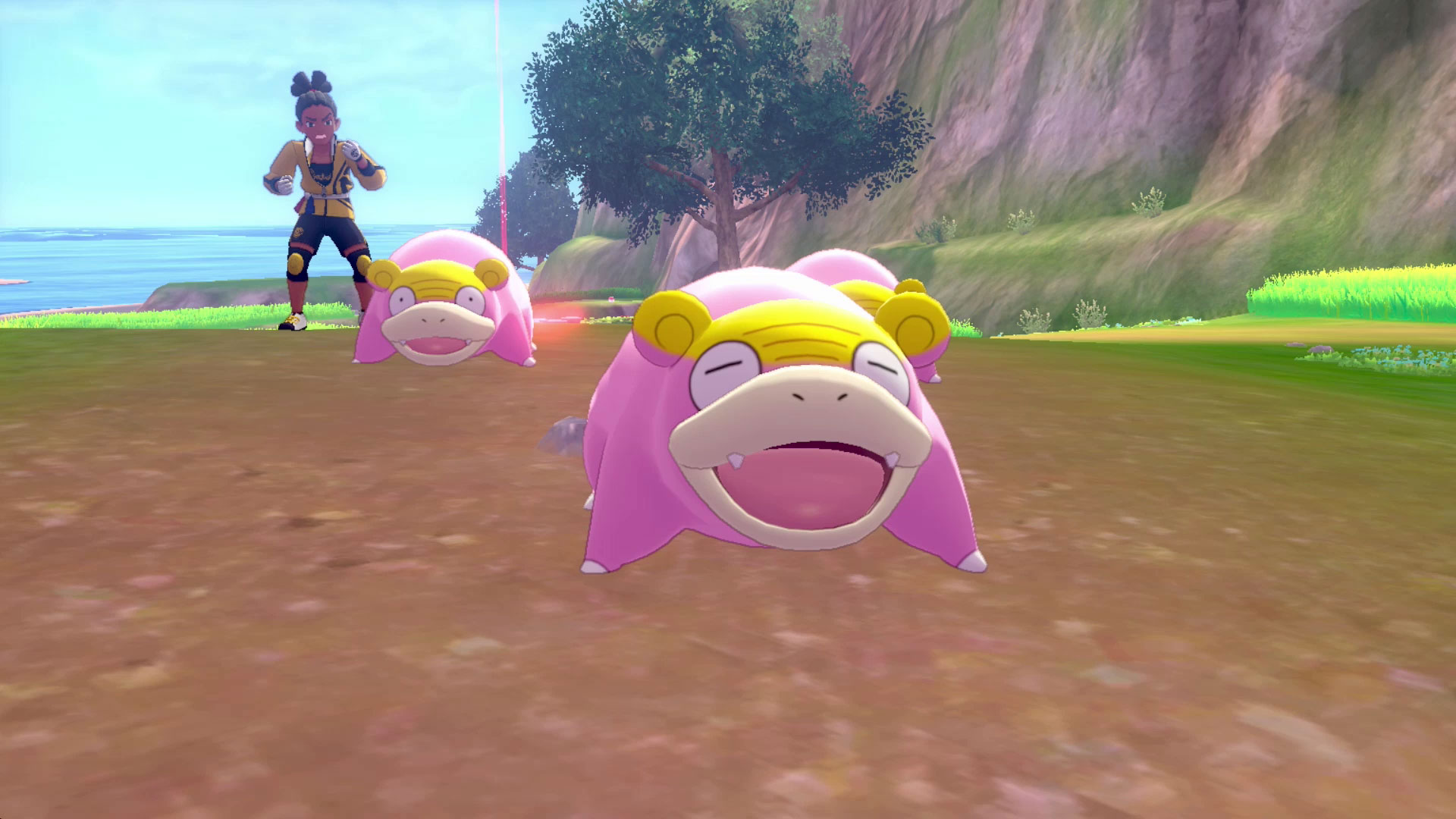 The Isle of Armour is a DLC expansion for Pokémon Sword and Shield. It sees you visiting the titular island of the game, which is essentially a large new wild area for catching Pokémon in, and following through a simple storyline involving a dojo on the island. When you arrive on the island, you meet a new antagonist character (it varies between versions of the game who they are, mine was a poison type trainer girl) and are also introduced to Mustard, the head of the dojo. Mustard sets you about on some simple tasks to resolve issues at the dojo, which mainly serve to get you to explore the new wild area a bit, before giving you ownership of a new pokemon, Kubfu, to train. These sidequests are honestly a bit dull, but I was entertained by the first one which involved chasing down three exceedingly fast slowpoke.
Training Kubfu involves a set of additional sidequests, the final ones of which involve defeating Mustard in battle. This is where one of the big issues with the DLC comes into play – the level balancing. As this DLC needs to be accessible to trainers regardless of how far through the plot they are, levels are adjusted depending on story progress through the game. Unfortunately, this comes with a few issues – first off, if like me you already finished the main story of Pokémon Sword, the wild pokemon levels are high enough that you're essentially consigned to continuing with the main team you used rather than enjoying capturing a new team. Secondly, all enemy battles are levelled up but are disappointingly easy because they all used unevolved early game pokemon. Finally, and most significantly, it adds in an annoying grind – because one of the challenges involves defeating Mustard's Kubfu with your own, only his is at level 70, and you get yours at level 10. Cue a lot of running about grabbing level ups to stand a chance.
After the storyline concludes, you can evolve Kubfu into one of 2 forms of his evolution Urshifu, and then that's pretty much it. There's a bunch of other things to find, some gift pokemon obtainable by finding 150 hidden diglett across the island, 130 or so new pokemon to catch that aren't in the main game, and some nice hidden items and new features – but mostly, this is a very content-lite update as far as storyline gameplay goes.
I enjoyed my time on The Isle of Armour, but there's no doubt that the main selling point is really just having more Pokémon to catch, and that makes it really easy to know if you think that's worth it to you. There's more DLC out later in the year with more new pokemon. I wish there had been a little more to do on the Isle of Armour than just catching stuff, but that's true of Sword and Shield in general. That said, like the main games I still found this charming and enjoyable. Just perhaps a bit pricy for what if offers.
Turok: Dinosaur Hunter
Turok is an FPS game for Nintendo 64 which I played through as part of this year's summer games challenge. Its based on a comic book series, and I don't know the plot very well (the game doesn't really expand on much) but you're a native American stereotype who appears to be in some sort of scifi setting featuring aliens but also dinosaurs. Obviously, the best course of action is to shoot everything, which to be honest, is a course of action that generally seems to work in the game.
Turok is a pretty typical N64 FPS. It features my favourite control scheme for shooting games on the system (C buttons to move, stick to aim, Z shoots, R jumps and A and B change weapons). You explore some huge maps gathering up weapons and ammo and shooting things til they stop moving. Throughout the levels are lots of secrets, some accessible via mysterious blue portals, and some via hidden walls, climbable structures and more. Turok is a game with a life system – you have 3 to begin, and running out of health or falling off the level will cost 1 life. You can gather force points through the level, floating triangles which grant an extra life upon gathering 100. You have 100 health by default, but some health pickups allow you to go above 100 up to a maximum of 250 health total. You can also grab armour on top of this, although it's rare in earlier levels.
The shooting and exploring gameplay is quite satisfying overall. Being the era and console it was on, there's quite a hefty leeway for what counts as a shot hitting, so you can run and gun pretty quickly. Turok moves around the map quickly and this makes the running and gunning feel breezy and satisfying. In terms of weapons, there's a good variety, although some early games are made redundant quickly, and some late guns are a little too awkward to use to feel worth it, which meant I mostly tended to stick to the same few. For example, the pistol from level 1 is utterly outclassed by the assault rifle, which is useful for most of the game. The assault rifle is essential the same as the pistol but fires bursts of 3 instead of 1 shot at a time, making it much quicker whilst not costing any more resource. Similarly, you find the shotgun on level 1 about 20 metres away from the vastly superior Auto-shotgun, a semi-automatic version of the same thing. This means the shotgun wastes space in your inventory and gets in the way when selecting weapons. Other useful guns include the plasma cannon, a laser machine gun with good power, the mini-gun which is good for shredding bosses when you run out of better options, the grenade launcher, which is unwieldy but very strong, and the quad-launcher, a rocket launcher that shoots 4 mini rockets for lots of damage but eats ammo fast. The final weapon of the game, the Chronoscepter, is divided into 9 parts spread across all the levels, and is reassembled right before the last boss, meaning you only get to use it on him. Hitting all 3 shots of ammo on him eats up about half his health pool.
Exploring is the other main aspect of the game, and the maps here are very big and often confusing, as they frequently involve backtracking, unlocking new pathways from old areas, 3 dimension travel (climbing and dropping to lower ledges etc). They can also be hard to figure out due to the games significant fog obscuring your view quite close, despite many big open areas. Luckily there is a map ovelay you can turn on with L which helps a lot, although can be annoying in the way all the time. On each level your goal is to find the keys which open later levels (3 for levels 2-8, and 6 for level 9) and the chronoscepter piece, before leaving back to the hub level and trying another stage from there. It's very possible to miss the keys as some are hidden away, so expect to have to replay levels sometimes if you miss one. Luckily, this only happened to me once, but it is frustrating. Also frustrating is how many enemies respawn quickly, so if you're a bit lost and trying to find where to go, you can often run low on health and ammo dealing with constant annoying enemies whilst you do so.
Not nearly as frustrating, however, as Turok's immense love of first person platforming. Judging distance in turok is very difficulty when jumping, and the game makes you do precision jumping a LOT. Early in the game you will often either accidentally run off a cliff because you jumped too late, fall short of the other side because you jumped too early, or jump past the platform because you jumped too far. I eventually found it a bit easier to use the mini map to line up jumps, but they were a constant frustration throughout. The game also doesn't really introduce you to them gradually – most early jumps are over instant death pits despite you having very few lives. Stage 3 features a brutal section of about 80 very narrow and tricky jumps of varying distances in a row, and whilst the game was nice enough to offer a save point just before it, I died quite a few times navigating this exceedingly boring and tedious section of the level. I game overed a few times early on due to pitfall deaths. They were the cause of 70% of my deaths in the game overall. Another 5% or so were from running out of health from common enemies. And the other 25% were from the stage 3 boss.
There are only 4 bosses in Turok, and 2 of them are on the final level. The final boss isn't too difficult, but offers a challenge, and the T-rex battle before him is hectic but fairly easy. Stage 6 features a giant mantis boss who is exciting but a pushover, due to his big hitboxes and easy to avoid attacks. Stage 3 on the other hand, features the Longhunter and Jeeps. The jeeps are hard to avoid and take a beating to put down, and you fight 2 in a row. This normally runs out all of your ammo as you don't have many weapon options at this point in the game. The you fight the longhunter, a human character with a powerful gun, homing projectiles, a small hitboxes and the ability to dodge. You have sod all ammo left, you're low on health and he is a nightmare to hit. This boss was the single hardest part of the whole game to me, he killed me more than anything else. Even more frustratingly, the aforementioned series of 80 jumps over instant death pits comes right before him with no save in between, and I honestly almost gave up on the game right here. I made that series of jumps at least 8 times.
I'm generally thankful I didn't though, because Turok improves from there. There's still some annoying levels later, but they mostly dial back the platforming, or at least make it easier by having damaging floors below them instead of instant death, and wider platforms to land on. The focus moves more to shooting tougher enemies, and the game is much better at handling this than platforming. Turok is a decent game, and whilst I wouldn't say it's a must own, and it has a few too many flaws and frustrating bullshit design sometimes, I would say I enjoyed my time with it overall. Play GoldenEye and Perfect Dark before this if you want to try an old-school console FPS, but if you're wanting more after those, you could do worse than Turok.
Land of Illusion starring Mickey Mouse
Land of Illusion is a game starring Mickey Mouse, and is a part of the Illusion series by Sega – the most famous being Castle of Illusion for Mega Drive. There was also an 8 bit game of the same name which was similar in theme but different in level designs, and was quite excellent too. Land of Illusion is the follow up to that 8-bit Castle of Illusion, and is very possibly the best in the series – and one of the best platformers for both the Master System and the Game Gear.
Land of Illusion sees Mickey exploring the titular world to defeat the evil King Pete. Mickey starts with 2 health points, although he can gain more (up to 5) and he can jump and butt bounce on enemies to defeat them. He can also pick up certain objects and throw them at enemies or reposition them to use as platforms. Along the way to defeat Pete he helps rescue other famous Disney characters such as Donald and Goofy, who give him a variety of items to use which increase his abilities in game. One example is a potion which allows mickey to shrink by pressing down + B, to pass through small tunnels, and another is a rope which mickey can use to climb sheer walls.
The level design is simple but offers a nice variety of themes and ideas. One level sees Mickey in a giant land with huge bugs, another in a castle burning to the ground, and another in a haunted building where he must carry lights with him to be able to see. There's some clever level mechanics too, like an auto-scrolling section with switches that can be held down to reverse the scrolling, requiring some puzzle solving to get a key at the end to a door at the start.
The game looks and sounds fantastic for either series, and is honestly a joy to play. I've beaten it before and it's a great game to get down and play through of an afternoon now and again. I also highly recommend the sequel, Legend of Illusion, too
Deep Duck Trouble starring Donald Duck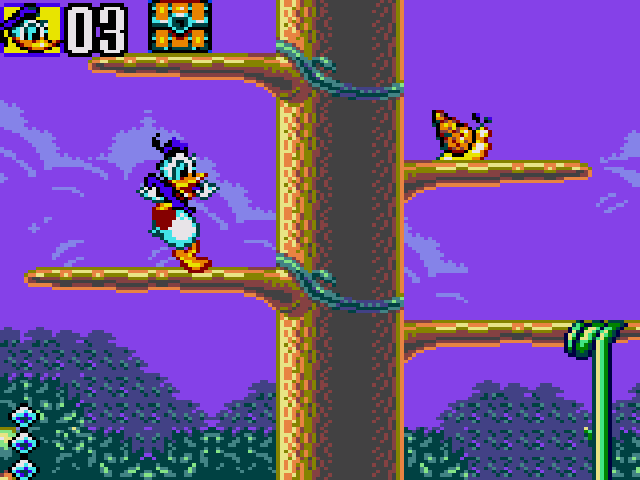 After playing through Land of Illusion, I decided to pull out another Sega Disney title I hadn't played in a while to give it another go. Deep Duck Trouble is a platformer starring Donald Duck, on a quest to find a treasure to help Uncle Scrooge who has been cursed and inflated like a balloon. Donald explores various environments hopping and bopping his way through them. Unlike this games predecessor, The Lucky Dime Caper (another decent sega Disney game, though not as good as Quackshot or the Illusion series) Donald doesn't have any weapons to use this time, so generally jumps on enemies to defeat them. Donald can also kick blocks and chests, and kicking blocks into enemies hurts them too. He also has a health bar now.
The levels of Deep Duck Trouble are generally more simple than Land of illusion, with some fun but basic platforming challenges. There's a few creative uses of donalds abilities, such as kicking blocks along ice and riding them in the ice world, but overall nothing that really stands out. Boss fights are interesting though – rather than fighting enemies, they all take the form of escape sequences, where Donald runs from a chasing hazard, such as a shark, a volcanic eruption or a gorilla. Once you've run far enough, they will crash into something or otherwise be halted and Donald will received the levels treasure
The game is a real treat when it comes to presentation. The music is catchy and sounds good for the system, and the game features super impressive graphics– it looks outright incredible for an 8 bit console or handheld. Unfortunately, this comes at a cost. See, the elephant in the room with Deep Duck Trouble, is slowdown. The game is full of it, it's a constant hazard. This wouldn't be so bad if it didn't impact the game so much, but it unfortunately does. I replayed the ice world multiple times because it relied on a series of 2 quick, pixel perfect jumps over an instant death pit to finish – but every time I started the jump sequence, slowdown would kick in making it potluck whether my button presses would register at the right time or duration to make the jumps. It felt punishing in a way that wasn't fair or fun. There are other instances of this too.
And that's a shame, because if those issues weren't there, this would be a pretty good, maybe even great platformer for the systems it's on. I played on Game Gear, so it's possible the issue is less pronounced on Master System, but given the similarities of the hardware I doubt it. As it stands, this registers as just decent. A short and fun romp if you can forgive the frustrations caused by the technical issues. Worth a play, but I'd recommend all of Sega's other Mickey & Donald games first.
The Legend of Zelda: Link's Awakening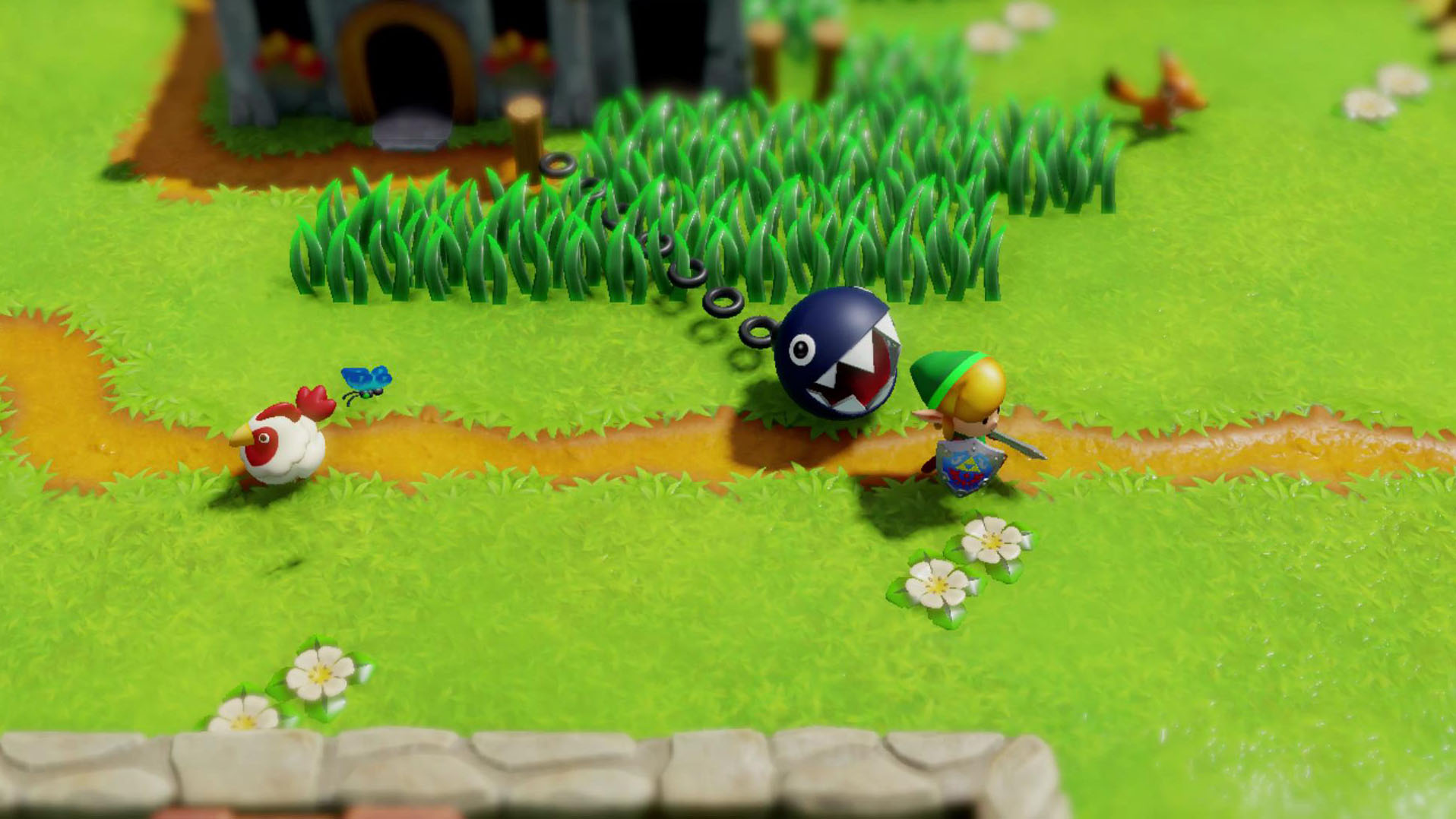 Link's Awakening is an interesting game. I often see it pulled out as the most common of the left-field picks for people's favourite Zelda games. You know, people generally choose Ocarina, Majora, Link to the Past, Breath of the Wild or even Wind Waker. But there is a small but committed bunch who know that Link's Awakening is truly the best one.
I have never been one of those people.
I like Link's Awakening on Game Boy, but it's far from my favourite. It's not my favourite 2D Zelda, or even my favourite Game Boy Zelda – both of those titles go to Oracle of Ages, with Seasons close behind. But all that said, I was still pretty excited to see Nintendo deciding to remake a 2D Zelda game for Switch in 2019. And it looked good! The art style was supposedly a little controversial with some, but I don't see why, because it's perfect for the game. It feels like a diorama, and I love how we see link in his hand animated style in the 'real-world' but in a toy-like form in the dreamworld of Koholint – it really sets things apart. I also quite enjoyed the childlike musical remixes, although I will say there is such a think as too much whistle sometimes!
Upon replaying Link's Awakening, one thing that stood out to me was just how small the world is. It takes no time at all to scoot around it, and even with the addition of new heart pieces and secrets to find making it more densely packed, it still felt perhaps a little too snug to me. However, it's nice to play a game with a brisk pace every so often – I just wish I got to spend a little more exploring the fun overworld of Koholint and a little less time inside the games dungeons, as often it only take 10 minutes or so after clearing a dungeon to get into the next one. As the dungeons get longer, this gets more pronounced. One the dungeons, they're simple but fun enough. The first time I played the game I found the puzzles in the Eagle's Tower frustrating, and that didn't change second time around, but nothing was frustrating enough to put me off, except for one self-inflicted challenge…
That challenge was Hero Mode, an option I'd chosen to enable on my save file. Hero mode doubles the damage enemies deal, which is challenging early on, but not too scary on it's own. The other thing it does is remove all heart pickups in grass and from enemies, meaning you can only replenish health by using fairies or visiting a fairy fountain. This was brutal in dungeons 1 and 2, where only 1 or 2 little mistakes could cause a game over – and I wanted the good ending which requires zero deaths, so every game over required me quitting the game to keep my save file clean. After dungeon 2 though I finally got access to fairies and to the blue armour from the colour dungeon, and suddenly hero mode was no longer a challenge at all. In the end, it's only a problem for the first hour or 2 and then it barely even registers any more.
I hear people talk about how great the story is in Link's Awakening, and I get it, but for me the writing feels a bit hamstrung. The concept of the game is really exciting, but I don't feel invested enough in the world or characters to care. I get that they wanted to be true to the original, but I do think a little bit of extra dialogue and some rewritten text now it doesn't need to be on Game Boy storage limitations and screen space would have maybe helped flesh it out a little more. As it is, I feel there's a lot of missed potential here currently.
I made the mistake of aiming for completion on this game when I played through, which was a fun process for the most part. Finding all heart pieces was fun (except the dumb river minigame) and secret shells weren't too bad either, especially with the radar you get now. However the other requirement for completion were the new dungeon creator challenges with dampe. These have you assemble your own dungeons using rooms you've visited in other dungeons and then playing through them for rewards. Unfortunately, these just feel like pointless time wasters, as there's no new challenges to face here, no incentive to make it harder and very few ways to do so without just throwing bosses in your way. Because you want the rewards too, you'll probably just throw the simplest rooms you can and make the shortest path possible – I did. This side mode isn't really worth the time unless you want that 100% completion like I did.
Overall, I had fun with Link's Awakening, but I did feel by the end that I still personally don't love this entry as much as most people seem to. It's hard to put my finger on it, but somethings missing for me. It has charm, and classic Zelda gameplay, but I find the story lacking and the dungeons a bit too simple aside from the random spike in difficulty that is Eagles Tower. The world is charming but small, and I find the pacing of the game too focused on dungeons – my favourite part of 3d Zelda games, but probably my least favourite part of the 2d ones. I'd happily recommend anyone give this a go, and I still really enjoyed it – but it's one the lower end of my favourite Zelda game list I'm afraid.