ATARI 7800 JINKS
A 7800 exclusive game.
Even though I have seen this game only once, bought years ago at Kay-Bee Toys, Atari Age rates the cart as common.
http://www.atariage.com/software_page.html?SoftwareLabelID=695
This simple game has probably not been played by many compared to
Pacman
,
Asteroids
or its older inspired game
Breakout
.
Mix
Breakout
hit the bricks with a bit of a side scrolling explore to get to the exit. The color is bland but a unique kind of play. Object of the game is hitting bricks and enemies for a high score and guiding that bouncing ball to the exit on the right. Various obstacles will change the direction of the ball and block your game paddle. Watch out for the spinners and reverse magnet globes in level 2.
Control a triangle shaped blue paddle moving up, down, left and right. Ricochet the small white ball to knock out bricks and enemies. There is no angle Pong type shots on the flat part of the paddle, so that is where the angled surface comes in. A press of the left button flips the paddle, facing the angle up or down. Use the different sides to bounce the ball from above or below. If the ball gets stuck, the right button shakes the screen.
The 7800 controllers work fine though are not very ergonomic, the Euro pads are nicer. A better 2600 Wico stick can be used, but you lose the second button of the 7800 controller to shake a stuck ball.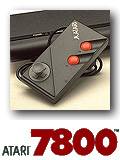 Ever notice Atari's characteristic boing sound? The same sound is in the 2600, 5200 (Galaxian when enemy is hit) and also in this 7800 game. As I was playing this game, my wife in the other room asked if I was playing the Atari.
My favorite unique to the 7800 games are simultaneous play CENTIPEDE, ASTEROIDS Space War shoot out level and of course BALLBLAZER. But this rarely seen game has its own charm.