Dr Strangelove or How I Learned To Stop Worrying And Love The Bomb
Continuing to watch Kubrick movies with daughter who is determined to see every one made.
I must have seen this movie at least five times over the years. Always good for another look!
Another similar movie was released ten months later starring
Heny Fonda
, titled
Fail Safe
.
Sterling Hayden
Actor in the lead role in another of
Kubrick's
movies,
The Killing
. Perfect actor to play the tough cigar chomping General. Paranoid over Communist plot in fluoridation of city water. Orders B-52 Air wing past their
Fail Safe
point for a nuclear attack of Russia. An attack through Plan R that only he can stop. I think the only other actor that can portray this Base Commander would have been
Richard Widmark
.
"I cannot stand by with Communist infiltration which will lead to contamination of everyone's precious bodily fluids."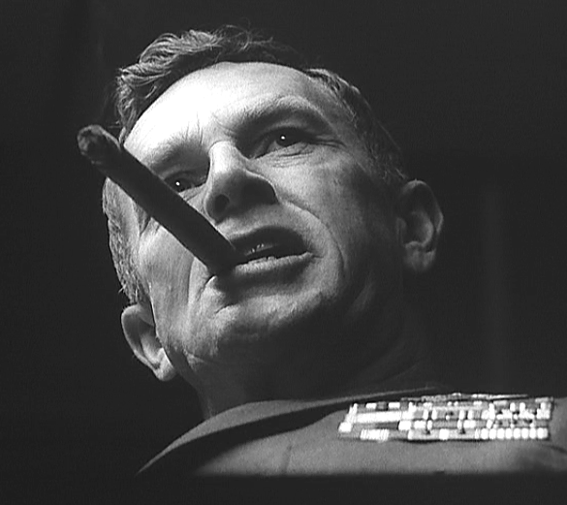 This film could not be shot in color. Look at the hard lines above, that captures the mood of the General.
Peter Sellers
Plays three different parts in this one. A British Exchange Officer, President of United States and of course Dr. Strangelove.
"A shooting War" "Oh Hell!"
"The beauty of this, the whole point of the Doomsday Machine is lost if you keep it a secret. Why didn't you tell the world?"
"Hello Dimitri? I have something to tell you."
Music
Johnny Comes Marching Home
drummed throughout the B-52 scenes. The tension buildup of the pilot radio calls of Plan R check list really draws you in. One really pulls for the airplane crew, even if it means the end of the world.
"Check bomb door circuits one thru four."
"Still negative function."
"Stay on the bomb run, I'll get those doors open."
"Telemetric guidance computer to orange grid"
"Target 6 miles."
"Transponder activated."
A Rant
As in a lot of DVD re-releases, the latest DVD offers cleaned up sound and a pristine print. HOWEVER some of the older supplemental extras usually gets lost. I have both the 2001 Special Edition and the 2004 40th anniversary DVD of this great film. Okay I'm a nut also have the Laser Disc version as well. Anyways the older Special Edition has a great documentary titled "
The Art of Stanley Kubrick
." It details how Kubrick started out as a photographer in
Look
magazine, and his early films. The newest version comes with a beautiful booklet.
Better to get both DVDs for all the extras.
The 50th anniversary version will be out in 2014.
"Target in sight, Where the Hell is Major Kong!"
"
YeeeeeeeHah!
"
SPOILER
Okay for those who like to read the last chapter in the book first:


Major Kong Final Scene