EDIT UPDATE AFTER ALMOST A TWO YEAR WAIT!


Atari 5200 Tempest now out at Atari Age!
5200 Tempest Review and 5200 Trakball Repair on the next page
Tempest Thread at Atari Age - http://www.atariage.com/forums/topic/20 ... available/
Atari Age wrote:

https://atariage.com/store/index.php?l=product_detail&p=1036
http://www.atariage.com/store/index.php?l=product_detail&p=1014

For 15 years, the existence of an Atari 5200 version of Tempest was thought to be only myth. No prototypes had ever surfaced. A crude 2600 version had come to light, along with a prototype box. Then, in 1999, an unfinished working 5200 prototype appeared on eBay. The game was eventually dumped and the binary freely distributed around the Internet. Another decade has gone by since the game's discovery, and the

original Atari 5200 Tempest programmer, Keithen Hayenga

, worked to complete Tempest so it could finally see the light of day in completed form!

Tempest 5200 includes the game cartridge with glossy label, twelve page full-color, glossy manual, professionally offset printed box using chipboard paper stock, and cartridge insert to keep the cartridge in place. Only 250 boxed copies of Tempest will be produced! After that, the game will be sold without the box. If you want a boxed copy of the game, don't wait too long!

Number of Players 1 - 2

Controller Atari 5200 Joystick Controller or Atari 5200 Trak-Ball Controller

Cartridge Size 32K

Programming Keithen Hayenga

Additional Programming Ken Van Mersbergen, Dennis Debro

Graphics Michael Kosaka

Box, Manual, and Label Design George Reese, David Exton
Thanks to what
crux
wrote here:
http://www.racketboy.com/forum/viewtopic.php?p=290621#p290621
crux wrote:I kid you not, I was just researching the dual stick 5200 thing today, after half considering getting a 5200 for the upcoming long lost Tempest port.
I have been Googling and hitting the Atari Age Site for TWO YEARS with bated breath waiting for this great game, TEMPEST for the 5200!
First the prototype history:
Atari Age wrote:

http://www.atariprotos.com/5200/software/tempest/tempest.htm

Considered to be one of the holy grails of 5200 prototypes, Tempest was seen in the 1984 movie Cloak & Dagger as a box on a shelf in the computer store (quick, name that store). Boxes were also shown for other unreleased 5200 games such as Battlezone and (naturally) Cloak & Dagger, teasing Atari fans with games that would never be. It wasn't until 1998 that Tempest finally surfaced as a 50% complete prototype thanks to ex-Atari employee Dan Kramer (inventor of the 5200 trak ball), who had managed to grab a copy before leaving Atari.

The 5200 version of Tempest was everything that fans had been hoping for. The vector graphics were reproduced nearly perfect (a difficult feat for the 5200), the sounds were flawless as they came straight from the arcade machine, and the gameplay (aside from the incomplete collision detection and missing enemies) was perfect. Tempest surely would have been one of the crown jewels of the 5200's library. Sadly this was not to be.
Easier just to copy paste my excitement:
Atari Age wrote:Tempest was Atari's first color vector arcade game, released to arcades in 1980. Known for its frantic, addictive gameplay, Tempest was one of Atari's most successful vector arcade games. Versions of Tempest were being developed for Atari's 2600 and 5200 game consoles, but they were never completed or released commercially. A box for the 5200 version of Tempest is actually visible in the movie Cloak & Dagger.

We'll have a playable demo of Tempest at our booth, and you'll have an opportunity to speak with ex-Atari employee Keithen Hayenga. AtariAge will begin selling Tempest at some point after CGE, complete with a professionally printed box, manual and label.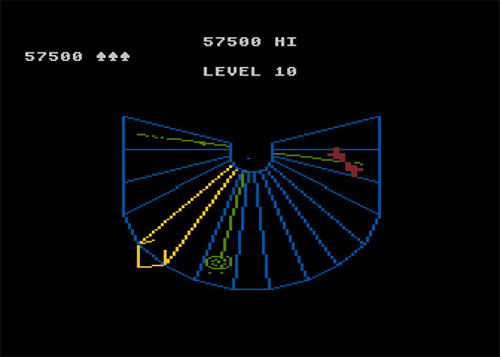 The Atari Age teaser:
http://www.atariage.com/features/shows/cge2010_preview/demos.html
An excerpt of 2004 interview
Keithen Hayenga
Good Deal Games wrote:

http://www.gooddealgames.com/interviews/int_Keithen%20Hayenga.html

Good Deal Games

- When did Tempest come along?

Keith Hayenga

- After RealSports Baseball, Tempest was the first game that I got to choose to work on. I got great cooperation from Dave Theurer who programmed the arcade version. He gave me listings that I could borrow from.

Good Deal Games

- The graphics in the unreleased prototype are fabulous, and the sound effects are incredible. Are they the arcade SFX?

Keith Hayenga

- I was able to use the sound files exactly because

Tempest and the 5200 used the same sound chip

. I could also use all the tables that told which levels each set of creatures came in. But since the arcade game was vector graphics based while mine was bitmapped, I had to make trade offs. I didn't have enough sprites to show all of them that could exist at the highest game play levels.

Good Deal Games

- So how complete did Tempest get?

Keith Hayenga

- The first prototypes, which were shown at an earlier Classic Game Expo, just had the beginning of the game, just enough to show the playing field tubes. It went out just as a preview to show buyers what we were intending to get out for the next Christmas buying season. After I got in some game play, another version was created just to test how far I had come. That is the version that you got a copy of. It mainly had the gun rotating and firing, plus the flippers rotating around the top of the tubes, plus zooming down the tube. I was very surprised to see that anyone had resurrected that version.

Good Deal Games

- This was towards the end of the original Atari before the crash. Is that why the game never was finished?

Keith Hayenga

- I continued to work on Tempest right up until the Trammiels bought the company and let most of us programmers go. I had added in spikes and was working on the tankers and fuseballs when we folded. Unfortunately, the ROM lab and testers were the first people to get laid off, so there was no one to burn a copy of my latest version. So when I tested the version you have I was hoping to see the spikes, etc. Oh well, it was still more than I ever expected to see and hope it works out for you!
Sounds beautiful. I can attest to that sound chip having played 5200 DEFENDER and 5200 ROBOTRON which sound perfect, a shame the 7800 dropped the sound quality. Okay so the graphics in 5200 Tempest are raster, not vector clean as original Arcade Roms. TEMPEST and TEMPEST TUBES are much better emulated on MAME. There are also Arcade compilation packs released for PS1, PS2, Dreamcast, XBox, Gamecube as well as current Gens. There is even remakes such as the great TEMPEST 2000-3000, X3 and newer downloads such as TYPHOON 2001 for the PC.
TYPHOON 2001
http://typhoon.kuto.de/

PS1 Tempest X3 is actually pretty decent.
http://worldofstuart.excellentcontent.com/tx3.htm
So why the excitement over the 5200 version? Well the Arcade came out in 1980. The 1984 movie cloak and dagger had fake boxes on display of various systems including TEMPEST and BATTLEZONE.
I am still waiting for not the Arcade, that
CLOAK AND DAGGER Cart
, the one with the secret hi-res plans.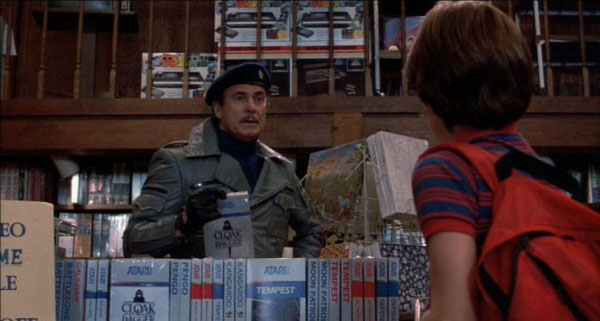 Been waiting since seeing that movie on Laser Disc. A constant Jog-Shuttle Pause for another look. Throw in
Tron
and
Last Starfighter
Arcade games featured in those movies too. Okay raise your hands, who would kill to be in that store with new Colecovisions above right now!
CRTGAMER wrote:Here are a couple of other Prototypes to try

TRON SPACE PARANOID ARCADE

LAST STARFIGHTER ARCADE

POLYBIUS ARCADE

Arcade Prototype Downloads - viewtopic.php?f=6&p=296545#p296545
Oop sorry I tend to side trak er track. Anyways as mentioned earlier there are many better versions of TEMPEST. The actual arcade, or MAME with a dedicated Spinner. The 5200 shines because, better then PS1 Nyco Trakball in itself a jewel, the huge beautiful 5200 Trakball, a real monster. Not a spinner but I think this will be a lot better, having played Tempest with a Trakball in Mame.
Instant movement, start and stop spinning of the Trakball with very precise tight control.
Come to think of it, 5200 Wico joysticks with the self centering potentiometers may just work out too. Either speed adjustment based on how far push of the stick or a screen direct correlation to stick position?
Is the 5200 Trakball huge? Compare the pics, shows the stability of this beauty.