Nickelodeon - Cartoon Network - Looney Tunes - DVD Sets
Sponge Bob DVD Episode Sort List is at the top of Page Three
(Sort out which DVDs to keep to prevent duplicate episodes)
A Thread for posting Cartoon Video Collections discovered or owned. Note that there is a separate Anime Recommendations Thread, best to post any Japanese Anime in the other Thread linked below.
Anime Recommendations- viewtopic.php?p=409536#p409536
My ongoing Criterion Thread, this publishing house has very high standards preserving movies.
Criterion Guide - Barnes & Noble 50% Off Twice Year Sale - viewtopic.php?p=899351#p899351

-----------------------------------------------------------------------------------------------------------------------



Shout! Factory
In the past, older Nickelodeon Cartoons were released exclusive thru Amazon as "Best Of" DVD-Rs. Shout Factory took over eventually releasing individual Season DVDs. I noticed that Walmart and Best Buy have in stock Nickelodeon Complete Series Collections; the entire sets actually were released by Shout Factory a couple of years ago!
The DVDs now are averaging at

$19.99

for each Complete Collection set!
Shout Factory Site - https://www.shoutfactory.com/collection/nickelodeon
The DVD video is not HD Quality, reviews point to the prints having slight rough edges at times with color and black levels inconsistent. Having purchased some titles, the videos are better then original broadcast, but are not quite sharp as I would expect on a DVD and certainly not "Criterion" quality. However, Video is fine, well worth getting at the price.
Rocko's Modern Life Complete Series - Best Buy $19.99
At first I thought this had the characters of Cow and Chicken, in particular the red devil. Realized instead, the series had characters such as the toad Mr Big Head, okay now coming back to me.
http://www.dvdtalk.com/reviews/59229/rockos-modern-life-the-complete-series/

As one of the many bright spots in 1990s animation, Rocko's Modern Life (1993-96) picked up a strong following during its time on Nickelodeon. 52 two-part weekly episodes starred Rocko the wallaby and a small cast of supporting characters, including his dog Spunky, friend Heifer and neighbors The Bigheads. Rocko's Modern Life was a true "cartoon's cartoon", chock full of wacky plots, questionable physics and very little running continuity...and fans wouldn't have it any other way. Created by animator Joe Murray, this wasn't the first animated series from that era with a semi-regular dosage of off-color sight gags (see also: Ren and Stimpy, Animaniacs, etc.), but Rocko certainly got away with plenty of close calls during its original broadcast run. Though many of the syndicated episodes trimmed away some of Rocko's more "offensive" bits, what's left is still a sterling example of animation for immature children of all ages.
CatDog Complete Collection - Best Buy

$34.99

$19.99
The Best Buy site for this set at $34.99, yet I spotted CatDog Complete Collection right on the store shelf last week for $19.99. Jump on this, a funny series and cheaper then online!
Angry Beavers Complete Collection - Walmart

$19.99

$17.39
Ooh a drop in price at the Walmart website compared to the store shelf, perhaps due to Cyber Monday Sale today? I know the title was in the store last week at $19.99, chose free store pickup to get the online lower price. A later cartoon of the vintage Nickelodeon era, and very funny. The purchase tease for me is really wanting to see the 50s Sci Fi themed episode. After purchase, watched it first, the animation well done with a Jack Kirby touch!
http://www.dvdtalk.com/reviews/49772/angry-beavers-seasons-1-2-the/

The best episode out this collection, a remarkable effort called

The Day the Earth Got Really Screwed Up <Season 2 Episode 10>

, written by Mitch Schauer and featuring hilarious voice work from Peter Graves, Adrienne Barbeau, William Shallert ("Let me show you a little film I made...."), Jonathan Haze and John Byner, is an absolutely stunning take-off on '50s monster films, beautifully designed and executed on an epic scale (looking like the greatest Johnny Quest episode you never saw), which manages to achieve its own B-movie cult status while spoofing its very own conventions (when screaming heroine Toluca Lake keeps running from the monsters and breaking her ankles, you know you're watching something very special).

For lovers of B-movies and '50s sci-fi/monster fests, this episode is worth the price of The Angry Beavers: Seasons 1 & 2 alone.
AAAHH! Real Monsters Complete Series - Walmart

$19.99

$16.99
Another reduced price free store pickup, also was in the store last week at $19.99. I bought this on a whim not remembering too much about the episodes other then very bizarre characters.
Bobs Burgers
Picture above left from
Wikipedia
shows initial look of characters with older son instead of daughter. I bought Bobs Burgers Season 1 and disappointed to read online that Seasons 2 thru 4 are on
Retail *DVD-Rs*
. Debating if I should buy the additional "burned copy" Seasons. Perhaps after so many sales, a second real pressing?
Strapped4Cash wrote:

bevilacq12 wrote:

Amazon MOD Fox Home titles actually pressed in some cases


http://forum.dvdtalk.com/dvd-talk/633575-amazon-mod-titles-actually-pressed-some-cases.html

I've long-avoided MOD titles - the general lower quality and shorter expected lifespan irk me as a collector, so I've generally decided to hold off for pressed discs (either by eventual Shout/Mill Creek acquisition, a foreign release, or maybe a Blu-ray one day). However, it seems that, in at least some small number of cases, Amazon is shipping pressed discs.

So Fox must create the DVD authorings and let companies enter a deal with them to actually produce discs and distribute them. Amazon is one such company, and they alternate between burning (usually) and pressing (occasionally).

There is some Willette Acquisition Corp. that also deals with Fox, and their discs are what you can buy from Target, Best Buy, Walmart, ImportCDs, DVDEmpire, etc. - I've always assumed these are always burned, but who knows. You'd think if they're distributing to all these places that it would make sense to replicate pressed discs in 500-count batches, but clearly they don't think so... Does anyone have any info to the contrary, i.e., you've purchased these Fox MOD titles from non-Amazon retailers and gotten pressed discs?

Of the titles I ordered, the results are as follows:

- Bob's Burgers season 2 - pressed

- Bob's Burgers season 3 - pressed

- Bob's Burgers season 4 - DVD-R

Fairly good results all around, though Bob's Burgers season 4 being DVD-R kills me because Bob's Burgers is one of my all-time favorite shoes and I know from other forums that pressed versions of season 4 definitely exist.

The last couple of Fox discs I tried last year were DVD-R's, but I took a chance recently on Fox's Tyrant Season 2, hoping they would press some again for the holidays, and it looks pressed.

The barcode was much smaller and it was shrinked rather than in cellophane, but the shrink says "Made in Mexico", and the discs are silver.
https://www.hometheaterforum.com/community/threads/whats-the-last-tv-dvd-you-bought.168965/page-384

Okay, I finally broke down and bought Bob's Burgers S5 and American Dad volume 11 from Amazon.

Yes, I know they're supposed to be MOD burned discs, but I've been collecting the series this long, I'm okay with it. Plus, I'm okay with 20-ish per set for just about any full season of a show, and they had hit that price.

Anyway...

Bob's Burgers Season 5 are pressed discs!

Has anyone got any word of Fox doing this for their MoD titles now, or what? Will American Dad also be pressed when I get it? If I were to buy Aways Sunny S11, will THAT be pressed?

I'm confused now, because I had resigned myself to purple DVD-Rs with series like these. Now, Pressed discs are coming in the mail for series that haven't been pressed in 3 years, direct from Amazon, not a third party or anything.
Note Season 2 cover. Bob's son imitates his Dad in one of the episodes, its so funny!
Take a close look at all the covers, each character is dressed from a different scene. Regular watchers to the series should be able to recognize which episodes.
Wiki wrote:

https://en.wikipedia.org/wiki/Bob%27s_Burgers

In 2013, TV Guide ranked Bob's Burgers as one of the top 60 Greatest TV Cartoons of All Time. The series has been nominated for several awards, including the Emmy Award for Outstanding Animated Program in 2012 and 2013, before it won the award in 2014. On October 7, 2015, Fox renewed the series for seventh and eighth production cycles. The seventh season premiered on September 25, 2016.
I have been getting hooked on syndicated Bobs Burgers on Adult Swim. The show is very funny and the two younger kids are evil crazy funny! Even all the supporting cast, great voices and dialog. Stupid move when Bobs Burgers gets bumped off by the
Cleveland Show (not funny)
and
American Dad (boring)
randomly on certain nights. What is Fox and Cartoon Network thinking when Bobs Burgers and Family Guy are so much better shows?
Family Guy
This cartoon is so much more better then Seth's other two cartoons; the Movie and TV parodies are hilarious! Every episode has so much hidden treasure to throw you off laughing.
Guess what Peter is parodying in slow motion and in the second airplane chase picture?
Ziggy587 wrote:"We can rebuild him, we have the technology. But I don't want to spend a lot of money."

https://www.youtube.com/watch?v=EoKwX5fLJ5E
Family Guy Freakin' Party Pack (Seasons 1-5) - $25 BookOff
Already have all Season DVDs, but could not pass up on all the souvenirs. Everything brand crisp new condition, the Playing Cards and Poker Chips still sealed.
I own the entire series and most of extras
Family Guy
DVDs including multiple exclusive Target editions, Stewie Untold, all 3 Star Wars, Terms Endearment. If anyone is into Family Guy, look for all the Target exclusives for bonus discs, script booklets, art books and posters.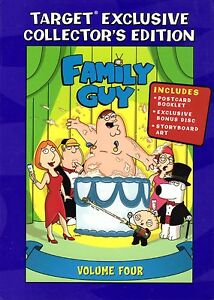 DVD/BluRay - Limited Run Outer Cardboard Liner
One advantage of buying a DVD or Bluray near the release date is getting the case with the outer liner. Most movies have identical liners, some as in Family Guy have different artwork on the liner and insert. I use clear plastic envelopes to protect the cardboard liner, have a pile saved from BookOff movie purchases. Been lucky even when buying older Family Guy seasons as used; own all with outer cardboard sleeve!
King Of The Hill
How many characters can you name?
The series is hilarious with support from memorable characters; especially Dale who always thinks there are conspiracies. Hank is always over the top law abiding citizen! Found a site that breaks down each character that really explains the series.
https://sethnewman.wordpress.com/2015/03/30/king-of-the-hill-review-yup-yup-yup-mmmmhmmmm/

The show was created by Mike Judge, creator of Beavis and Butt-head. While I didn't see many episodes of Beavis and Butt-head I did catch one where they have a neighbor who resembles Hank Hill, main character of King Of The Hill. Clearly, inspiration from Judge's earlier work played a role in creating Hank Hill.

So, who is Hank Hill? Hank, is the perfect citizen for the United States, a resident of Arlen, Texas, Hank does no wrong. If Hank wrote out the things most important to him, his list in order would go 1.God 2.The United States of America 3.Propane 4.The Dallas Cowboys. He hopes for jury duty every year, volunteers to help anyone and anything he can because it's his job as a citizen, and follows every law and rule to a T. For instance, in an episode, Hank is chasing his son's principal through the school after learning the school is putting dumb students (including his son) into special ed classes to raise the school's SAT scores. The principal runs through an "Emergency Exit" door and outside. Hank reads the sign and refuses to go through the door, letting the principal escape. That's just his personality which leads to hilarious laugh out loud moments in his life because of his innocence and trusty in people that they are always doing the right thing.
King Of The Hill almost did not get a complete all season home release!
https://en.wikipedia.org/wiki/King_of_the_Hill#Format_change

Home Media

The first six seasons were released on DVD by 20th Century Fox Home Entertainment from 2003 to 2006. The seventh season was originally going to be released in late 2006, but, most likely due to poor sales of the DVDs, the release was cancelled. However, in 2014, Olive Films got the sub-license to release future seasons of the show, seasons seven and eight were released on November 18, 2014, with nine and ten released on April 7, 2015, eleven released on August 25, 2015, twelve released on September 22, 2015, and final thirteen released (also Blu-ray) on October 20, 2015.

Netflix streamed all episodes, but stopped streaming on October 1, 2013 and in early 2017 King of the Hill episodes were removed by FOX from iTunes and Google Play without explanation.
Note the last line in the quote above. As in syndication reruns, streaming is not permanent; the only way to watch all the episodes when you want is to own the DVDs. Some Nickelodeon cartoon series all seasons compilation DVD Sets are only twenty bucks! The DVDs are space saving considering how many discs inside. Netflix removed King of The Hill some time ago; the show can be seen sporadically on Cartoon Network Adult Swim. Bobs Burgers was on Netflix not sure if still available; also syndication on Adult Swim.
King Of The Hill - Best Buy - Seasons 7-8-11-12 (

$24.99

$15.99 New
)
Not a huge saving, but nine bucks off for new sealed DVDs. Some older seasons at the Best Buy site still available for
$13.99
. I have been buying King Of The Hill sets as I have been finding deals. Placed an order for Seasons 7, 8, 11 and 12 since they are on sale at the Best Buy site. I recently picked up Season 7, 8. 11 and 12 at the Best Buy site since they were on sale. Strange on the correlation of seasons that were on sale.
https://www.bestbuy.com/site/searchpage.jsp?id=pcat17071&st=king+of+the+hill
I own most of the DVDs; "That ain't right"! Three more (9-10-13) to go.
DVD/BluRay - Keep Case Booklet Holder Obsolete
The case booklet holder may eventually go away, no longer needed considering most movies today do not include
Liner Notes
, just a worthless one year available digital download code slip of paper! I intend to buy the remaining three seasons as sealed to ensure getting the Olive Films flyer inside. I know not a big deal, but the flyers do list other seasons of the Hills; giving a purpose for the booklet holder inside each case. Click image below for YouTube video.
Warner Brothers Studios Looney Tunes
Also watched the new
Wabbit
DVD checked out from the Library. The Bugs remake is not quite the "Sneaky Funny Stinker" of the originals. However, the new version cartoon still pretty good with antics matched to modern things (cell phones, GPS, etc) for today's audience.
Be sure to get the
Looney Tunes Episode Guide
paperback book for searching the classics:
Looney Tunes Golden Collection (Sealed New) $42.96 Shipped Ebay
The original is the best! Found the entire Golden Collection DVD set in one sweet package at a great price at less then ten bucks a volume! I have been holding off on this due the the high price sold separate and the storage bulk of all the editions. The complete collection (only half of total Looney Tunes Classics released to home video) are all in regular sized cases saving on shelf space. So many great cartoons including
Rabbit Seasoning
,
Wabbit Twouble
(with older fat Elmer),
Duck Dodgers
,
Foghorn Leghorn
,
One Froggy Evening
(anyone remember that one?),
Robin Hood Daffy
and
Hare Trigger
.
Wiki wrote:

https://en.wikipedia.org/wiki/Looney_Tunes_Golden_Collection

The Golden Collection series was launched in the aftermath of the success of the Walt Disney Treasures series that itself collected archived Disney material. These collections were made possible after the merger of Time Warner (which owned the color cartoons released from August 1, 1948 onward as well as the black-and-white Looney Tunes, the post-Harman/Ising black-and-white Merrie Melodies and Turner Broadcasting System (which owned the color cartoons released prior to August 1, 1948

The DVDs also feature several special features including interviews/documentaries of the people behind the cartoons such as Friz Freleng, Bob Clampett, Tex Avery, Robert McKimson, Chuck Jones, musical conductor Carl Stalling, and voice-artist Mel Blanc, pencil tests, and audio commentaries by animation historians Jerry Beck, Michael Barrier, and Greg Ford, as well as current animators Paul Dini, Eric Goldberg, and John Kricfalusi and voice actors Stan Freberg and June Foray.
Erik_Twice wrote:The Looney Tunes Golden collection and its Blue-Ray successor, the Platinum collection are the gold standard for public cartoon releases. All the included shorts are of high quality, have been remastered with care (No ghosting, digital destruction or colour loss) and include a massive amount of additional content like documentaries and commentary by animators and historians. They are some of the best purchases I ever made.

The only censorship issue is that some of the WWII shorts were not included in the European release. So, for example, the amazing

Plane Daffy

is not included in the DVDs I own. This was the distributor's doing as their removal is in direct contradicion with the stated goals of the release. The only notable cartoon not included in these releases is

Coal Black and de Sebben Dwarfs

which is of not interest to children.

On the other hand, Disney releases are still heavily censored. Cigar removal is, indeed, a common problem (Saludos Amigos, older releases of The Three Caballeros, Mike Mine Music, etc.) as is the removal of stereotypical depictions on several shorts (Fantasia, The Three Little Pigs). Picture quality is also not up there and

Toot, Whistle and Plunk

suffers heavily from incorrect digital colouring. They are, quite simply, directed to a non-caring mainstream audience, with all the issues that entails. Other than that, the biggest problem is that they are grouped by character and you are bound to end up with a lot of junk.

The Tom & Jerry DVD sets were pretty good, IIRC. They are not as great as the Warner sets but they are well-done, with few issues. The Woody Woodpecker Region 1/Uk versions are good, despite the overly bright colors. They are a bare bones release but all the good shorts are in there. Tex Avery cartoons have no decent release on any medium. The French DVD set has massive digital destruction issues and is heavily censored.

So, if you want some cartoons, I would buy the WB Gold/Platinum releases.
Hey Arnold - $19.99 Walmart
A thicker case compared to other Nickelodeon sets I bought above. Say, is Family Guy Stewie Griffin related to Arnold? The main thing I remember about the Arnold cartoon is that funny guy with the language accent that always wanted everyone to "Make me a sandwich".
The Wild Thornberries - $19.99 Walmart
Also a thicker case, the talking monkey and girl that can talk to all the wildlife.
Though not near as funny as other sets I own such as
Family Guy
or gross factor of
Ren & Stimpy
; today's quick "allowed pickup" direct from the shelf to the cash register. Really a great price for some more classic Nickelodeon nostalgia.
darsparx wrote:Seems to me if they realized these toons were so popular they would've revamped nicktoons into the splat instead. And I would've been okay with that considering the the amount of time I spent between these shows and the semi-original lineup of boomerang/toon disney before both were ruined for me.
Had a similar shock when Cartoon Network ruined
Teen Titans
. The deformed cute mode just does not work.
Ren and Stimpy Show Uncut - The First and Second Season
The first seasons of Ren & Stimpy are reputed as the best. I had this set for a few years now, funny grossness! The remaining three seasons reviewed as toned down, should get them anyways to complete the series?
http://www.dvdtalk.com/reviews/12712/ren-and-stimpy-show-uncut-the-first-and-second-season-the/

There's

The Simpsons

. Then

South Park

. Some sing the praises of

King of the Hill

(or its corrupt cousin,

Beavis and Butthead

), while others go goofy for

Family Guy

. Yet when the list of classic animated series is compiled, it seems like

The Ren and Stimpy Show

no longer gets the rousing respect it once owned outright. During it's heyday, it was heralded and hated, praised as genius and degraded as trash. Now, it's just a semi-affectionate memory, a missive that seemed to never quite live up to its potential. Thankfully, Kricfalusi is back on board trying to salvage Ren and Stimpy's reputation.

The Ren and Stimpy Show Uncut – The First and Second Season

goes a long way in rebuilding the cartoon's importance and status. While it's far from perfect, and we may never see the show the way is was intended, the 32 episodes here truly represent a singular vision of animated bedlam – the warped imagination of a genuinely gifted and goofy guy making cartoons his way. All glorious grotesqueness and supersonic surreality aside, The Ren and Stimpy Show is perhaps the best example of unhinged pen and ink pandemonium ever created.