Wii Key - Gamecube SD Gecko
PS2 HDAdvance/HDloader Guide

PS2 Hard Drive Guide is in the second Reply below.
A more convenient way to play your games, Homebrews and EMUs using other forms of Media. These are "Soft Mod" so there is no Mod Chip with the risks of soldering associated with it. Last generation consoles are the pinnacle of modding. The most powerful consoles with mods that cannot be disabled by an online update.
This OP will deal with the Game Cube, I'll follow up with the PS2 in the second post.
Wii - GAMECUBE Gecko SD Card Guide
CRTGAMER wrote:

SD Gaming is so simple

1. Copy DOL Game files from the PC to a 2gb SD Card.

2. Pop the SD Card Wii Key/Gecko adaptor into the memory port.

3. Run SD Media Launcher from one of the three Code Junkies discs.

4. Select a Game, Emu or Utility off the SD Card, Compact SD Gaming!
Below is what you need to play Games, Homebrew and EMUs in a SD Memory Card.
Action Replay or SD Media Launcher
The older Action Replay is hard to find but you can get the latest AR direct from Code Junkies.
http://us.codejunkies.com/Products/GCN-Action-Replay---USA___EF000194.aspx
The newer Action Replay does not allow code entry but almost all games are already in. It includes Freeloader to run import games. An undocumented feature , SD Media Launcher pops up when a SD Memory Card is detected with a Gecko or Wii Key Card. The Older Action Replay does not include SD Media Launcher, but uses the better SDLoad program.
The older rare Action Replay allows code entry and is very hard to find especially with AR memory card. Older AR won't run without AR card. AR cards are notorious for failing during code entry, make a backup of the AR file on genuine Gamecube memory card.
The older code entry capable Action Replay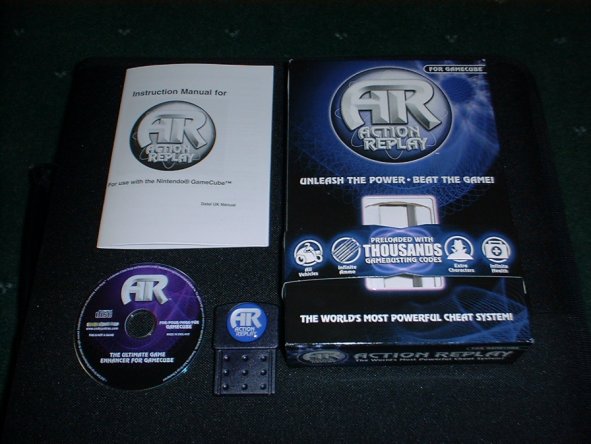 Newer no code entry Action Replay with hidden SD Media Launcher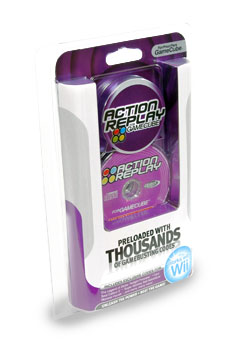 SD Media Launcher, SD Card Adapter, the disc is behind the label
http://uk.codejunkies.com/Products/GameCubeWii-SD-Media-Launcher__EF000580.aspx
SD Media Launcher Manual:
http://www.datelcustomerservice.com/pro ... uncher.pdf
SD Wii Key Gecko Card - Media Launcher Adapter
The Gamecube memory card is similar internally but not exactly the same as a SD memory card. The Gecko is a simple adapter to allow using regular SD memory cards.
SD Memory Card
2gb limit. The SDHC 4gb and above can be made to work but are tricky. You will need the 2gb or smaller for the initial boot. I'll cover SDHC cards later at the bottom of this Guide.
Putting the pieces together
We'll go with the newer Action Replay and SD Media Launcher first.
Format the SD card with a FAT16 filesystem (FAT12 and FAT32 are not supported).
Fill your SD card up with whatever Homebrews and EMUs of your choosing from the PC. Your discretion of what DOL files to install on the SD card. Plug the Gecko card or the Media Launcher Adapter with your 2gb or less SD card into either memory slot. Slot 2 is better, so slot one is free for the regular memory card saves. Loadup either SD Media Launcher or Action Replay. AR will default to SD Media Launcher if it detects the SD Card. Choose your DOL file from the memory card and enjoy!
The older hard to find Action Replay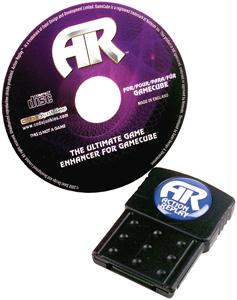 A better boot source, handles some of the more tricky DOL files.
Preparing a SD card from Windows, you'll have to Google the two files and download.
This procedure assumes that F: is the drive letter associated with your computer SD card reader.
Download SDPATCH,EXE and SDLOADER.BIN from your Google search.
Format the SD card with a FAT16 filesystem (FAT12 and FAT32 are not supported).
Run
SDPATCH.EXE F:\
Note which drive label is the SD Card as in
F:
Copy
SDLOADER.BIN
to the root directory of the SD card.
The SD Memory Card is now compatible with all versions of Action Replays and SD Media Launcher. Add DOL Games, Homebrews and EMUs of your choosing.
On to the fun part, the dreaded older Action Replay code entry.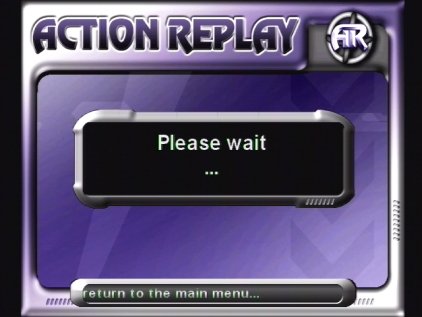 CRTGAMER wrote:Be sure to have a Gamecube Memory card plugged in with the AR file. You will need the GC memory card to save this long code entry. Run Action Replay in the Gamecube and Select Action Replay Codes. Select the USA flag.

Select

-- ADD NEW GAME--

It is the first entry in the code list window.

Enter

SDLOAD

and push the done key in the on-screen keyboard. Use uppercase letters for SDLOAD.

Enter

(m)

as the code name, and push the done key in the on-screen keyboard

Enter the following code, and push the done key in the on-screen keyboard

7YPR-RKZZ-MH6W5
D26A-PE4J-1XX2W
ZJHY-B1ZH-6P00G

Select

-- ADD NEW CODE --

Enter

SDLOAD

again and push the done key in the on-screen keyboard Again, use uppercase letters for SDLOAD.

BE CAREFUL, ONE WRONG ENTRY MEANS STARTING ALL OVER!

Enter the following code, and push the done key in the on-screen keyboard

AF4H-JPF5-H1B5J
MVAB-7TQE-ABZPB
V2CK-QQ1A-Y6P72
M5N6-CMMH-9EURT
0JFM-3A6C-VZ6VK
KYV8-0JGV-0GR1N
2EGU-HVKF-NDMCN
7AH0-J9JZ-HHGNJ
4MHU-G8XT-ZRYCJ
9474-KF41-8KG34
QMEV-G90N-A8RV0
KD4G-5QHV-74D46
V97K-652Q-Y4TEY
6M4W-9GPT-E99NG
QPFY-DJAF-E01FV
2Z6E-P2WY-24WV4
6NHW-G3NH-HP31Y
A2KF-MCKN-D645J
K5V8-EF9W-7GFQC
XTU3-269T-VH5NE
H9GP-C4PP-6FGF9
HF77-R45C-ZXPDV
22Y3-D98C-50AJM
WTWZ-EC88-U5ZTV
36G1-UGDG-J2G84
DUMT-15KR-DXJ8K
JV55-6VF5-2Z02T
D4R8-MVJ5-QGR21
1G3C-APD7-1CUVD

Select the code named

SDLOAD

in the code list window, and press the

A

button to enable it

The check box next to the code name should be filled when the code is enabled. Note that many versions of Action Replay contain a bug that will keep newly entered codes disabled. Make sure that the code remains enabled after a reboot.
Be sure the SD Gecko card is in GC memory slot 2!
Choose SDLOAD from Action Replay menu then after load select your DOL file and enjoy!
Running GC games in a SD Card
With SD Card in the PC, create a GCGAMES folder. Use GCM-UTILITY0.5 to reduce your backed up Gamecube ISO or GCM file. Dump the file in the SD Card GCGAMES folder. Plug back in the Gamecube and run from SDBoot.
Use of SDHC 4gb and Larger
To use larger SDHC memory be sure to have SDBoot version 4 in the 2gb card. Load that first, then in turn read a larger SDHC memory card. You can hot swap the memory cards after a read is complete or have another SD Gecko card in the other GC memory slot.
Action Replay - SD Media Manager - Free Loader
All three of these discs by Code Junkies have the same programs! The Action Replay section is disabled in Freeloader and SD Media Launcher, but the other two programs work in all three discs. SD Media Launcher automatically boots up if a SD Gecko Card is detected in the memory port. The SD Media Launcher is not in the older Code Entry Action Replay.
Older Action Replay on the left, the newer Action Replay on the right. The older AR labeled disc has the advantage of Code Entry and running PAL games correctly converted on a NTSC Gamecube.
PAL Doshin The Giant on NTSC: viewtopic.php?f=2&p=537000#p537000
SD Media Launcher includes a SD Memory Card adaptor, compatible with homebrew.
Backing up Game Saves to SD Card
The Wii can easily transfer game saves between internal memory and a SD Card for non locked saves. The Gamecube can transfer files between two Gamecube memory cards, but not to a SD Card without the right Memory Transfer Tool. Use a 2gb or less SD Card to avoid Gamecube read issues. Place the SD Card in your PC reader/writer.
Note that folders in the SD Card are created without Capital Letters.
1. Download GCMM.DOL.
2. Copy GCMM.DOL into the root of the SD Card
3. Create a folder
mcbackup
4. Copy any game saves to
\mcbackup
5. For the Wii the files should be in
\apps
There is an older game save utility called MCBACKUP.DOL. It works but GCMM.DOL is much easier to use. Any backup game saves will be in the
\mcbackup
folder. You can download Gamecube game save
.GCI
files, a great way to get unlocked levels of game saves. The original Action Replay save file can also be downloaded, needed for the Code Entry Action Replay disc to work.
Remove the SD Card from the PC and bootup with the SD Gecko method of your choice. Run GCMM.DOL.
Gamecube: Press
X
to restore a game save and
Y
to backup a save.
Wii: Press
+
to restore a game save and
-
to backup a save.
http://code.google.com/p/gcmm/
http://wiibrew.org/wiki/GCMM
http://playground.ultimateamiga.co.uk/i ... ic=11474.0

GCMM


A GameCube/Wii application to manage Gamecube memory cards

Wii/GameCube memory card manager is a project which has evolved from the

mcbackup

example back on 2006. That example was intended to backup gamesaves over network and

Akot

added SD card support (through the SD gecko adapter) on 2007. In early 2008

justb

and

dsbomb

rebaptized the project to it's current name, added support for savegame deleting, showing the savegames information and developed a nice GUI for it.

Now, here is

GCMM

, ported to Wii and libfat. More important,

mcbackup

has never correctly restored the savegames, though it may sometimes work, it seems to be pure luck. This has been fixed. Enjoy.

Features:

-Backup savegames to front SD (Wii) or SD Gecko (Gamecube) in GCI format.

-Restore .GCI save games to memory card.

-Delete save games.
CRTGAMER wrote:

Wii Game Save Naming Structure

Note that Wii game saves have a strange naming structure in the game saves when viewed on the PC. The save files do not have regular labels. For example Mario Galaxy game save will be labeled as RMGE.

The code breakdown:

R

- Wii

M

- Mario

G

- Galaxy

E

- English

Wii Code List:

http://www.wiisave.com/gamecodes/
Retro Game Emulation using a SD Card
Playing Retro games on an original console is always preferred to get the real feel of the game with authentic controls, video and sounds. However, Emulation offers convenience of saving space and storing multiple games on one CD or Memory card. Handy in changing games off a Menu with a simple press of a button vs digging out another game cart. How many can afford, let alone find a rare game cart or beta released game to play in its native format?
Once you setup your SD Card for booting with SDBoot or going the SD Media Manager route, it is very easy to add an Emulator for older consoles. NES, Gameboy, Sega Master, TurboGrafx 16, Genesis, SNES and even N64 games can be emulated.
SNES9XGX
I'll cover SNES emulation, other emulators install similar. Really there is not much to it. Use a 2gb or less SD Memory card to avoid read issues. Pop the SD Card into your PC reader/writer. Download
SNES9XGX.DOL
and SNES game roms. The Wii and Gamecube have different SNES EMU versions, optimized for each console.
Note that folders in the SD Card are created without Capital Letters.
1. Copy SNES9XGX.DOL into the root of the SD Card
2. Create a
snes9xgx
folder
3. Under \snes9xgx create a folder
roms
4. Under \snes9xgx create a folder
saves
5. Under \snes9xgx create a folder
cheats
6. Copy SNES game Roms into
\snes9xgx\roms
7. The saves folder is for SNES game save files
8. The cheats folder is for SNES cheats
9. For the Wii the files should be in
apps\snes9xgx
Remove the SD Card from the PC and bootup with the SD Gecko method of your choice. Find SNES9XGX.DOL in the root directory and click
A
on the Gamecube controller. A menu will appear with a list of game roms that you installed in the SD Card roms folder. Select your game with the DPad or stick, pushing right or left pages up or down. The SNES games can be played with the Analog Stick or DPad. To get back to the SNES Menu and select another game, simply push left on the
C Stick
An easy label solution
A 2gb SD Card can hold the Emulator and many many game roms. Amazing how a little memory chip can hold so much compared to the physical size of just one game cart. There is a small risk of adding a sticker label to the SD Card. It might make the card too thick and cause problems in a tight memory slot. I found it is easier to just print a small Console Icon on paper and place the cutout right in the SD Card plastic case.
Hundreds of Game carts on a SD Memory Card!
GCOS
There is also
GCOS.DOL
which allows running your Gamecube Imports and backup discs. It can be downloaded and installed to the SD Card. After GCOS.DOL is booted up, swap in the import or a mini DVDR. Note that full sized less costly DVDRs will only work with a modded Gamecube top. The disc reader does not utilize all the space on the DVDR, just the inner part as in a regular Gamecube disc.
References
http://www.gc-linux.org/wiki/SDload
http://wiki.scorpei.com/index.php/SD-Boot_compatibility_list
http://wiki.gbatemp.net/wiki/Gamecube_Backup_Launcher_Compatibility_List