The puropse of this thread is to compile, and debate, which 16-bit system had the best version of games ported to the Super Nintendo Entertainment System and the SEGA Genesis. Let the console wars continue like it's 1992: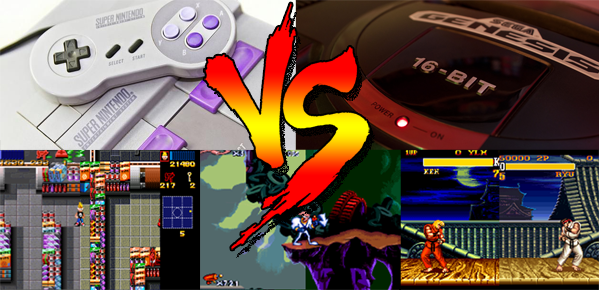 The following is a list of games ported to both the SNES and Genesis compiled by
Jedi Master Thrash at segaextreme.net
. Lets use this list to discuss, determine, and defend which system has the better port.
The rules for this thread are simple:
1) Discuss advantages (pros), disadvantages (cons) and similarities of each port.
2) Provide screenshots.
3) Provide a link (and give appropriate credit) with a brief summary if someone else on the net has already done this.
I will update this first post as people add links and information.
Games with similar ports on both SNES and Genesis:
3 Ninjas Kick Back
Aaahh!!! Real Monsters
Addams Family, The
SNES
Adventures of Mighty Max, The
Adventures of Rocky & Bullwinkle and Friends, The
Aero the Acro-Bat
Aero the Acro-Bat 2
Aerobiz
Aerobiz: Supersonic
American Gladiators
Andre Agassi Tennis
Art of Fighting
B.O.B.
Ballz 3-D
Barkley: Shut Up and Jam!
Bass Masters Classic
Bass Masters Classic: Pro Edition
Batman Forever
Battletoads/Double Dragon
Best of the Best Championship Karate
Bill Walsh College Football
Boogerman: A Pick and Flick Adventure
Boxing: Legends of the Ring
Bram Stoker's Dracula
Brett Hull Hockey '95
Brutal: Paws of Fury
Bubsy II
Bubsy: Claws Encounters of the Furred Kind
Bulls vs. Blazers and the NBA Playoffs
Cal Ripken Jr. Baseball
Captain America and the Avengers
Champions World Class Soccer
Championship Pool
Chavez II
Chester Cheetah: Too Cool to Fool
Chester Cheetah: Wild Wild Quest
Chuck Rock
Clay Fighter
Cliffhanger
Clue
College Football USA '97: The Road to New Orleans
College Slam
Cool Spot
Genesis
Cutthroat Island
David Crane's Amazing Tennis
Death and Return of Superman, The
Demolition Man
Desert Strike: Return to the Gulf
Doom Troopers: The Mutant Chronicles
Double Dragon V: The Shadow Falls
Dragon: The Bruce Lee Story
Earthworm Jim
Genesis
Earthworm Jim 2
ESPN Baseball Tonight
ESPN National Hockey Night
ESPN Speedworld
ESPN Sunday Night NFL
Family Feud
Fatal Fury
Fatal Fury 2
FIFA International Soccer
FIFA Soccer '96
Flashback: The Quest for Identity
Flintstones, The
Foreman For Real Boxing
Frank Thomas Big Hurt Baseball
Frogger
Fun 'n Games
Gemfire
Genghis Khan 2: Clan of the Gray Wolf
George Foreman's KO Boxing
Gods
Great Circus Mystery starring Mickey & Minnie, The
Great Waldo Search, The
Head-On Soccer
Hit The Ice
Home Alone 2: Lost in New York
Hook
Incredible Crash Dummies, The
Incredible Hulk, The
Izzy's Quest for the Olympic Rings
Jammit
James Pond
James Pond 2
Genesis
Jeopardy!
Jeopardy! Deluxe Edition
Jeopardy! Sports Edition
Joe & Mac
John Madden Football
John Madden Football '93
Judge Dredd
Jungle Strike: The Sequel to Desert Strike
Justice League Task Force
Kawasaki Superbike Challenge
King of the Monsters
King of the Monsters 2
Last Action Hero
Lawnmower Man, The
Lemmings
Lemmings 2: The Tribes
Lethal Enforcers
Liberty or Death
Lion King, The (Disney's)
SNES
Lost Vikings, The
Madden NFL '94
Madden NFL '95
Madden NFL '96
Madden NFL '97
Madden NFL '98
Mary Shelley's Frankenstein
Math Blaster Episode 1
Mickey Mania: Timeless Adventures of Mickey Mouse
Mickey's Ultimate Challenge
Micro Machines
Micro Machines 2: Turbo Tournament
Miracle Piano Teaching System, The
MLBPA Baseball
Monopoly
Mortal Kombat
Genesis
Mortal Kombat 3
SNES/Genesis
Mortal Kombat II
SNES
Mr. Nutz
Genesis
Ms. Pac-Man
NBA All-Star Challenge
NBA Hang Time
NBA Jam
NBA Jam Tournament Edition
NBA Live '95
NBA Live '96
NBA Live '97
NBA Live '98
NCAA Final Four Basketball
NCAA Football
Newman Haas IndyCar featuring Nigel Mansell
NFL Quarterback Club
NFL Quarterback Club '96
NHL '94
NHL '95
NHL '96
NHL '97
NHL '98
NHLPA Hockey '93
Nigel Mansell's World Championship Racing
No Escape
Nobunaga's Ambition
Operation Europe: Path to Victory 1939-45
Out of this World
Outlander
Pac-Attack
Pac-Man 2: The New Adventures
Pagemaster, The
PGA Tour '96
PGA Tour Golf
Phantom 2040
Pink Goes to Hollywood
Pinocchio
Pitfall: The Mayan Adventure
Pit-Fighter
Populous
Primal Rage
Prince of Persia
Pro Quarterback
PTO: Pacific Theater of Operations
Race Drivin'
Radical Rex
Raiden Trad
Rampart
Revolution X featuring Aerosmith
RoboCop 3
Rock 'n Roll Racing
Roger Clemens' MVP Baseball
Romance of the Three Kingdoms II
Romance of the Three Kingdoms III
Samurai Shodown
Saturday Night Slam Masters
SNES
SeaQuest DSV
Shanghai II: Dragon's Eye
Shaq-Fu
Side Pocket
Simpsons, The: Bart's Nightmare
Simpsons, The: Krusty's Super Funhouse
Simpsons, The: Virtual Bart
Soldiers of Fortune
Spider-Man/Venom: Maximum Carnage
Spider-Man/Venom: Separation Anxiety
Spider-Man/X-Men: Arcade's Revenge
Star Trek Deep Space Nine: Crossroads of Time
Stargate
Steel Talons
Street Figher
Sunset Riders
Super Baseball 2020
Super Battleship
Super Battletank: War in the Gulf
Super High Impact
Super Off-Road
Super Smash TV
Super Street Fighter II
Syndicate
T2: The Arcade Game
Tecmo Super Baseball
Tecmo Super Bowl
Tecmo Super Bowl II: Special Edition
Tecmo Super Bowl III: Final Edition
Tecmo Super NBA Basketball
Test Drive II: The Duel
Thomas the Tank Engine & Friends
Tick, The
TNN Bass Tournament of Champions
Top Gear 2
Toy Story (Disney's)
Toys
Troy Aikman NFL Football
True Lies
Ultimate Mortal Kombat 3
Uncharted Waters
Uncharted Waters: New Horizons
Urban Strike: The Sequel to Jungle Strike
Warlock
WarpSpeed
Wayne Gretzky and the NHLPA All-Stars
Wayne's World
WeaponLord
We're Back! A Dinosaur's Tale
Wheel of Fortune
Where in the World Is Carmen Sandiego?
Where in Time Is Carmen Sandiego?
Williams Arcade's Greatest Hits
Wolfchild
Wolverine: Adamantium Rage
World Cup USA '94
World Heroes
WWF Raw
WWF Royal Rumble
SNES
WWF Super Wrestlemania
WWF WrestleMania: The Arcade Game
Y's III: Wanderers From Y's
Genesis
Zero: The Kamikaze Squirrel
Zombies Ate My Neighbors
SNES
Zool: Ninja of the Nth Dimension
Zoop
Games on SNES and Sega CD/32X:
AD&D: Eye of the Beholder
Blackthorne
Doom
Earthworm Jim (SNES, Genesis, SEGA CD)
SEGA CD
Fatal Fury Special
Final Fight
SEGA CD
Hook
Romance of the Three Kingdoms IV
SimEarth: The Living Planet
Star Trek Starfleet Academy
Wing Commander
Games that are similar, but the ports are not exactly the same:
Teenage Mutant Ninja Turtles: Turtles in Time (SNES)
& Teenage Mutant Ninja Turtles: Hyperstone Heist (Genesis)
Thunder Spirits (SNES)
& Thunder Force III (Genesis)
Street Fighter II Turbo (SNES)
& Street Fighter II': Special Champion Edition (Genesis)
Games that are complete different on each platform:
Adventures of Batman & Robin, The (SNES, Genesis, SMS, Sega CD)
Aladdin
Alien 3
Animaniacs
Batman Returns
Beavis & Butthead, MTV's
Bonkers
Bram Stoker's Dracula (Sega CD)
Hardball III
Home Alone
Jungle Book
Jurassic Park (SNES, Genesis, Sega CD)
Mighty Morphin Power Ranges
Mighty MOrphin Power Rangers: The Movie
Ninja Warriors (SNES, Sega CD)
Paperboy 2
Pirates of Darkwater
Popful Mail (SNES, Sega CD)
Robocop vs. Terminator
Scooby-Doo Mystery
Shadowrun
Sparkster
Street Racer
Spider-Man
Taz Mania
Teenage Mutant Ninja Turtles: Tournament Fighters (NES, SNES, Genesis)
Terminator, The (Snes, Genesis, Sega CD)
Terminator 2: Judgement Day
List last updated 6/13/13