Updated December 21 2012
Hey anyone interested. After having a TON of stuff and getting rid of most everything last year (sadly, but it had to be done), I've now got my collection back up to a respectable level. Believe it or not, the vast majority of what I have now was gotten for VERY little. Trading with friends, double "hand me downs" from friends (got SNES FFII, FFIII, Contra III, Super Metroid, TG-16 stuff, and MUCH more like this), and $3 or less games from used shops. I honestly don't think I've paid more than $15 or a game or $20 for a console in 2 years (except for Skyrim). That includes a modded PS1, modded PS2 and modded Saturn (given away on another retro forum). Hard to believe, but there really are tons of deals out there if you are extremely patient and have some REALLY good friends; both locally and also online. For those who I'm referring to; THANK YOU!!!!!
Some of you might be surprised at how little I have, especially if you remember what I was selling to some of you a few years back, but at least I have it organized well and most genres and major consoles are well represented. Really, only the Turbografx-16/PC Engine and Saturn are sorely lacking. I do have all the Saturn stuff I want burnt, so at least I can play it. As for TG16/PCE, I have a lot of the stuff I want downloaded on PSN and/or the Wii (not to mention emulation). There really isn't much that I want that I don't have in one form or another, although I do prefer legit copies of things and also physical vs. downloadable. I do not collection light gun games at all. I don't even have Duck Hunt!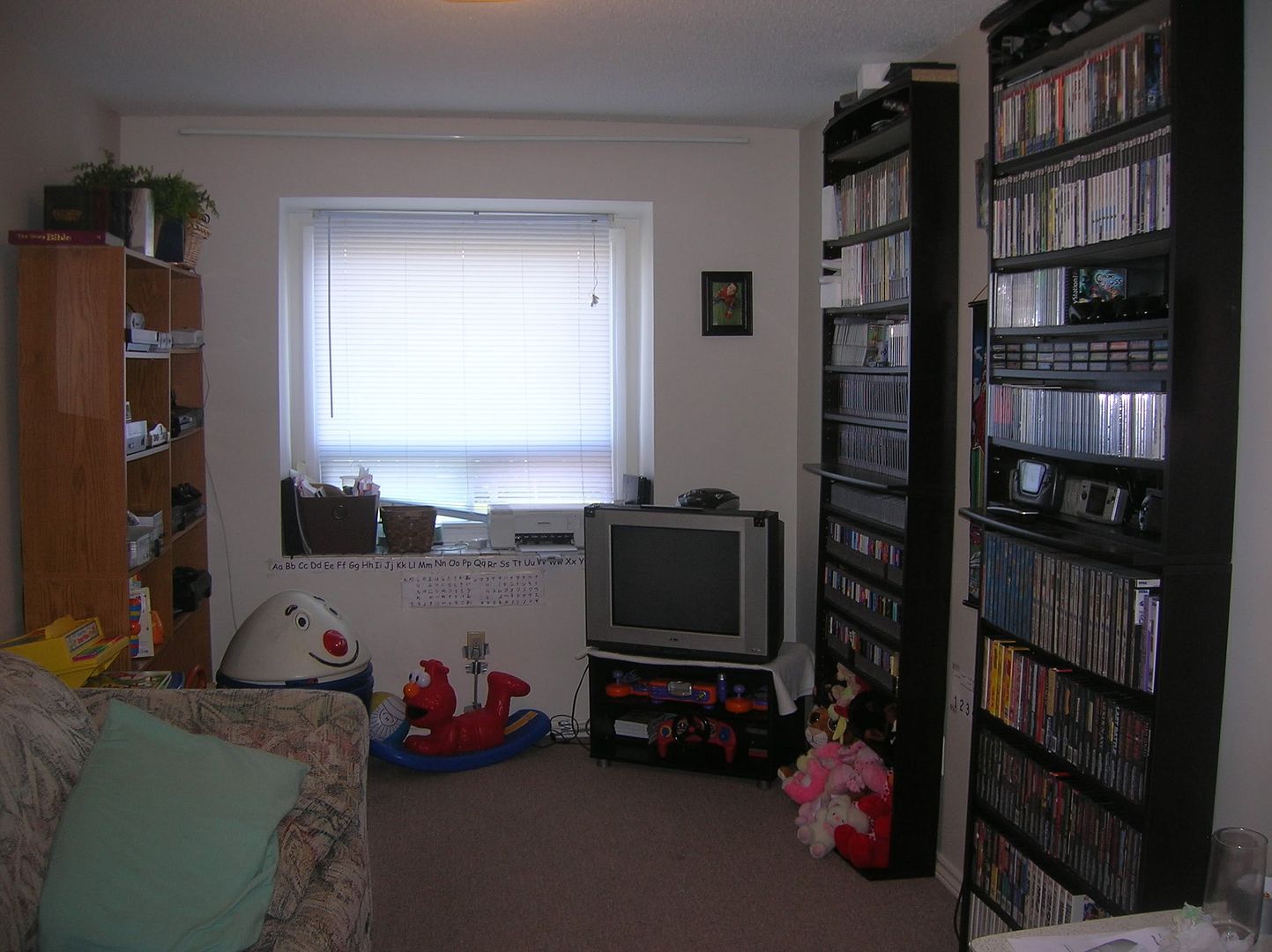 An overview of where my gaming is done. (12/21/2012)
Yes, my TV is a bit small. At least my retro games look GREAT on it. It does have component, so at least I can get some decent picture on it for newer machines. I must be one of the few on here who hasn't bothered much with HDTV. I have played through PS3 games on large HDTVs (mostly Skyrim recently), but I really don't see the need to upgrade now. Most of my gaming is retro stuff.
*update: I now also have a 46" Sony Wega HD rear projector. It looks very nice with retro games. I have a small 12" TV under it for RF stuff (the big TV won't do channel 96 for JP stuff).
Here are my TV consoles (portables are on the games' shelving).
They are in the icons in my signature, for anyone really curious. My PS1, PS2, X-Box and Saturn all have modchips. I have a PAR4in1 for my Saturn for imports/memory/RAM expansion. My SNES, N64 and 32X all have tabs broken off so I can play JP games on them. I did the 32X because you can't really tell it's been done as easily as on a model 2 Genesis. My Wii and PS3 are kind of hidden behind the TV, sitting on the window ledge. Only the PS3 and Wii are always hooked up. The rest are just hooked up as needed.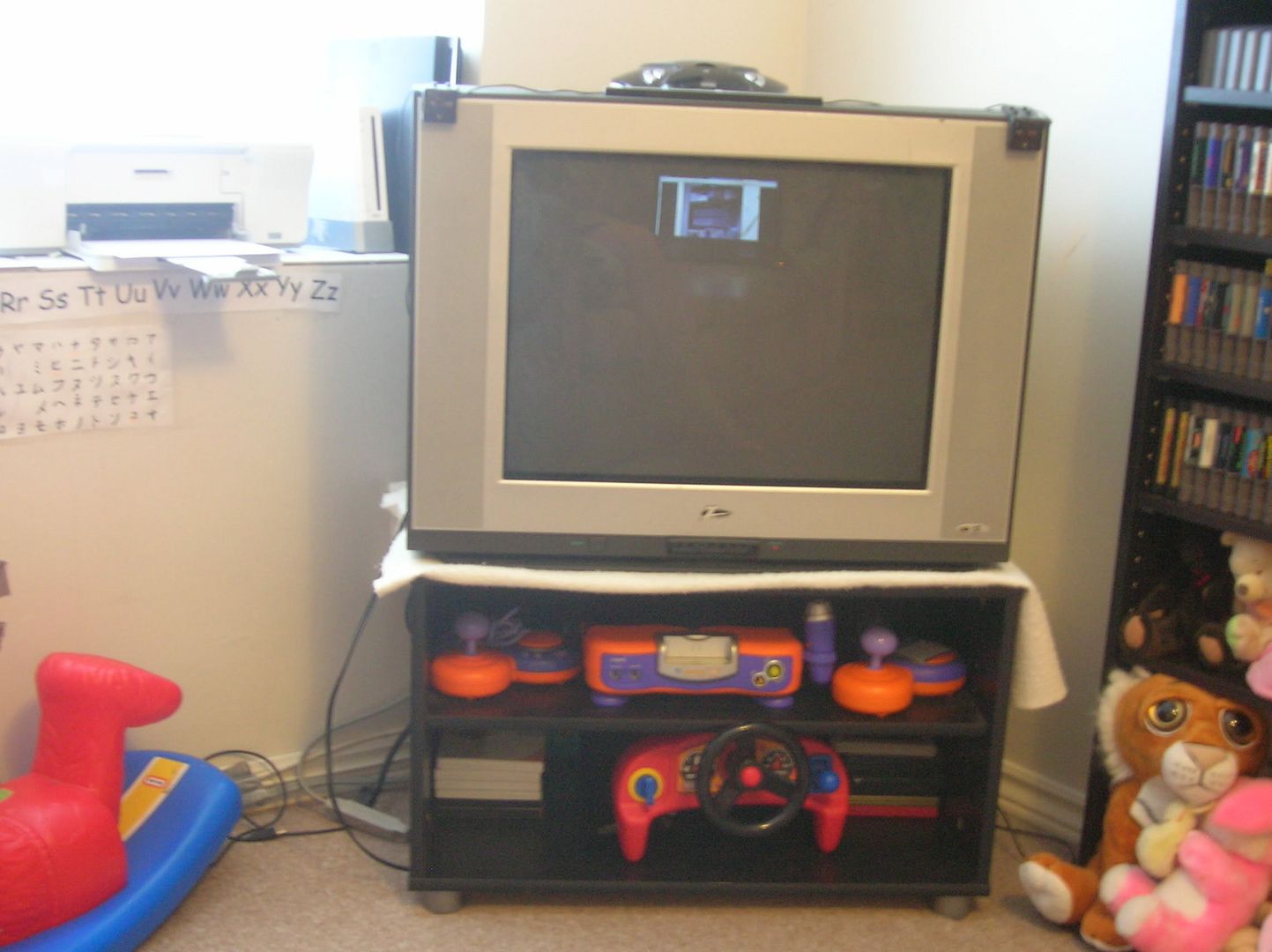 My cute little TV (that does have component input), and the little steering wheel game and V.Smile for mini-me-ette e to play with.
Here are the game shelves:
Well, hopefully some of you enjoyed seeing and reading about what I currently have.