Book Overview: Gaming Hacks
For you that don't know, O'Reilly has been doing a series of "Hacks" books that teaches readers how to get the most from certain products and services such as Tivo, Google, and eBay. One of their newest entries, Gaming Hacks, gives numerous ideas to gamers that want to play around with their consoles and games in order get their hands dirty and/or maximize their gaming experience.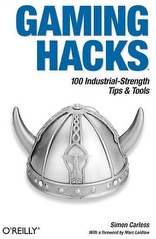 I have not personally read the book, but apparently, it's an enjoyable read — Cory Doctorow at Boing-Boing admitted, "I can't remember when I've had more engrossing fun with a technical book." I can vouch for the fact that O'Reilly puts out some high-quality books and the Hacks series is one of their most popular lines of new books.
Among the topics that might interest retro gamers:
Learn to read enough Japanese to play grey-market games imported from Japan
Build a killer home theatre audio setup to maximize your game platform's 3D sound
Build a portable device out of an old console, like the NES
Overclock your console
Play Atari ROMs Without the Atari
Play music on your Dreamcast
In addition to classic gaming topics, there is plenty of information reguarding modern gamin as this book is quite diverse. Some of the information contained in this book can be easiliy found on the web, but some people might just like to have a straightforward book to help them out. For full information and an opportunity to purchase the book (new or used) check out Amazon's site.
---
When you click on links to various merchants on this site and make a purchase, this can result in this site earning a commission.
Affiliate programs and affiliations include, but are not limited to, the eBay Partner Network or Amazon Associates.
---