Wild Metal (Country) - Dreamcast and PC Exclusive
Exclusive game
As the title states this relatively unknown older game is on the PC and its only home console release, the Dreamcast. A lot of gamers dismissed it as a slow moving simple shooting game. I rate this Dreamcast game up there with Toy Commander, due to its uniqueness of gameplay.
Dreamcast Owners Manual: http://www.thocp.net/software/games/con ... manual.pdf
My other game reviews:
Team ICO
ICO and Shadow of the Colossus information.
http://www.racketboy.com/forum/viewtopic.php?p=221298#p221298
Toy Commander
a Dreamcast only release.
http://www.racketboy.com/forum/viewtopic.php?p=307530#p307530
Katamari Series Review
A review of the PS2 releases and a comparison.
http://www.racketboy.com/forum/viewtopic.php?f=32&t=25806&p=326982#p326982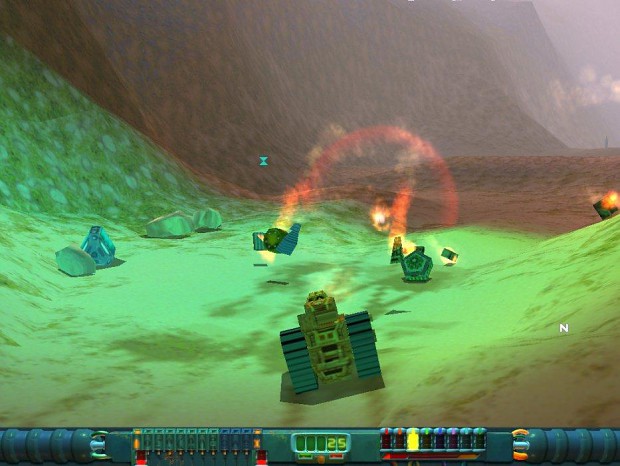 Drive the beast
You control a tank with an open ended terrain to explore. A huge expanse that takes what seems an eternity in your mechanical beast. That's the fun of it, you are really driving an armor plated heavy tank. The steep hills are sometimes a trick to climb, having to drive up at angles. Controlling your tank really feels like a street repair power shovel tractor, gotta make it up this hill! A workout in moving the treads of your rig. Driving off a cliff will sometimes causes you to land upside-down, what to do? Give a blast of your cannon, flip over from the repercussion. Or call a helicopter with the
Y
and
B
buttons to pick you up. Hunt down other tanks and recover the power cores. A mention earlier about how open ended exploring type of game this is. Reminds one of Grand Theft Auto open ended type game. Makes sense since
Rockstar
produced this game! There is a lot of territory to cover, a surprise over that next mountain. beacon markers help you home in on the next target.
Strategy
Ever play
Scorched Earth
,
Artillery Duel
or even
Team 17
's
Worms
? its in this game. Adjusting distance and height of your artillery volleys. Thankfully wind and gunpowder charge amount doesn't play a factor here because the game is in real time. Both you and targets are actively moving and or shooting back. The terrain affects the pitch of your gun, every volley pushes your tank back slightly. A constant rotating turret and setting the muzzle angle. A different type of strafing action, rotate turret to the side and drive around the side of a hill while plugging the enemy. Sometimes you can park your tank in a rut to avoid shots as you angle your cannon bearing down on the enemy. Fun to catch a tank off guard in the far distance, when you are on a hill overlooking a valley of enemy tanks.
Control
Dreamcast controller for this game is spot on. As you drive your tank with the analog stick, the triggers rotates the gun turret left and right. Your view always follows where you point the turret. To adjust the elevation angle of the barrel hold down the
A
button, release and tap continually to fire off the artillery. A satisfying feeling when you see the payload drop down on your distant target. Direction pad selects weapon,
X
drops the mines and marker beacons. To look down at the valleys and up the hills the
Y
and
B
buttons adjust the height angle. The gun can even be used to turn over a flipped tank.
This game works great with the standard DC controller. Just screams with the DC Panther. There is something about controlling a tank with a Flightstick vs a dinky thumbstick.
The third level is a night shot. Yellow glow in front of your tank helps light the way. When you see a blue spotlight its from an approaching helicopter which drops extra artillery to pick up. I suspect later levels of night shots will have enemy lights to watch for. Sometimes you find a red force field. the way thru is finding the generator, usually out of reach. Back the tank up, set your angle and blow that generator up. Not an easy task since there are a couple of gun placements firing back.
Two Player
Two player split screen arena mode. Ever play Conker multi player tank battle? Throw in the
Scorched Earth
angle aspect, while constantly moving around the terrain. Frag, Power Cores or Capture, your choice.
Give this tank a try, a bit of patience compared to a typical FPS. But that is the key to discovering a hidden gem.
Some videos:
http://video.google.com/videoplay?docid ... 457857355#
http://video.google.com/videoplay?docid ... 9638442440
PC version
Windows game controlled using a keyboard, which can be customized to any key. Rockstar is offering the game for FREE at their website, what more can one ask for. Not a demo, but the entire game, you can burn the install setup file to CDR if you want.
Rockstar PC Wild Metal FREE download:
http://www.rockstargames.com/classics/?id=2
FREEWARE PC GAME!