Re: Arcade Cabs: Prototype and Urban Legends Released
Posted: Mon Dec 26, 2016 6:45 pm
Arcade Games Prior To Pong - Computer Space
Nolan Bushnell is famous for the Atari 2600 and Pong. However, Pong is not the earliest Arcade game, he first came out with Computer Space. There were other Arcade Cabinets prior and though not the very first, Computer Space holds the distinction as the first Arcade Cabinet that took coins. The game has been forgotten even thru emulation since it was coded prior to Processor Rom Chips; used Transistors and Diodes instead. Later Arcade Cabinets with similar game play that can be played thru Mame include Orbit, Space Wars and Asteroids.
A prototype white console appeared in the Charlton Heston movie Soylent Green.
You can now play a simulated version (link at bottom) that duplicates the original Arcade Cabinet from 1971.
The simulated Computer Space is compatible with Windows XP and Windows 7 64 Bit. The game uses only keyboard controls, but it is best to play with a game controller such as an Arcade Stick or Gamepad. This can easily be circumvented thru the keyboard emulator JoyToKey. In the game screen, right click to bring up the hidden Settings Screen. Note the "Bullet" Missile is set to steerable which really works well. This duplicates Bushnell's later Atari 2600 Combat game in controlling a guided missile. The default ship speed of the original Arcade is way too slow.
Here are my settings with adjusted faster Ship Speed to duplicate the Cinematronics Space Wars Arcade Cab and Vectrex home version.
Links


Wikipedia - https://en.wikipedia.org/wiki/Computer_Space

Computer Space Front Page - http://www.computerspacefan.com/
Computer Space Simulation Download - http://www.computerspacefan.com/NewCompSpaceSim2.htm
Other Early Games Simulation Downloads - http://www.computerspacefan.com/Simulation2.htm
Atari Age Thread - http://atariage.com/forums/topic/69659-new-computer-space-simulator/

Computer Space History - http://www.technologizer.com/2011/12/11/computer-space-and-the-dawn-of-the-arcade-video-game/
Computer Space History - http://thedoteaters.com/?bitstory=computer-space

Spacewar Legacy - http://www.hardcoregaming101.net/spacewar/spacewar.htm
Spacewar History - http://www.gamasutra.com/view/feature/4047/the_history_of_spacewar_the_best_.php?print=1
Spacewar Expanded History - http://www.gamasutra.com/view/feature/1433/down_the_hyperspatial_tube_.php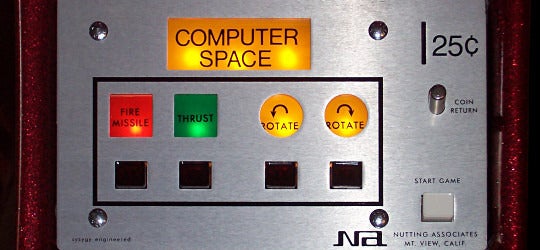 The Arcade Cabinet one of a kind with curves and metal flake finish.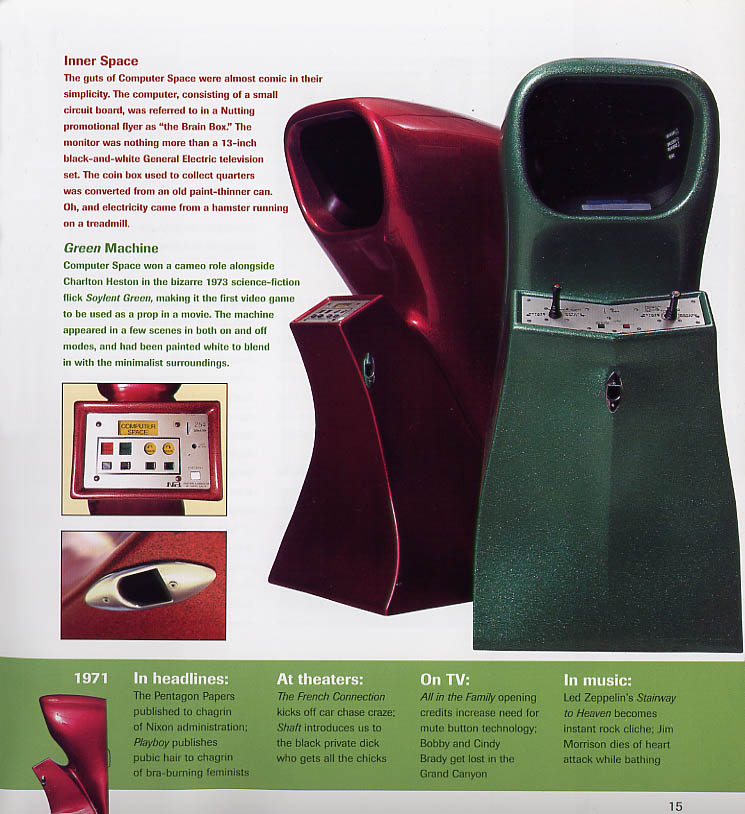 Note the prototype rocket steering controller.