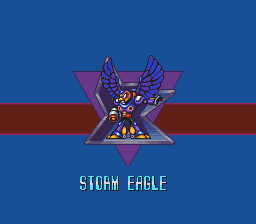 Brief story time:
Storm Eagle was the first Maverick I ever beat in Mega Man X. It was back in the early days of SNES emulation (nobody had managed to emulate Capcom's CX4 chip yet so this was at the time the only Mega Man X game to be emulated). Though I was a huge fan of the classic series already I knew next to nothing about Mega Man X outside of the fact that when I was younger I thought it was Mega Man 10 and he had white armor on the cover of the box but Mega Man box art was traditionally deceptive so I didn't think much of it.
I must have tried a few levels before this and kept failing, yet I clearly didn't try Chill Penguin for reasons that are obvious to anyone who has played through Mega Man X. For whatever reason, maybe it was the music, I decided Storm Eagle's stage was the one I would hunker down and beat. Without the dash boots his stage is crazy with lots of difficult jumps and his boss fight is very challenging since it's much easier to be pushed off the side if your timing and positioning is off. I had the base health, no weapons, no armor parts and I was shocked at how much harder this game was than the originals. I died a lot.
Little did I know that with the dash boots he's one of the easiest bosses in the game.