My last entry for the year. I watched a lot this time around!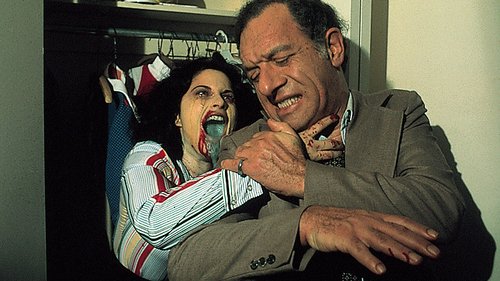 Rabid
(1977) - I'd read that this was a sort of spiritual successor to
Shivers
, which I watched earlier this month and quite liked. I didn't find this one to be nearly as enjoyable, and in fact struggled to maintain interest/focus throughout its 90 minute runtime. The effects work is appropriately gross-out inducing and the standard Cronenberg themes are present, but something about the pacing and camera movement/placement in this one didn't connect with me the way it does in most of the other Cronenberg films I've seen over the years. Glad to have seen it, but not one of my favorites from his oeuvre.
The Sentinel
(1977) - This is a film with a great lead cast (e.g. Chris Sarandan, Cristina Raines, John Carradine), lots of small parts for later-great actors (e.g. Jeff Goldblum, Christopher Walken), interesting plot ideas, a skilled director, and appropriately creepy effects...but it somehow still didn't land with me entirely. I think the pacing was off, or that there were too many long stretches of characters walking around looking for things, or that the larger sense of "mystery" was largely uninteresting once a few basics had been established. I still enjoyed the film overall (the last shot is pretty great), but I think this one's reputation set my expectations too high.
Halloween
(1978) - Watched this on Halloween night, and it was a first time viewing for my wife. She liked it so much she immediately wanted to watch the second part. Even though I'd seen this at least once or twice in the past ten-fifteen years, I had forgotten how "tame" the original
Halloween
is compared to most of what has come after it in the genre or in the series. The score still slaps, the cast is great, and Carpenter is at the top of his game in many respects - this is regarded as a classic for good reasons.
Halloween II
(1981) - The violence and gore in
Halloween II
is much more in line with the kind of reputation I think of when I consider the series as a whole, and the mostly-returning cast here is great in their immediate continuation of the first film's ending. Michael Myers is truly established as a force to be reckoned with here, and the film's various use of fire effects in particular are key in driving this home. The remixed score is used to perfection, and while the film doesn't look as great as the original, the scenes in the hospital hallways were especially well shot.
Season of the Witch
(1973) - I was hoping to close out the month with a great Romero film that I'd never seen...and unfortunately ended up wishing I had ended with something else. The audio design and camerawork made the already-dull dialogue that pervades the movie that much more tedious to watch, and the more crescendo-like horrific parts fall well short of Romero's more compelling zombie work. I am still interested in checking out a few of his other non-zombie films, but this one has dampened my enthusiasm.
Bonus TV:
True Detective Season 1
(2014) - I watched this when it originally aired and it offers just enough cosmic/Lovecraftian horror for me to feel I can safely include the re-watch I started on Halloween and finished yesterday as an entry on the list. The two leads really do hand in some of the best performances of their career, and the show's cinematography is still second-to-few in the medium. There are some great episodes, and while a binge-watch made the show seem a little less weighty than when I was watching it in weekly installments, the more intense scenes still hit hard.
Month of Horror 2020
Let's Scare Jessica to Death
(1971)
The Silence of the Lambs
(1991)
Vibes
(1988)
The Gorgon
(1964)
Shivers
(1975)
The House of the Devil
(2009)
The Shout
(1978)
Beetlejuice
(1988)
Frankenweenie
(1984)
The Scream of Fear
(1961)
Hail Satan?
(2019)
The Invisible Man
(1933)
The Craft
(1996)
Midsommar
(2019)
Rabid
(1977)
The Sentinel
(1977)
Halloween
(1978)
Halloween II
(1981)
Season of the Witch
(1973)
The Haunting of Bly Manor
(2020) (TV)
True Detective - Season 1
(2014) (TV)