Party Time! The Best Multitap Saturn Games
With New Years Eve coming up, you may be planning a bit of a party at your place. What better way to expose your friends to a little-known console, but a 10-player Bomberman mega-match!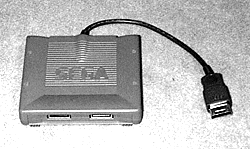 The Sega Saturn just happens to be one of the best party gaming consoles. Here's a list of games that support up to 10 players using the Multitap. The Multitap a must-have for any classic gamer with more than one friend. My personal favorites are Saturn Bomberman (10 Players!) and Guardian Heroes (6 Players).
If you don't even own a Saturn, you're missing out. (Get one — they're cheap). And I also have Sega Saturn modchips on sale and offer Sega Saturn swap trick help.
---