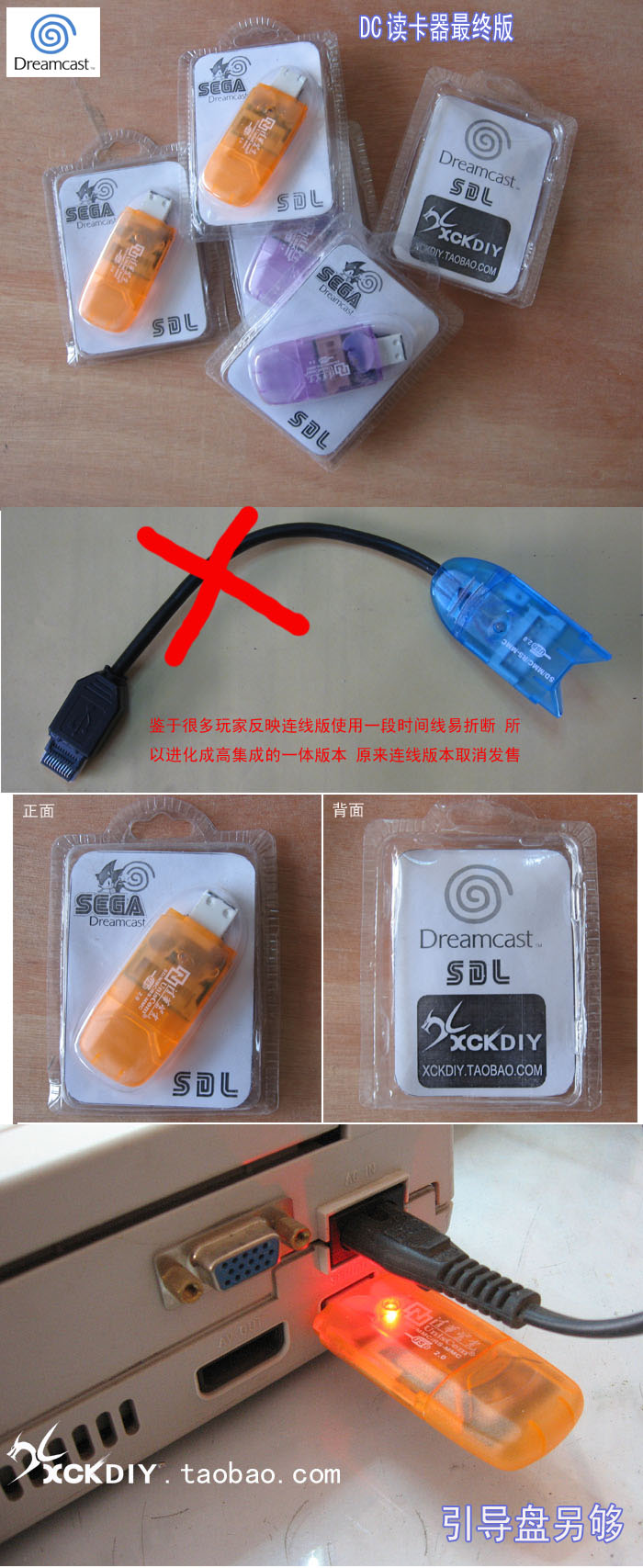 Q.What is a Dreamcast SD card adapter, and what can you do with it?
A. The Sd card adapter is a device in which you can run specialy made SD ISO images of games, emulators, homebrew and apps over the Dreamshell Operating System. It works with standard Sandisk cards up to 8GB, but supports up to 32GB SDHC cards(TESTED). You can even rip full GDRoms from your Dreamcast with this, much cheaper than buying a BBA.
Q. Where can I aquire these hard to find cards?
A. Currently, you can order them from China at a site that is a haven for selling DIY console hacks and mods called Taobao.com These adapters are all made professionaly by hand, and are guarantied to be free of manufacturing defects.
Q. Ok, so how can I order them?
A. You must go through another site if you live outside China in the instructions below, but it is very easy to do so!
#1 Make sure you have a Paypal account first, as this is the method that they accept funds from.
#2 Go to this link and see the adapter:
http://item.taobao.com/item.htm?id=7818275499
#3 Register with this English speaking site that deals directly with the Chinese site and then log in.
http://buyfromtaobao.com/
#4 Now open this link and paste the Sandisk Adapter link from the #2 instruction into the field and add the item to cart.
http://item.taobao.com/item.htm?id=7818275499
#5 Be sure to tell them the color you want, as they have Orange and Purple, and unless you specify what color you want, you could get either color.
# 6 You should now enter in any other information asked, and you should be done!
Thats it! They go for 40.00元(Yuan), roughly $5, after dealing with Buy from Taobao, mine was only $11.14 USD total with shipping/handling, and in the end they only charged me .50 cents US.
You should get your adapter in the mail in 4 to 8 weeks, depending on what shipping rates you choose.
Be sure to download the Dreamshell operating system here.
http://www.dc-swat.ru/blog/dreamshell/20.html
__________________________________________________________________________________________________________________
UPDATE! Review Below!
__________________________________________________________________________________________________________________
So, I said I was going to do a review of this thing, and how well the build quality is, and my experiance with my new 32GB SDHC card.
Here is the packaging it comes in.
Ok, so the first thing I noticed when I was opening one of these, is the actual serial port connector has been fashoned with a peice of plastic to act as a spacer to keep the device firmly placed in the serial port. This is not a bad thing, and actualy looks quite nice if you ask me. You will never notice it when it is plugged in anyway.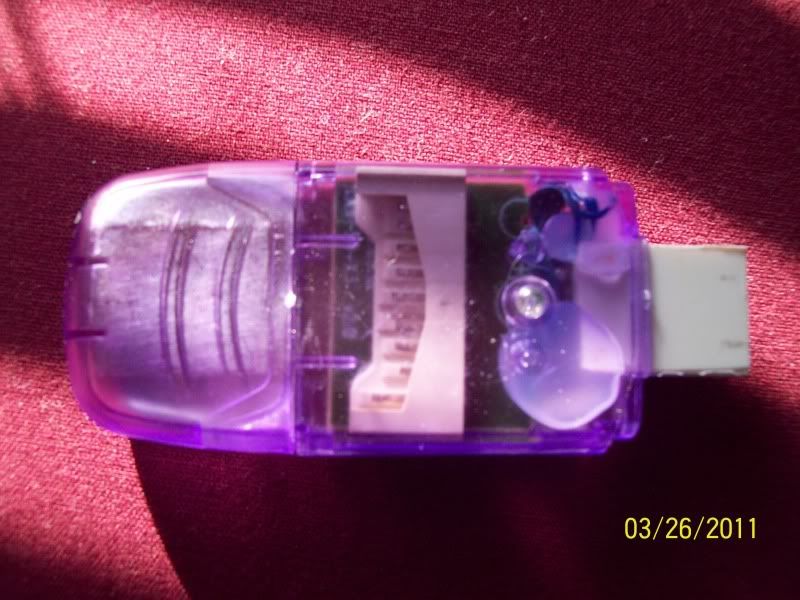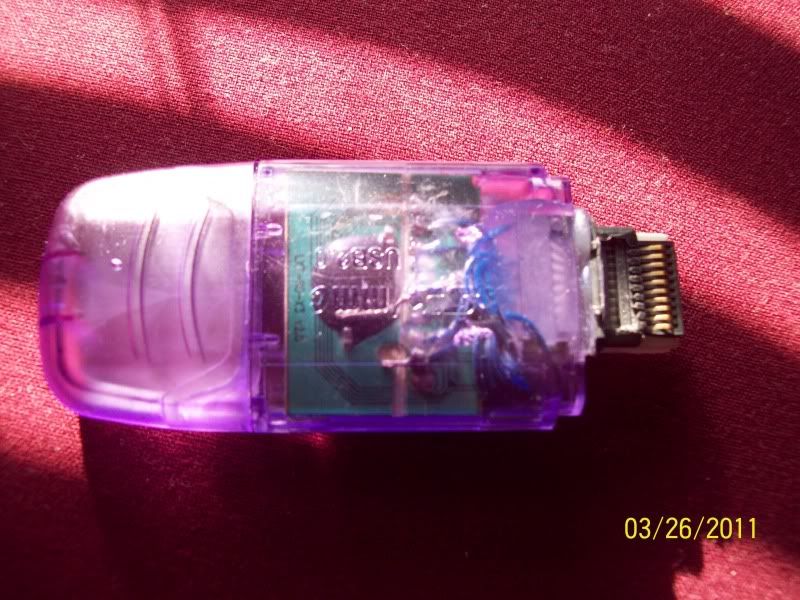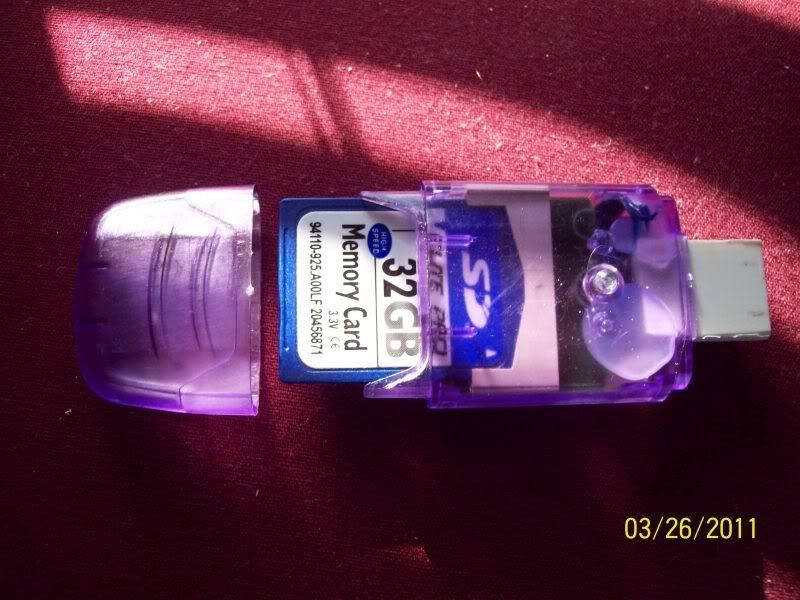 I did order an orange one, to keep the NTSC theme going with my Dreamcast, but apperiantly the orange ones sold out first, as I did specify to them I wanted the orange one, but they gave me an email saying that option was not available.
So far, I have gotten retail games Gigawing and Mars Matrix working, the later of which had some stuttering issues duing the Capcom logo, but once in game it worked fluidly as expected with full audio.
As far as homebrew goes, in my experiance with Neo Geo CD games, it works great, Double Dragon was fine by me. Aes4all should be updated in the future to be more compatible with the SD cards and use them as ram for the carts, so arcade games MIGHT work full speed in the future, but as of now, the low ram the DC has has kept emulation very slow for that system.
Dcplaya2.0 was updated with a SD card plugin, so you can browse the media directly from the SD card, but this hasn't worked for me with either my 2gb or 32gb card, and could be a common bug, but it should get worked out in the future I hope.
In the future Dreamshell will get updated with more features that I can't elaborate on just yet, but I assure you it will be more than worth it, and time spent waiting on these to come to your house. Mine took a little over 2 months, and you can do what I did and get a 32gig card on Ebay for $42 and fill it up with all kinds of GDI, CDI and homebrew binaries.
__________________________________________________________________________________________________________________