Tail Concerto was created by the subdivision of Bandai now called Cyberconnect2 who was responsible for the popular .hack series. It's one of those games that I played as a demo as a kid and instantly realized I wanted it. One Christmas, I finally got it, and I played it so much it wasn't even funny. As a young kid I was enthralled by this game and I believe it was the first game to bring me into the world of anime. But I digress. the game is just one of the many games that I feel has been neglected for probably many reasons, whether it looked too kiddish for the audience, or the amount of printed copies was lacking, and there could have been a problem on the advertising side.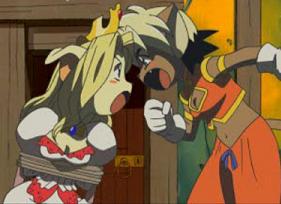 Tail Concerto takes place in the world of prairie, a world that consists on islands floating in the air, caused by an ancient weapon from the very ancient past. The races of Tail Concerto consist of humanoid dogs and cats, who live rather peacefully in the world together. Using the ancient technology of the past that they excavate. Unfortunately, there are some cats who have taken to the lives of sky pirates. Who constantly terrorize the inhabitants of prairie. Enter the main character, Waffle; A dog who happens to be a part of the police force. It's waffle's day off but to his disappointment, gets assigned a mission and is dragged into a dark (ok maybe not that dark) plot involving the past's demise. OK, so it's quite obvious that the plot isn't winning any points for originality. But what makes the game feel a lot more unique is that the characters are all wonderful and bright, funny, and entertaining. There is a sense of attachment towards the characters good and evil, minor or not. The plot is not complex but it get's the job done, and creates a wonderful world.
The style of the game is well fitting for the upbeat story and characters. It's quite bright graphics are quite reminiscent of Megaman Legends and also quite similar to Studio Gibli movies (laputa: castle in the sky in particular) and creates a great looking game. The aesthetics are quite nice and the game looks quite technical for a ps1 game. The wonderfully animated anime sequences and decent voice acting that is implemented more often then most ps1 games, really helps add to the experience. The music will most likely not have you desperately searching for a soundtrack, but it fits the game well, and sound quality can be both good and at times bad.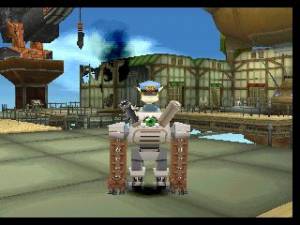 an example of the sumilarities between Tail Concerto, laputa (castle in the sky), and megaman legends
Tail Concerto may not excel in story, but it does not pull it's punches in gameplay. The game can be described as either as action platformer and action adventure. As Waffle, you have a special mech (that looks highly simular to laputa's castle in the sky robots) that you are in for most of the game. This robot has several abilities. Often the cats will be hiding, playing, sleeping, and doing there own thing, and since the main point of the game is to capture cats, you can you your bipedal vehicle to chase them, grab them, through bombs and barrels at them, and shoot bubbles at them to trap them and then go collect them. Now don't mistake this game for ape escape either, since the story plays out while you are looking for them. Often the cats will have stolen something that is vital for continuing on with the story. Of course the mech can also jump, do a floating thing by rapidly pressing the X button, and also in certain instances you get to fly. Most of the game consists of platforming and capturing the cats, but there is some instances where you are able to talk to the many inhabitants of prairie. This small particular detail helps make it feel more as if it were an adventure game then a straight up 3D platformer. There is of course a few downfalls to the game. First of all the game is quite easy to Finnish, and it a cake walk. Luckly there is the option to switch the game to hard mode. The game is not long but it's decent for a ps1 game like this, and there is enough fun for one in my opinion.
As a game that was once a great part of my childhood, there is a possibility I may be biased to how this game is really. And it's true the game is extremely campy and seems to be catering towards younger ones, plus it's on the easy side. but that shouldn't stop you from trying a game that I feel is an excellent yet overlooked part of the already great ps1 library. Try it for yourself, if you like it, spread the word. As i finish i want to share some exciting news that was brought to my attention today about the series. turns out a working title that is basically a spiritual successor to tail concerto is being developed into a new ds game. Im hoping this does not fall though.
working title scan for the new game. from a Japanese magazine.