Atari 7800 games worth picking up
Posted: Sat Aug 11, 2012 4:11 pm
I thought I'd get a thread going to see if any other folks here are Atari 7800 players...hopefully we can use this thread to create a good repository of suggestions for 7800 games since the main RB website has nothing on the system.
I'll start with two suggestions:
Food Fight
Food Fight is an arcade game by Atari that was only ported to the 7800 and the XEGS, and so until it ended up in the XBOX 360 "Game Room" a few years ago, the 7800 port was the most common way to play the game at home outside of emulation.
Each level involves you trying to reach a goal (an ice cream cone) while using food that is laying around to take out enemy chefs and the food they are throwing at you. It is really a very novel game that plays surprisingly well with even the 7800's horrible US controller.
This game is almost Robotron-esque in the level of shit flying around the screen on some of the later levels, and it continues to hold up as one of the best games for the system.
-----------

Desert Falcon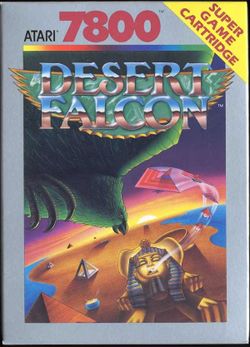 A much better version game than the 2600 version, Desert Falcon is probably the best shmup released for the 7800 during its short lifetime. The isometric view is reminiscent of Zaxxon and takes some getting use to, but the controls feel spot on and fluid (especially with a Euro-style gamepad).
The scoring is pretty basic but there's a wide variety of items to shoot and powerups/power-downs to collect which create some interesting situations throughout the game. I think that the game is a very novel approach to the shmup genre in terms of setting and perspective.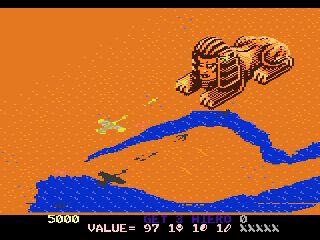 ----------
So what other games do people enjoy for the system? I have a ton more I can talk about, but I am curious what the rest of you think!