Wii Balance Board
A continual updated list, I will be adding all the Balance Board games here:
CRTGAMER wrote:

Wii Balance Board Game List


All Star Cheer Squad
All Star Cheer Squad 2
Academy Of Champions: Soccer
Babysitting Party
Daisy Fuentes Pilates
Dance Dance Revolution Hottest Party 3
Diva Girls- Divas On Ice
Doctor Fizzwhizzle's Animal Rescue
Don King Boxing
EA Sports Active: Personal Trainer
EA Sports Active: More Workouts
Equilibrio (WiiWare game)
G1 Jockey Wii 2008
Go Play Circus Star
Go Play City Sports
Go Play Lumberjacks
Gold's Gym Cardio Workout
Gold's Gym Dance Workout
Hula Wii
Imagine Fashion Party
Imagine Party Babyz
James Cameron's Avatar
Jillian Michaels' Fitness Ultimatum 2009
Jillian Michaels' Fitness Ultimatum 2010
Marble Saga Kororinpa
Mario & Sonic at the Olympic Winter Games
Mountain Sports
My Fitness Coach
My Personal Golf Trainer
NewU Fitness First Mind Body, Yoga & Pilates Workout
NewU: Fitness First Personal Trainer
OverTurn (WiiWare game)
Playmobil: Circus
Punch-Out!!
Rayman Raving Rabbids TV Party
Rock 'N Roll Climber
RTL Biathlon 2009
Shaun White Snowboarding: Road Trip
Shaun White Snowboarding : World Stage
Skate City Heroes
Skate It
Ski And Shoot
Snowboard Riot (WiiWare game)
Super Monkey Ball: Step And Roll
Tetris Party (WiiWare game)
Tetris Party Deluxe
The Biggest Loser
The Incredible Maze (WiiWare game)
Vacation Isle: Beach Party
Vertigo
Walk It Out
Water Sports
We Ski
We Ski and Snowboard
Wii Fit
Wii Fit Plus
Wii Music
Winter Sports 2: The Next Challenge
Yoga Wii



Wii U Balance Board Game List


Wii Fit U
I'm always one to try out a different way to play a game, but have held off on this controller for quite some time. The price and the indoor exercise versus just doing outdoor activities have put me off. Besides, I already have Dance Pads for the ridiculous indoor rainy day workout, saw no need for another pad. I found a Balance Board used for under fifteen bucks at a Thrift Store so decided to finally take the plunge.
White Plastic Raised Floor Mat
The Balance Board does not look like much to it. It takes four AA batteries and communicates to the Wii via Wireless Bluetooth. No need for a direct line of site for the wireless, important since the board is on the floor. A single power button is at the base that can be pressed with your toe. There are four feet underneath, these are the weight sensors. Note that there are four corners for detecting the weight. By shifting position on the board movement can be detected.
Wiki wrote:

http://en.wikipedia.org/wiki/Wii_Balance_Board#Development

The balance board's development was tightly coupled with the development of the Wii Fit game. Nintendo initially contacted manufacturers of normal bathroom scales, but ended up building the board without their help in an effort to keep down costs. In early development models, the balance board was a simple scale with one load cell. However, the developers realized that a simple scale was not useful as a game accessory and expanded the number of load cells to two, then four.

The idea to use multiple sensors was partly inspired by how sumo wrestlers weigh themselves (using two scales).

The shape of the balance board was initially a square, but it was decided that it was too hard to use for the exercises.

For a large part of the development process, the board was an extension controller to a normal Wii remote. The effects of this are seen in the released balance board, which acts as a Wii remote with the front button mapped to "A" and all load cells on an "extension controller".
The Atari 2600 had an early tilt board, anyone ever step on an
Amiga Joyboard
? It used switches instead of sensors, but the idea is the same. Four Corner movement detection, the Wii Balance Board improves on this with a weight sensor capability. The simple digital switch of the Joyboard is now Balance Board analog detecting how far to tilt or move depending on the weight shift of a player.
Accessories
Even the Balance Board cannot escape add on Wii Plastic. Different accessories to try a variance on the different exercise routines.
Push Up Bar
Raised Steps
The CTA Real Balance Board
A remote can be inserted in the base. Any tilt motion game can played with the Balance Board.
Step Up Platform
I picked up a pair of heavy plastic frames to build a Stepper Platform from a Thrift store for a couple of dollars that were part of an IKEA shelf. Connected both to a varnished piece of wood with bolts and nuts. This adds a higher step up for cardio step routines. Compact and easy to install, just place under each side supporting all four feet of the board sensors.
The IKEA Plastic legs are perfect for the Balance Board. Each has an adjustable foot to level off the Balance Board. It is comes with a base pictured in page two of the PDF. The part is $49.99 new so not very cost affective purchased direct from ther IKEA store. However, this gives an idea of what can be improvised when found in a Thrift Store.
IKEA Shelf EFFEKTIV - IKEA # 700.440.10 PDF Manual
http://www.ikea.com/ms/en_CA/pdf/buying ... _Guide.pdf

Two Wii Balance Boards, one has a non slip gel skin attached. Ikea parts used to make the step platform.
Mod Possibilities
The Balance Board can be electrically modified to work with other games. Imagine other games that can be played with a tilt instead of moving an analog stick. Taken a step further it can be used outside of just game control. The board has already been hacked to control servos and motors in manipulating various devices.
Servos to Control a wooden tilt game
Nike Shoes held a contest. One entry placed Balance Board sensors directly in the shoes
This is amazing. A tool for handicapped with a simple shift of weight. Catch that kid!
Tots on Bots
Balance Tryouts
Designed for convenient indoor exercise, with the right software this does not have to be a mundane workout routine. Step in certain games, it becomes a fun activity with the exercise as an afterthought.
Wii Fit
The original game that comes with the Balance Board. Choose your Mii, stand on board for the initial weight and age assessment. Depending how well you do with the balance the "Wii Age" can be higher or lower then your actual age. The age drops as you progress thru the exercises and games.
Wii Fit is broken into different categories.
1. Yoga - Balance Steady Stretch Routines
2. Strength Training - Exercise Balance
3. Aerobics - Cardio style games
4. Balance Games - Balance Style Games
5. Favorites - Sections you played
Each section offer a different tryout and start up. As you progress new routines are opened up in each category. The Yoga and Strength Training has a Virtua Trainer for a more "mature" style of workout. The other two sections are Aerobics and Balance which are various games. Controlling things on the screen makes one forget that it is an exercise routine. There are running games that do not use the board, just the Remote to detect jogging in place. It seems silly, but the character on the screen runs a course as you jog. No cheating by shaking the remote faster!
The Hula Hoop game is a lot of fun, the Balance Board really detects the hip sway as you keep the hoop spinning. As another hoop is thrown to catch, tilt your body in its direction. Just be sure to have the window blinds closed.
This is a good set of games, but it tends to be a little slow due to all the information prompts between each game and short workout. It takes time to unlock the advanced workouts which is needed up front to prevent the monotony.
Wii Fit Plus
A huge improvement over the original Wii Fit. All exercise and games are available up front. Anything entered and saved in Wii Fit automatically carries over to Wii Fit Plus. In addition there are some exercises such as step routine that can keep running without a break. The levels have been expanded with new games. Ride a bike, throw snowballs, perform Kung Fu "Dance Revolution" Moves, and even drive a Segway.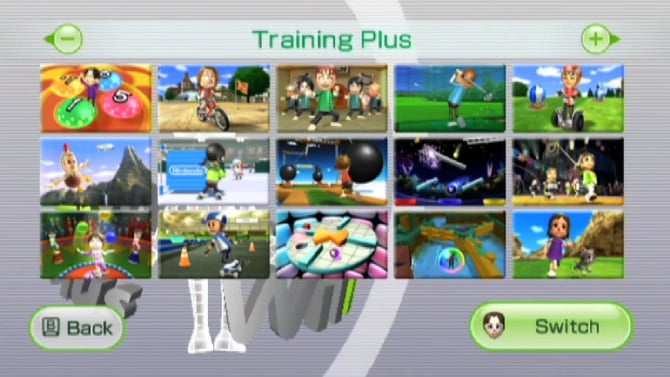 So many members including CRTGAMER wrote:I hate Motion Controls flapping the arms.
Flying
There is one game that you fly as a bird that looks like a chicken. Stand on the board and flap your arms to fly. Oh you have got to be kidding me, this is beyond ridiculous! Interesting technological achievment, the Balance Board can detect the slight weight changes just from flapping arms. To glide towards a target on the screen, lean left and right. In my denial hate of motion controls, I actually like this game. God, I hope no one can see me doing the Chicken Dance Flight thru the closed blinds.
Built in SnowBoard/Skateboard
Remember the four corner sensor capability I wrote earlier? There games that work with the
Balance Board spun around 90 degrees
, stand on it as if on a Skateboard. Lean into the sides of the board to change direction. To perform a jump, crouch and stand up fast almost to point of jumping off the board. Interesting how to start a skateboard going. Stand on the board with one foot and drag your other foot on the floor. Just stepping on the floor is not enough, you really have to do the push kick. The Balance Board can detect your weight bounce as you drag the other foot.
Segway
Just like a real Segway scooter, tip the board to go forwards or backwards. Twist the Wii Remote as a virtual set of handlebars to steer left and right. Drive thru the course popping balloons. Hardly a workout, just standing, leaning and a lot of fun!
ecoustics wrote:

http://www.ecoustics.com/electronics/products/new/572112.html

The thrill of riding a Segway® Personal Transporter (PT) just became a whole lot more accessible. Segway today announced at the E3 Expo that it has been collaborating with Nintendo on a module within the Wii™ Fit Plus video game. Segway worked with Nintendo to take advantage of its Wii Balance Board™ accessory and Wii Remote™ controller to simulate what it's like to ride a Segway x2 in a virtual environment. In the game, the players' Mii™ character zips around the levels trying to pop balloons and then ultimately tag a run-away mole-like creature that comes up out of the ground.

"It's been a lot of fun working with Nintendo on this game," said Eric Fleming, Segway's Director of Creative Services. "There are so many people who are curious about what it's like to ride a Segway PT. This game is the closest you can get to that smile-inducing experience without actually riding one. In addition, it's a great way for the entire family to have a positive experience with our brand," he said.
Obstacle Course
This is a very addicting level. The first Wii Fit has a tight wire act, here the concept is expanded on by walking, running and jumping moving platforms. Dodge objects and leap over rolling logs. Really, its an interactive platformer game!
Overall some very addicting games that keeps you coming back and forgetting that there is an exercise being performed. Great disc, any Balance Board owner should get this.
Vertigo
I reviewed this game some time ago in right in
This Thread
, discovered it also can be played with the Balance Board. The concept is to move a ball by tipping the Wii Remote or Tipping yourself on the balance board. As you shift your weight, the ball will change direction accordingly. The game is difficult due to a timer and the levels are designed for either a Wii Remote or Balance Board. A compromise of challenging enough for a Remote which makes it very hard with the board.
Marble Saga Kororinpa
Another ball rolling game but a different perspective. The entire maze pivots, giving an instant reference how far a tilt. Kororinpa has specific levels just for the Balance Board. The levels would be too easy for a Wii Remote, but perfect for trying to manipulate levels by tipping while standing on the board. There is a timer but no time up, so you can keep going for a careful steady try. Harder mazes have continue buttons that can be run over. If a ball drops off the entire maze does not have to be started over again. Kororinpa is definitely a great addition for the Balance Board.
Conclusion
The Balance Board will not replace a real workout. It is a blast getting into games with a new control method. The exercise is hidden under the excitement to beat the different courses. I enjoy jumping on a DDR Dance Pad and also like the Balance Board. Sure, both are embarrassingly silly but a fun diversion as an interactive and healthy entertainment. In this case, playing a video game is actually good for your health.
References


Wiki: http://en.wikipedia.org/wiki/Wii_Balance_Board
Balance Board Prehistory: http://www.bogost.com/watercoolergames/ ... tory.shtml
Labyrinth Mod: http://hackawii.com/wii-balance-board-labyrinth-game/
Balance Nike Shoes: http://nexgadget.com/2010/08/29/nike-sh ... rols-nike/
Baby Wheelchair: http://www.switched.com/2010/08/26/wii- ... by-mobile/
Balance Board Dissemble: http://www.ifixit.com/Guide/Disassembli ... ard/6474/1
Wii Fit Plus Review: http://www.destructoid.com/review-wii-f ... 2318.phtml
Wii Fit Plus Guide: http://www.gameyum.com/wii-fit/54288-pl ... -and-tips/
Balance Board Game List: http://ezinearticles.com/?Complete-Wii- ... id=3254812
Balance Board Game List: http://en.wikipedia.org/wiki/List_of_ga ... ance_Board
Vertigo Review: viewtopic.php?f=2&t=30455&p=437160#p437160



Right Click the Picture for a larger view


Guess which Wii Fit Registration Flyer is worth 100 Club Nintendo Coins. (Answer below)
Answer to Club Nintendo Coin question: