I've decided to post a free PC or Flash game for every day leading to Christmas, like those advent calendars where you get a chocolate for every day of December.
It's December 1st as I type and I'm starting this off with a wonderfully ridiculous little game called Octodad.
You are an octopus trying to blend in to a suburban lifestyle amidst the humans. Don't act too weird or you will raise suspicions and your family members or friends might discover your secret!
http://octodadgame.com/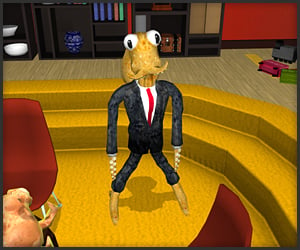 Happy Holidays!
EDIT
: Most of the games in this thread will require you unzip a file that may be in the form of .zip, .rar., or .7z. I recommend the following freeware program for all your zip file needs:
IZarc:
http://www.izarc.org/
Running List of the Free Games:
December 1st:
Octodad
December 2nd:
Casebook: The Missing Urn
December 3rd:
Pirates of the Burning Sea
December 4th:
Genetos
December 5th:
Facade
December 6th:
Au Sable (aka All of Our Friends Are Dead
December 7th:
Narbacular Drop
December 8th:
Barkley: Shut Up & Jam- Gaiden
December 9th:
Ichor
December 10th:
Masq
December 11th:
Gravity Bone
December 12th:
Bonesaw
December 13th:
The Hitchhiker's Guide to the Galaxy (Remake)
December 14th:
Hero Core
December 15th:
Merry Gear Solid: Secret Santa
&
Merry Gear Solid 2: Ghosts of Christmas Past
December 16th:
Tiny & Big in Grandpa's Leftovers
December 17th:
Last Scenario
December 18th:
Alien Arena
December 19th:
Nudo
December 20th:
I Was A Vegas Showgirl
December 21st:
Sanctum
December 22nd:
Run Man: Race Around the World
December 23rd:
Fate By Numbers
December 24th:
Cactus Arcade
December 25th: Christmas 2010
Bootfighter Windom XP
Dash and the Stolen Treasure
D.Nd Poison
Dwarf Fortress
The Endless Forest
Hydorah
I'm OK: A Murder Simulator
Minecraft
Les Miserables: the game of the book
Pirates of New Horizons
Proun
The White Chamber