uDraw

$69.99

$9.99
Works as a Wacom tablet in the PC. No its not as professional, but still has different sensitivity levels in the pen. Think of it as an inexpensive alternative for drawing and point to click gaming.
Go Go Go! The product that bankrupted THQ. At Gamestop, Frys, Best Buy and Wallymart. These were actually reduced a couple of weeks ago and now getting scarce. Some locations are selling all the uDraw games at $9.99.
A madhouse Christmas last minute rush, I managed to find three black Wii uDraws, and one for the PS3 as kids Xmas presents. Kept one for myself just to try a different device for the Wii. Its not a Wacom, but not bad either. Best way I can do a quick description is try to write your name in script using a mouse. The pen with the drawing tablet is sooo much better for sketching on the screen.
I picked up an additional white Wii uDraw and then an additionl PS3 and 360 uDraw due to a Deal Of The Day at Best Buy on Jan 29th. This puts me at owning five uDraws, more then enough backups! The spare PS3 and 360 uDraws are nice backups for the PC as well.
I got the PS3 uDraw to work in a PC for Drawing and Games!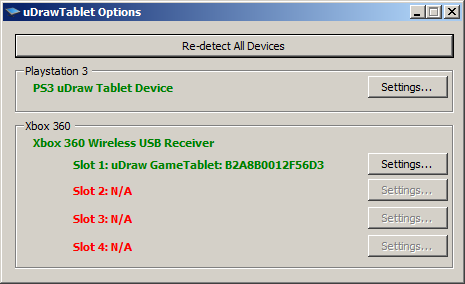 THQ uDraw Tablet and PC Review:
viewtopic.php?f=52&t=30455&p=702136#p702136