NEWS:
Hyperkin announced 3 new controllers!
viewtopic.php?f=44&t=52551&p=1142169#p1142169
═════════════════════════════════════════════════════════════════════════════════════════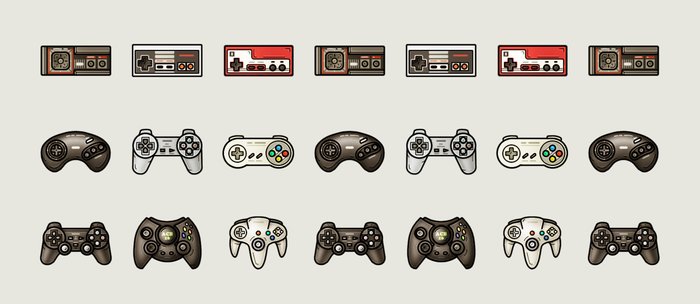 The purpose of this thread is to list controllers for retro consoles that are currently on the market. If you search Amazon and eBay, there's an endless list of generic controllers without a brand name. These are usually poor quality. Even controllers with trusted brand names can be hit or miss. Here we are looking to list only the cream of the crop.
Please suggest any controllers that you know of, excluding generic ones with no brand name. I would also appreciate any words (good or bad) you might have about any controller. We're looking for controllers that are currently being manufactured. Yes, the Hori mini pad for the N64 is great, but it hasn't been manufactured in 20 years and is super expensive. When buying used controllers, especially ones of this age, you have to worry about condition. "Tested, Works!" means that the button presses work, but not if they're all gummy feeling from being worn out or still very clicky. Hence this thread.
The focus is replacement controllers for retro consoles, but I'll also include USB controllers. Many of these controllers have color variants but I will only link one version.
Update: I decided to reorganize everything. There's two sections now. One for original console controllers and another for USB controller. There's a spoiler tag for each entry which will either contain testimony from a RB forum member, a link to review(s), or state "Review Needed." Of course, Amazon reviews can be helpful. For any entries that need a review, please contribute if you have first hand experience with one. Or, post a link if you know of a good review that seems unbiased.
Controllers for Retro Consoles:
Nintendo:
Cirka N85 (NES)
Retro-Bit Dogbone (NES)
RetroUSB Wireless Controller (NES)
RetroZapper Gun (NES, lightgun)
Power Stick (NES, Advantage)
Hyperkin Cadet (NES)
CirKa S91 (SNES)
Hyperkin Scout Premium Controller (SNES)
8Bitdo SN30 Retro Set SN Edition (SNES, wireless)
Retro Bit Super Retro (SNES)
Hyperkin Hyper Click (SNES, mouse)
Retro Fighters Brawler64 (N64)
Retro-Bit Tribute 64 (N64)
CirKa N64 Controller
Sega
Joyzz (Genesis / MegaDrive 6-button, wireless)
8Bitdo M30 (Genesis / Mega Drive)
Hyperkin GN6 (Genesis 6-button)
Sega Master System model 3020
Other
Hyperkin Brave Warrior (PS2)
Old Skool TurboGrafx 16 & PC ENGINE CONTROLLER
RetroGameBoyz controllers (Atari 2600, 7800, C64, MSX, SMS, Amiga, ColecoVision)
USB Controllers:
Nintendo
Buffalo Classic USB Gamepad (SNES, turbo)
CirKa S91 USB (SNES)
Retro-Bit Nintendo 64 (N64)
Sega
Hyperkin GN6 (Genesis 6-button, USB)
CirKa Saturn-Style USB Controller
Other
Logitech Gamepad F310
Refurbishing old controllers: