Games Beaten 2018
1. Letter Quest Remastered
Switch eShop
2. Batman
NES
3. Little Nemo: The Dream Master
NES
4. Mickey's Wild Adventure
PS1
5. Mario & Luigi: Dream Team Bros.
3DS
6. Layton's Mystery Journey: Katrielle and the Millionaires' Conspiracy
3DS
7. Nier Automata
PS4
8. Legacy of the Wizard
NES
9. The Legend of Zelda (starring Zelda)
NES
10. Tobu Tobu Girl
Game Boy
11. Rhyme Rider Kerorican
WSC
12. Sonic Advance 3
GBA
13. Wonder Boy: The Dragon's Trap
PS4
14. Super Adventure Island
SNES
15. Dynamite Cop
DC
16. Pokkén Tournament
Wii U
*NEW*
Pokkén Tournament
Pokkén Tournament is a fighting game for Nintendo Wii U in which you can select from a variety of different pokemon and brawl it out in 1 on 1 battles.
The story of Pokkén, which is utterly forgettable, is that trainers can use some sort of headset to mind link with their pokemon and then fight in real-time as them. There's also some sort of corrupted Mewtwo called Shadow Mewtwo that is outputting way too much of whatever the type of energy it is that lets people do that, and you have to figure out how to stop this. In the meantime you're also trying to fight your way through the ranks to get to the top of the heap in the Chroma League, Pokken's most prestigious tournament.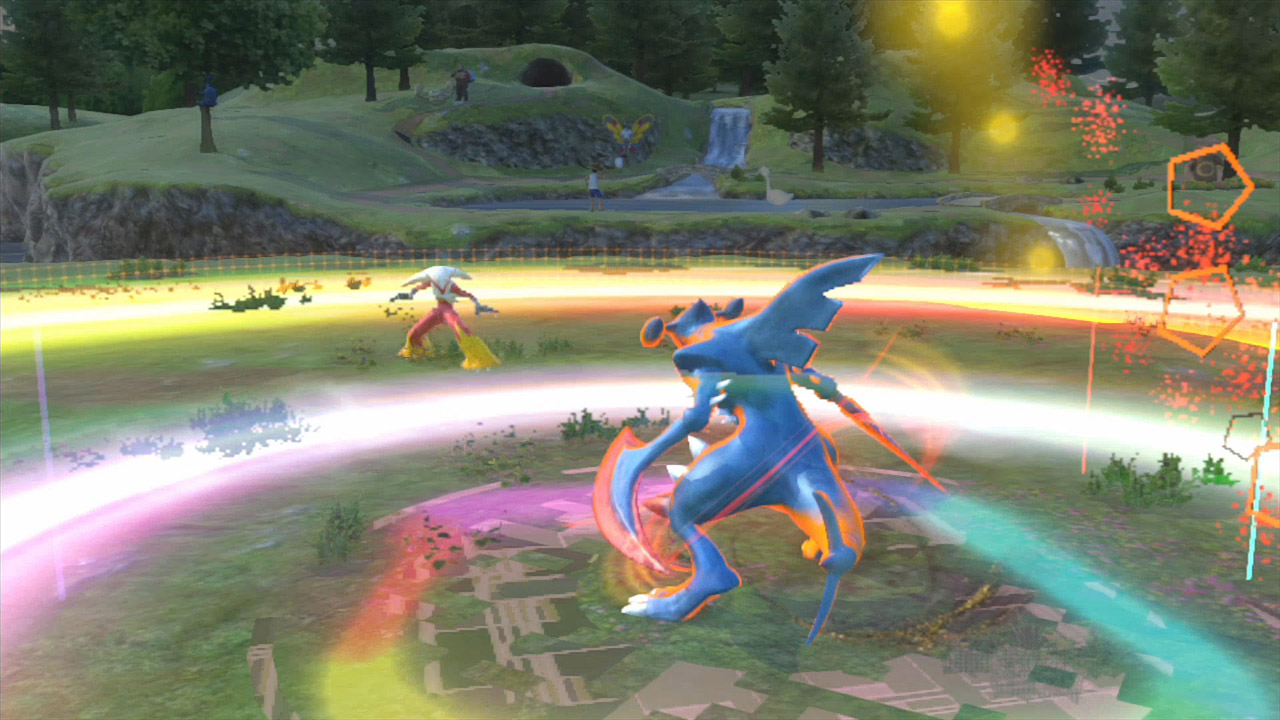 Basically none of that matters, because what it really means is that you have to do lots of fighting to get to progress. The fighting system in Pokkén is somewhat unique. Battles shift between 2 phases – the field phase, where pokemon can move freely in any direction, and the battle phase, which functions like a traditional fighting game, with the camera shifting to the side and pokemon moving back and forward on a single plane. Dealing a strong hit in either phase will shift pokemon to the other, and some pokemon are better in field phase than battle and vice versa, so managing this system is crucial.
Attacks are somewhat limited – the y button deals projectiles in field mode and weak attacks in battle mode. X is a homing melee attack in field mode – it makes you rush towards the opponent. In battle mode, it's the strong attack button. Finally, the A button is the special moves button in both modes, although which moves it does vary by pokemon and mode. Different attacks can be utilised with different combinations of the 3 attack buttons and the control stick. You can also jump with B, block with R, deal a counter which has super armour frames with X+A together and grab and throw with Y+B.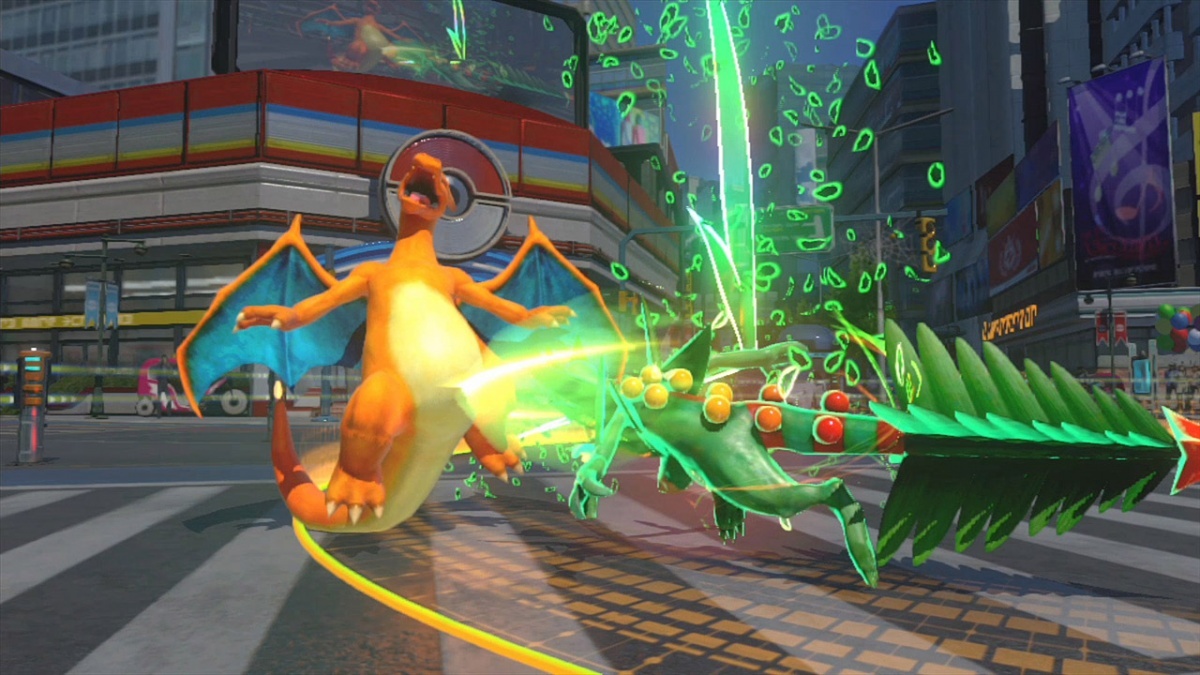 As well as those basic attacks, you can bring support pokemon into battle too, which deal specific attacks upon pressing ZR, but require charging over time to use. These aren't actually too strong, but can be used independently of you own attacks, so they're good for comboing or breaking guards. Pokemon also have a super meter which, when filled, can be triggered with L+R, making the pokemon stronger and faster whilst it lasts. Pokemon with Mega forms also Mega evolve and that normally comes with a whole new moveset. In super mode, hbitting L+R again will trigger a short range super attack for massive damage, but this ends super mode, meaning it's normally best to this towards the end of your super guage.
The pokemon playable in Pokken are an interesting selection, although it does unfortunately focus on bipedal pokemon which is a shame, as I think the variety of sizes and shapes in the pokemon series could have made for a very interesting roster. Instead you'll be using the bipedal Machamp, Garchomp, Charizard, Blaziken, Sceptile, Lucario, Braixen, Gardevoir, Gengar, Weavile and Mewtwo, the smaller Pikachu and Pikachu Libre, a solo quadruped in Suicune, and the most unique fighter of the bunch, Chandelure, the chandelier pokemon, who is who I favoured. Chandelure's combat is focused around deal damage at range in field mode, whilst inflicted debuffs, before finishing up with his hex move, a mid range throw which deals more damage the more debuffs the opponent has.
Pokken's combat is fun, but the small movepools of each character can mean that fighting the computer over and over can be tedious – the fun is in how to use your movepool against human opponents. This is an issue, because working through story mode requires fighting dozens upon dozens of computer opponents. In addition, the small roster size in the game means that you'll often be fighting the same opponents over and over to boot, so there's a lack of diversity there too. Add in the fact that there's no special challenges or gimmicks to any match, and the difficulty never differs greatly from start to finish, and the story mode of the game becomes an exercise in tedium.
Pokkén is a fun game, and if you can find someone to play it with, it's worth playing, even if you're not that big on the Pokemon franchise. However, as a single player experience it's just not worth it – it quickly becomes more work than fun. Also, if you want to play it, get the Switch version, as it adds 5 additional characters which helps the roster situation somewhat. One of them is a penguin. This is a well made game, but your mileage on this one will vary depending on how much time you commit to playing with others.
Recommended listening:
Magikarp is a pretty lame pokemon. It flops about uselessly, and is incredibly weak. Look at that screenshot below - if you were to write a music track for a stage themed around this pokemon, what would it be? Something really goofy probably.
It probably wouldn't be your first thought to make some hardcore euro-dance track with a japanese dojo aesthetic, but that's what they went with, and it is awesome
Click the image below to listen