Games Beaten 2018
1. Letter Quest Remastered
Switch eShop
2. Batman
NES
3. Little Nemo: The Dream Master
NES
4. Mickey's Wild Adventure
PS1
5. Mario & Luigi: Dream Team Bros.
3DS
6. Layton's Mystery Journey: Katrielle and the Millionaires' Conspiracy
3DS
7. Nier Automata
PS4
8. Legacy of the Wizard
NES
9. The Legend of Zelda (starring Zelda)
NES
10. Tobu Tobu Girl
Game Boy
11. Rhyme Rider Kerorican
WSC
12. Sonic Advance 3
GBA
13. Wonder Boy: The Dragon's Trap
PS4
14. Super Adventure Island
SNES
15. Dynamite Cop
DC
*NEW*
Dynamite Cop
It's time for a mini review!
Dynamite Cop is a Dreamcast sequel to the Arcade & Saturn game Die Hard Arcade, which was known as Dynamite Deka in Japan. It is a 3D beat 'em up, where you can choose one of 3 different characters and one of three different routes through the game to fight through.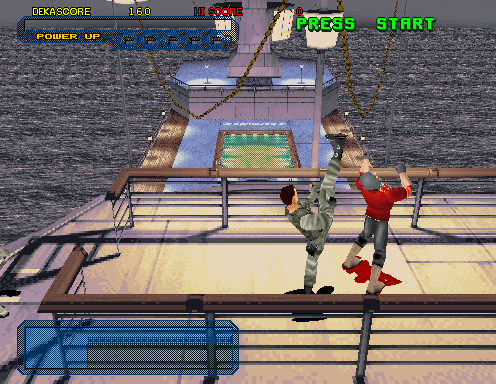 Each character has a selection of standard attacks and some unique moves, but the main focus on the game is more about making use of the selection of weapons available across the battlefield. This covers a wide swathe of options, with melee weapons like pipes, chairs and hammers, guns and explosives, and even oddities like frozen tuna and makeshift hairspray flamethrowers available to wield.
Rather than playing like a traditional 2D beat 'em up where you walk along a continuously scrolling environment taking on enemies, Dynamite Cop instead takes place across a series of small fight arenas with cutscenes in between. These cutscenes feature quick time events where an instruction will flash across the screen – hitting the right button will allow you to keep moving, but failing will cause you to take damage or have to fight additional enemies.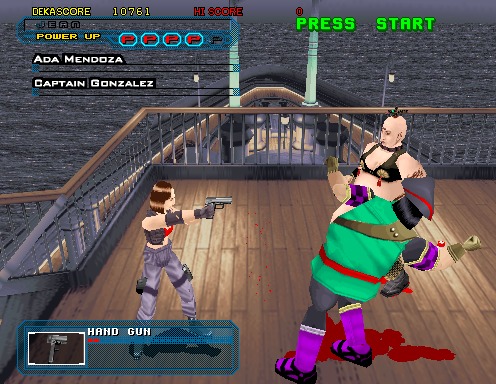 Dynamite Cop is a fun experience, but it's certainly not a deep one. Even compared to other beat 'em ups it has a very stripped back feel, and in that way it's also more of the same when compared to Die Hard Arcade. It's no mind-blowing experience, but Dynamite Cop is a fun time, and the additional character and multiple routes make this one a bit more replayable than before. Pick it up and give it a go if you find it for a good price, but it's not a must-own.
Recommend listening:
I can't lie, I don't remember the soundtrack of this one very well (I beat it in March… I'm slow at writing these) but here's a fun track to enjoy anyway:
Click the image below to listen