Games Beaten 2018
1. Letter Quest Remastered
Switch eShop
2. Batman
NES
3. Little Nemo: The Dream Master
NES
4. Mickey's Wild Adventure
PS1
5. Mario & Luigi: Dream Team Bros.
3DS
6. Layton's Mystery Journey: Katrielle and the Millionaires' Conspiracy
3DS
7. Nier Automata
PS4
8. Legacy of the Wizard
NES
9. The Legend of Zelda (starring Zelda)
NES
10. Tobu Tobu Girl
Game Boy
11. Rhyme Rider Kerorican
WSC
12. Sonic Advance 3
GBA
13. Wonder Boy: The Dragon's Trap
PS4
14. Super Adventure Island
SNES
15. Dynamite Cop
DC
16. Pokkén Tournament
Wii U
17. Mega Man 7
PS4
18. Rhythm Tengoku
GBA
19. Portal 2
360
20. Shinobi X
Saturn
21. Gravity Rush Remastered
PS4
22. Mario & Rabbids Kingdom Battle
Switch
23. Metroid Samus Returns
3DS
24. Shinobi
3DS
25. Resident Evil HD Remaster
PS3
26. Advance Guardian Heroes
GBA
27. Alien Storm
Mega Drive
28. Ecco: The Tides of Time
Mega Drive
29. Earthbound Beginnings
Wii U VC
30. Mega Man 8
PS4
31. Dragon Quest Builders
Switch
32. Vertical Force
Virtual Boy
33. Snipperclips Plus: Cut It Out,Together!
Switch
34. Conker's Bad Fur Day
Nintendo 64
35. Ever Oasis
3DS
36. Wario World
Gamecube
37. Solar Striker

Game Boy

*NEW*
38. Pop'n Twinbee

GBC

*NEW*
39. Halley Wars

Game Gear

*NEW*
I was feeling in the mood to play through something quick and accessible the other day, so I decided I would play some 8 bit portable shmups. I had a few that had been sitting for long enough, so I sat down and played through them a few times until I had them cracked. Here's what I though of the ones I played:
Solar Striker
Solar Striker is a shmup for the original Game Boy, and was one of the earliest games for the system. As both of these facts might suggest, it's quite a basic game – your ship only has one fire button, and as far as I could tell it moves at a constant speed too. You can gain power ups which upgrade your laser – the first power up will increase the firing speed, and the second will increase the size of your shots, and then they alternate. Your shot starts off as the typical pea shooter, before becoming 2 pea shooters, 3 pea shooters and then 2 thick lasers in turn.
There are 6 levels in Solar Striker, and they're pretty simple in layout. Enemies come in in consistent patterns and often only one variety of enemy will be present at once, so you can easily react to what they're doing, but later levels feature tougher enemy types who shoot more often, take more hits or have aggressive movements.
The game is pretty reasonable in difficulty for the most part, but a few of the late game bosses are hard to handle due to how much screen estate they fill up with their body and bullets and how many hits they take to go down. It's one hit death in this game, but when you respawn you keep some of your power ups – you'll drop down to the previous tier of laser, which is punishing but not as bad as most games of the genre.
Overall, Solar Striker is a fun little time. It has catchy music and basic but serviceable graphics, and there's an odd kind of charm to it that's hard to describe considering it's a generic space shooter. I like it though, and although it's never winning any awards for best in the genre, it's worth the low price it goes for if you're a fan of the Game Boy.
Recommended Listening:
Solar Striker has a simple but solid soundtrack that fits the game nicely. The most memorable track is probably the one that plays in the very first stage.
Click the image below to listen
: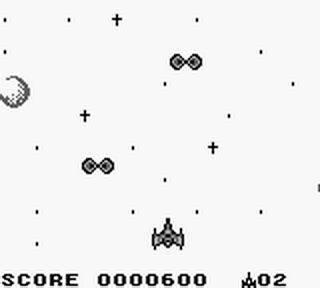 Pop'n Twinbee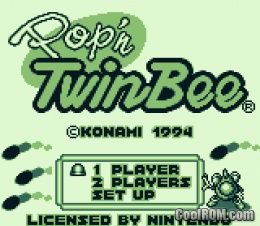 Pop'n Twinbee is a shmup for the original Game Boy, but the version I played was the Game Boy Color port found on Konami Classics Collection volume 3. As with all the games in the series, the most notable thing about the game is it's oddball power up system – shooting clouds will release bells, which fly into the air. Shooting the bells will change their colour, and each colour gives different power ups. I found this mechanic to be even more frustrating here than normal – bells need tons of hit to change colors, but will then cycle back to normal as soon as they're hit once more. I also found it harder to juggle multiple bells, and despite playing through the game multiple times trying to beat it, I never quite figured out what effect each colour has.
Pop'n Twinbee on the Game Boy is an interesting game – it features 5 levels, and a variety of cutsey and colourful settings to fly around. As usual you have a standard shot which hits airborne enemies, as well as a bomb to hit grounded foes. The problem with the game though is that it just feels horrendously cheap and not a whole lot of fun to play. The bell system is the main culprit this time round – it's just too much to handle on a GB screen whilst other enemies are coming at you, and the juggling act isn't fun. I can't imagine how much worse it would be playing on original GB when bell colour would be even harder to distinguish!
Personally, I recommend you avoid this one – it's far inferior to the decent-but-also-a-pain-in-the-ass SNES version, and if you're going to get one of them, definitely go with the console port. This game was not fun to play through at all.
Recommended listening:
The music of Twinbee is catchy enough, and I heard it many times whilst trying to best the game. Stage 5 theme's was my pick of the bunch,
click the image below to hear it: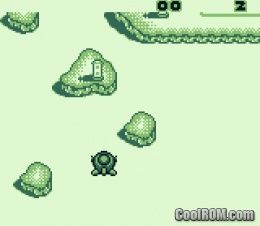 Halley Wars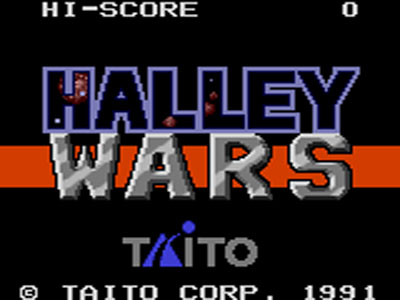 For my 3rd 8 bit portable shmup, I went for something a little bit different and played a game on the Game Gear instead. Halley Wars is a vertically scrolling shmup for the console with a rather generic space theme, but a few nice ideas that make it stand out a little. The main gimmick is the % in the lower corner of the screen – this is the health of the planet earth, and every enemy that gets past you will raise this % meter, with 1005 giving you a game over.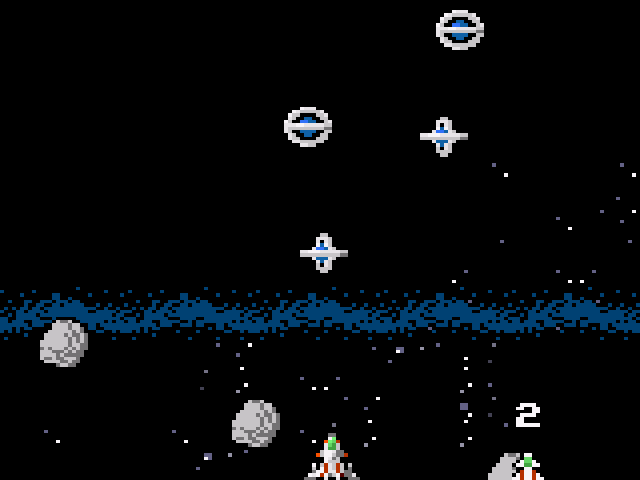 Other than this mechanic, Halley Wars is a fairly competent but generic shooter. You can find power ups to boost your speed, or add to the spread of your ships shot, which is very useful for keeping that % low, and you can also find options. Unlike most games of its kind, the options in Halley Wars are destructible, meaning that you don't normally keep hold of them for long. However, pressing the 1 button whilst you have one equipped will detonate it, so they also serve as your bombs for the game.
There's not a lot more to say about Halley Wars – it has a cool twist where you think you got to the end only to be turned around and sent back the otherway, but it's a fairly basic game. However, of the 3 games on this list, it's likely the best playing one. If you have a Game Gear (or especially if you have a way to play Game Gear games without dealing with the original screen) it's a fun little game worth a play, and I'd recommend it.
Recommended Listening:
The soundtrack to Halley Wars is not anything special, but it's enjoyable enough. My pick is this track which plays on stage 1, 5 and 7 -
click the image below to listen to it: