Games Beaten 2018
1. Letter Quest Remastered
Switch eShop
2. Batman
NES
3. Little Nemo: The Dream Master
NES
4. Mickey's Wild Adventure
PS1
5. Mario & Luigi: Dream Team Bros.
3DS
6. Layton's Mystery Journey: Katrielle and the Millionaires' Conspiracy
3DS
7. Nier Automata
PS4
8. Legacy of the Wizard
NES
9. The Legend of Zelda (starring Zelda)
NES
10. Tobu Tobu Girl
Game Boy
11. Rhyme Rider Kerorican
WSC
12. Sonic Advance 3
GBA
13. Wonder Boy: The Dragon's Trap
PS4
14. Super Adventure Island
SNES
15. Dynamite Cop
DC
16. Pokkén Tournament
Wii U
17. Mega Man 7
PS4
18. Rhythm Tengoku
GBA
19. Portal 2
360
20. Shinobi X
Saturn
21. Gravity Rush Remastered
PS4
22. Mario & Rabbids Kingdom Battle
Switch
23. Metroid Samus Returns
3DS
24. Shinobi
3DS
25. Resident Evil HD Remaster
PS3
26. Advance Guardian Heroes
GBA
27. Alien Storm
Mega Drive
28. Ecco: The Tides of Time
Mega Drive
29. Earthbound Beginnings
Wii U VC
30. Mega Man 8
PS4
31. Dragon Quest Builders
Switch
32. Vertical Force
Virtual Boy
33. Snipperclips Plus: Cut It Out,Together!
Switch
34. Conker's Bad Fur Day
Nintendo 64
35. Ever Oasis
3DS
36. Wario World

Gamecube

*NEW*
Wario World
Wario World is a 3D platformer of sorts released for the Nintendo Gamecube, and developed by that prime deliverer of cult-classics, Treasure. I picked up and played through the game for Together Retro's Treasure month, and it was an interesting experience.
The story of Wario World goes that Wario gathered a bunch of treasure in his castle, but it turns out one of the gems was evil and it comes to life and turns all of Wario's treasure into monsters and traps wario in a strange new world. Wario has to explore the levels of this world and rescue some kind of sprites who will apparently help him defeat the evil gem. Wario does this by platforming through 8 different levels and beating up a bunch of bad guys and bosses on the way.
Although I've said Wario World is a platformer a few times now, that's only partially true, as in many ways it's a beat-em-up. Wario can charge into enemies or punch them to stun them, after which he can pick them up to perform one of a few different moves. He can throw them (and this can be charged into a super throw to hurt stronger enemies), he can pile drive them into the ground (causing a shockwave which hurts other enemies), or he can 'swing-ding' them – swinging them around in circles before launching them away. These moves are not just used for fighting, but also are required for certain environmental interactions – you can throw enemies at switched, slam them into trap doors to open them, or swing them into cranks to turn them and open doors.
The focus of Wario World is not just fighting and platforming though – exploration is the name of the game here, as each level is crammed with items to find – you can find 8 red gems, 8 gold statue pieces, 5 sprites and 8 treasures in each level, all of which give different rewards. The gems are needed to finish the level – with earlier levels requiring only 3 but later ones needing as many as 6 to complete. Finding all 8 statues in a level will raise wario's health by half a heart, for up to 4 extra hearts worth of health total after all levels are complete. The sprites determine your ending but also give tips for the stage you're on, and finding all 8 treasures unlocks a GBA demo of Wario Ware, which came out around the same time. These items are spread throughout the level, and often require you to hit switches later in the level and then backtrack to find them.
Some of the items in the game can be found in puzzle rooms – small rooms you can access which feature some kind of block puzzle or platforming challenge which will reward you with an item or two. These are inventive and interesting, with lots of mechanics being made use of, and in some ways they remind me of the fludd-less platforming areas in Mario Galaxy, only with a clunkier control. These are some of the stronger parts of the game in my eyes, and if they were properly fleshed out they could almost have been a game in themselves. Wario doesn't really fit the concept though.
Because there's so much to find, the levels in the game tend to take a long time to complete – often 30 minutes or so on a single stage. This can make the game drag quite a bit, which is a shame considering the entire game is only about 4 hours long. The game has a kind of low budget feel too – lots of reskinned enemy assets appear, and the intro story is explained in text rather than animated.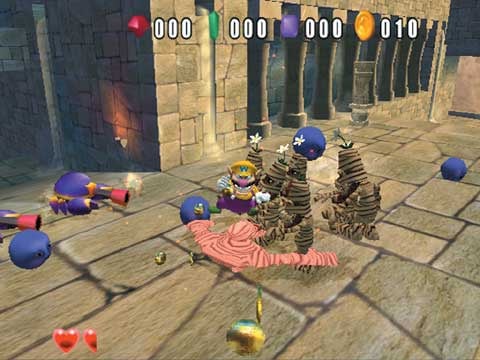 Wario World has some nice ideas and is an interesting adaptation of the Wario Land series into 3D, but it's not a classic, and it's one of Treasure's weaker games. There's fun to be hand in the boss fights and puzzle sections, but the small enemy variety and move variety in the combat makes that element feel underdeveloped, and the game doesn't have tight enough platforming to make up for that deficiency either. If you find it cheap, it's likely worth the few hours it takes to get through, but don't go out of your way for it.
Recommended Listening:
I might have thought the game was fairly average, but the soundtrack is a bombastic and jazzy ton of fun, and well worth a listen. Give it all a go if you can, but this is probably the most iconic music for me - the greenhorn forest theme. Click the image below to hear it.