[quote="alienjesus"]
Games Beaten 2018
1. Letter Quest Remastered
Switch eShop
2. Batman
NES
3. Little Nemo: The Dream Master
NES
4. Mickey's Wild Adventure
PS1
5. Mario & Luigi: Dream Team Bros.
3DS
6. Layton's Mystery Journey: Katrielle and the Millionaires' Conspiracy
3DS
7. Nier Automata
PS4
8. Legacy of the Wizard
NES
9. The Legend of Zelda (starring Zelda)
NES
10. Tobu Tobu Girl
Game Boy
11. Rhyme Rider Kerorican
WSC
12. Sonic Advance 3
GBA
13. Wonder Boy: The Dragon's Trap
PS4
14. Super Adventure Island
SNES
15. Dynamite Cop
DC
16. Pokkén Tournament
Wii U
17. Mega Man 7
PS4
18. Rhythm Tengoku
GBA
19. Portal 2
360
20. Shinobi X
Saturn
21. Gravity Rush Remastered
PS4
22. Mario & Rabbids Kingdom Battle
Switch
23. Metroid Samus Returns
3DS
24. Shinobi
3DS
25. Resident Evil HD Remaster
PS3
26. Advance Guardian Heroes
GBA
27. Alien Storm
Mega Drive
28. Ecco: The Tides of Time
Mega Drive
29. Earthbound Beginnings
Wii U VC
30. Mega Man 8
PS4
31. Dragon Quest Builders
Switch
32. Vertical Force
Virtual Boy
33. Snipperclips Plus: Cut It Out,Together!
Switch
34. Conker's Bad Fur Day
Nintendo 64
35. Ever Oasis

3DS

*NEW*
Ever Oasis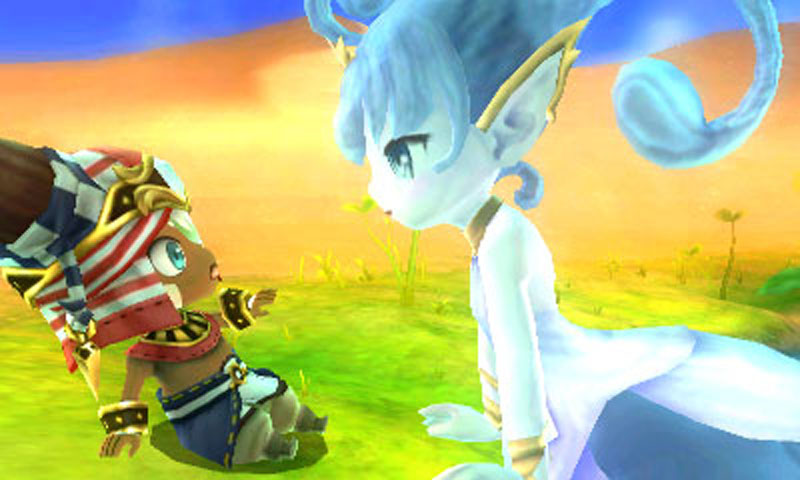 Ever Oasis is an action adventure game in the vein of Zelda, developed by Grezzo, who also did the 3DS remakes of Ocarina of Time and Majora's Mask, and released for the 3DS. You play as a Seedling, one of several races who live in a vast desert. Seedlings are the smallest and weakest of the races, but they all have special abilities they can use, and have the ability to grow special structures using the seeds they have in their hearts. You are a special seedling who is destined to be a chief, because your seed can grow an Oasis when watered by a Water Spirit – basically a town full of greenery and water and safe from the threats of the world outside.
The objective of the game is to grow your oasis over time, welcoming other residents to town, whilst countering the threat of Chaos, an evil force which grows dark twisted plants which destroy oases and kill other plant life, draining the land and expanding the desert. Thus, the game switches between 2 main play styles – the first are story dungeons which play a little bit like a simplified Zelda, and the second involves exploring the world to find new residents and recruit them to your village by completed quests for them, and find supplies to keep the town running.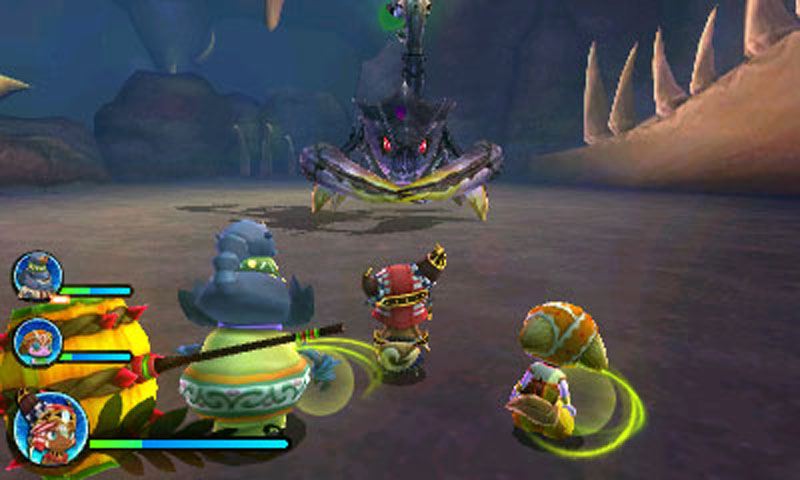 Residents joining your village come in 4 varities – Seedlings, who can grow new 'bloom booths' shops which are your main source of money in the game, but which need to be kept stocked with supplies, and also the other 3 races – Drauks, a race of lizard women who fight with spears, Serkah, a weird race of people with Scorpions for faces who like to eat and fight with hammers, and Lagora, a race of bunny people who use twin daggers. Seedlings don't use specific weaponry but rather a variety of different types depending on the resident, and have lower base stats but the unique ability to equip armor and weapon upgrades to improve them. Any of these recruited townsfolk can be added to your exploration party, 2 at a time, and the abilities they have and the weapons they use will be essential to exploration.
For example, the Serkah's hammer can be used to smash rocks or hit switches, the Lagora's daggers can cut open paths through spiderwebs and open special locks, and the Drauk Spear can trigger special switches. Seedlings with crossbows can shoot switches at range, ones with wands can light your way, and so on. Seedlings also have other abilities – some can roll into a pellet to go through small holes, or turn into a wall of leaves to block projectiles, or a whirling seed to fly over a gap. You'll have to switch your party around frequently to deal with new obstacles, which is one of the biggest issues with the game – every dungeon will often require you to use many different abilities, and you can only switch party members back at the base. There's a quick warp function which takes you back right away and allows you to warp back to where you left, but it can still take a solid minute or two to warp out, load, go to the desk where you swap party, swap the party, go back to the warp point, warp back, load, and pick up where you left off. When you're doing this every single room of a dungeon, it gets tiring fast.
Speaking of the dungeons, they're very simple. Having played basically every Zelda game I wasn't expecting to struggle much, but the puzzles here are very basic, and the game comes across as quite easy in this respect. I'd say it's targeted at a younger audience except the combat, whilst simple, can be fairly challenging at times, especially early on where random enemies can 2 hit kill you. Combat itself involves using the A and X buttons to swing your weapon, and you unlock more combos as you level up. There's no real benefit to the variety of combos though – the newest one you got is always the best one to use because it does the most damage.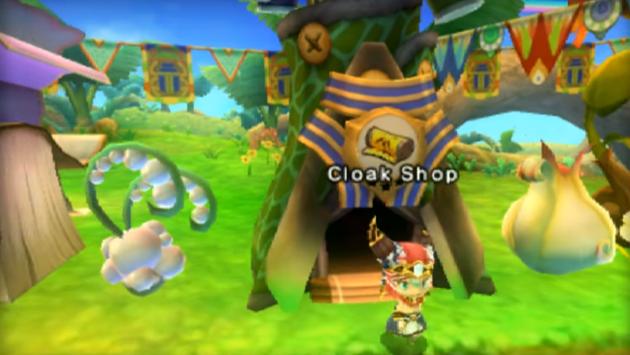 Lastly, the gathering element of the game can feel a bit tedious – as shops are your method to make money, you need to keep them supplied, which just involves killing monsters or chopping cactuses for supplies. As you progress you get ways to speed this process up – the non-seedling residents can be sent on raid parties to gather stuff, whilst seedlings can be assigned to the garden to farm, but it still felt like pointless busy work.
Ever Oasis is a nice little game with some fun ideas, and it's a decent time killer you can play in short bursts, but the story is basic and not very interesting, the combat is too simple to be really fun and the puzzles are overly easy. There's satisfaction in progressing, growing your town and exploring for more residents, but overall I think all of the game systems aren't quite explored deeply enough for the game to be great. That, and swapping characters constantly gets old quickly. It might sound like I'm coming down very negatively on Ever Oasis, but that's not quite it – I had a pleasant enough time. But it seems to have had more good ideas than it delivered on, and it's definitely not a must own because of that. Worth a play, but don't go out of your way to hunt it down.
Recommended Listening:
The music is Ever Oasis is good and fits well, but there's not too many themes I remember. However, the town theme is one I do and it's a chirpy little tune worth a listen - click the image below to do just that: