Games Beaten 2018
1. Letter Quest Remastered
Switch eShop
2. Batman
NES
3. Little Nemo: The Dream Master
NES
4. Mickey's Wild Adventure
PS1
5. Mario & Luigi: Dream Team Bros.
3DS
6. Layton's Mystery Journey: Katrielle and the Millionaires' Conspiracy
3DS
7. Nier Automata
PS4
8. Legacy of the Wizard
NES
9. The Legend of Zelda (starring Zelda)
NES
10. Tobu Tobu Girl
Game Boy
11. Rhyme Rider Kerorican
WSC
12. Sonic Advance 3
GBA
13. Wonder Boy: The Dragon's Trap
PS4
14. Super Adventure Island
SNES
15. Dynamite Cop
DC
16. Pokkén Tournament
Wii U
17. Mega Man 7
PS4
*NEW*
Mega Man 7
Mega Man is a series I've had lots of previous experience with, having beaten Mega Man 1, 2, 3, 4, 5, 6, 9, 10, Powered Up, I, III and V (the GB ones) before now. However, with the exception of Powered Up, which replicates the feeling of it, all of my classic Mega Man experience has been 8 bit. Mega Man 7 appears to be a bit of a black sheep of the classic series, with lots of people telling me it's one of the weaker entries. It's been a while, but now, thanks to Legacy Collection 2, I've finally sat down and played Mega Man's 16 bit entry into the classic series.
Mega Man 7 dazzles from the outset with its big visual and audio update – the colours really pop and the opening music is awesome. The character sprites for the game are huge in comparison to previous entries too, and we even get a few small story screens in the introduction. So far, so good!
And then the game starts proper, and we get to try out Mega Man's moveset. It's odd at first – Mega Man is so huge that you can initially feel too big a target, and enemies feel very close due to the more zoomed in feeling of the camera. However, once you get used to your new size, Mega Man controls pretty similarly. He still can run and jump as before, and the slide and charged shot ability return from previous entries too. Mega Man is perhaps a little slow, but it works well considering the size of the sprites – you don't want to run into obstacles you can't see coming after all.
There are a few other small changes to the formula – we can acquire bolts now to buy items, but this isn't new to me as it's a feature in Mega Man V, Mega Man 9 and Mega Man 10 aswell. The progression system is more like the Game Boy games too, with 4 robot masters available to choose from initially, and another 4 after you beat them all. Again, this change doesn't bother me.
Mega Man 7, for all the criticism it receives, actually ended up being one of my favourites. The game looks awesome, sounds awesome and plays really well, and whilst it's not my favourite in the series (nothing beats 9) it's certainly far from my least favourite. In fact, it's up there in my top 5 in all likelihood.
Mega Man 7 seems to get a lot of flak, and strongly suspect that depending on the people critiquing, that is either because it's 'different' after 6 NES games and several Game Boy games with the classic graphics style, or because it's not different enough after Mega Man X had already arrived and remixed the series somewhat. However, for me, it struck a nice balance of feeling familiar but feeling like something a little different in a series that had got stuck in somewhat of a rut, and I had a great time playing it. The game has good level design and a solid difficulty balance throughout, with one notable exception that almost threw a spanner in the works – that being the final boss, who is ridiculously unfair and unbalanced.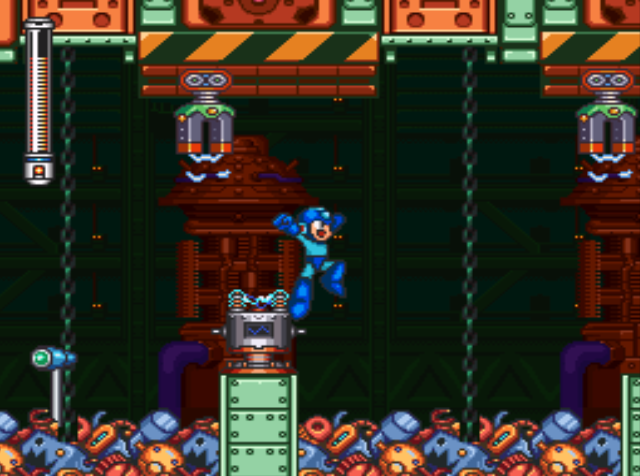 Overall, I had a good time with the game and would highly recommend it. It's not cheap these days, but thanks to numerous rereleases it's not hard to find for an affordable price on consoles other than the SNES. Give it a go.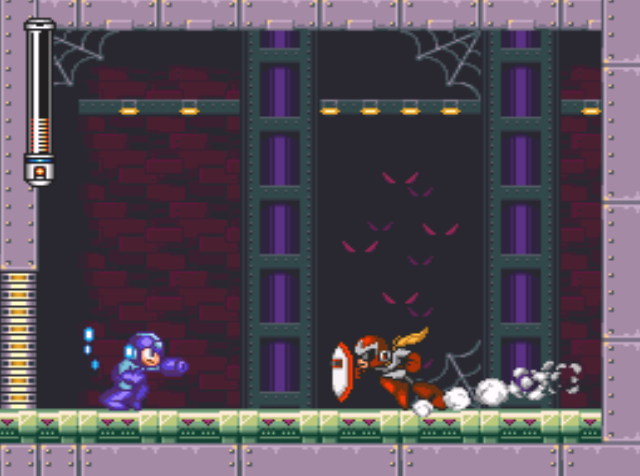 Recommended listening:
Click the images below to listen
Opening stage:
This is just some cool Mega Man music
Shade Man's theme (alternate):
Is it bad that one of my favourite songs in the game was actually a reference to a different game entirely?