Games
Beaten
2018
1. Letter Quest Remastered
Switch eShop
2. Batman
NES
3. Little Nemo: The Dream Master
NES
4. Mickey's Wild Adventure
PS1
5. Mario & Luigi: Dream Team Bros.
3DS
6. Layton's Mystery Journey: Katrielle and the Millionaires' Conspiracy
3DS
7. Nier Automata
PS4
8. Legacy of the Wizard
NES
*NEW*
9. The Legend of Zelda (starring Zelda)
NES
*NEW*
Legacy of the Wizard
Legacy of the Wizard is a game with a weird history. It's one of the very, very (very, very) convoluted Dragon Slayer series, and in Japan it was known as Dragon Slayer IV: Drasle family (Drasle is an abbreviation of DRAgon SLEyer ohohoho, very clever guys). In it you play as a family who must find all of the crowns which allow you to find the Dragon Slayer sword and defeat the evil dragon who is about to be resurrected or some such.
Legacy of the Wizard was the first game I beat for March's Together Retro theme – 80s ladies night. The game features 5 playable protagonists, 2 of which are ladies. Each of the 5 family members (Dad, Mum, Daughter, Son and weird monster Dog thing) have different attributes and can make use of different items, and using their skills is necessary to progress into specific areas of the dungeon where the crowns reside. The ladies are actually the best characters as they have some of the best magic and jumping abilities, although Pochi the monster dog is perhaps the most useful overall as he is immune to being hurt by random enemies in the maze.
And when I say maze, I meant it – the map of Legacy of the Wizard is a convoluted mess, and like most things in this game, it's ambition is undone by some frankly awkward design that seems to punish the player relentlessly –enemies constantly drop items you'll need to pick up to progress, as magic is used to attack and uses MP. However, they also frequently drop poison which lowers your health and takes ages to disappear –however, most passages are 1 block high meaning you can't pass them until they go. The game is also full of invisible walls, block puzzles that can be rendered unsolveable, forced drops which hurt you and all sorts of other shitty design choices which make the game less fun than it should be. This is compounded by the horrible map design which offers no guidance on where to go, making even the basics of finding the way to head next an absolute chore.
Legacy of the Wizard is a game I thought was rendered playable with a walkthrough, but I don't know that I'd fancy playing through it again. It's a game which has it's charms, and it's certainly an ambitious title, but there are so many better
games
of this type you could enjoy that I'd strongly advise you just go and play those instead.
Required Listening:
The solid soundtrack is probably the best thing about this game. Enjoy this one, which plays during the Meyna's (the mother's) area:
Click the image below to listen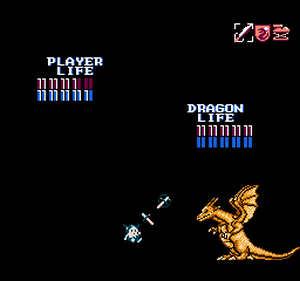 The Legend of Zelda
The Legend of Zelda is a game for the NES where you play as the hero Link and rescue the princess Zelda from the evil Ganon.
Except when it's not. I played this game for the Eighties Ladies Night Together Retro, with a patch installed that flipped the gender roles – the hero Zelda set out on a quest to rescue Link from the evil Ganon.
The Legend of Zelda is a game I've played once before, quite a long time ago. I remember it being pretty tough, but this time I didn't find most of the game so bad – the only really rocky moments were dungeon 6 and the final dungeon, both because of Wizzrobes – they deal way too much damage and are the hardest enemy to avoid too.
Zelda is a momentous game, for sure, but it's not really my favourite in the series. The dungeons are a bit simplistic – I preferred the puzzling they added in later
games
in the series, or the combat focus of Zelda 2 more – and the overworld is really obtuse. Secrets are hidden under trees or inside rock walls with no indication that something might be there – this really sucks without prior knowledge, as for most of the game burning down trees can only be done once per screen – meaning that checking each of the 20 or so trees on some screen means 20 tedious trips back and forth. Rock walls are even worse – no indication where to lay a bomb, and bombs are rarer drops, costly to buy and limited in supply. Frankly, I doubt most people would ever find some of the secrets or even some of the actual dungeons without help.
Despite the flaws, I still find Zelda enjoyable, but there's no doubt it's been done better since. Seeing Zelda striding around the game with her own name on it was really cool, but not as cool as defeating ganon (with the bow, which is fitting considering Zelda's weapon of choice in later entries) and walking into the next room to find Link awaiting rescue.
Zelda is a fun game, and the Zelda starring Zelda mod is a fun little mod which I think will have a lot of meaning to long time fans of the series, male and female. At some point I plan to follow up this playthrough with it's spiritual sequel – The Legend of Zelda: A Link To The Past - starring Zelda.
Required listening:
The main theme is great, but everyone knows it. I'm quite partial to the ending theme myself!
Click the image below to listen