First 50:
51. Gauntlet IV
Mega Drive
52. Alex Kidd in Shinobi World
Master System
53. Psycho Fox
Master System
54. The Ninja
Master System
55. R-Type
Master System
56. Momotarō Katsugeki
PC Engine
57. Overcooked: Special Edition
Switch eShop
58. Parasol Stars
PC Engine
59. Star Parodier
PC Engine
60. Cadash
PC Engine
61. Dead or Alive Ultimate
Xbox
62. Dead or Alive Ultimate 2
Xbox
63. OutRun 2
Xbox
64. Pop'n Twinbee
SNES
65. Wild Guns Reloaded
PS4
66. Journey
PS4
67. Rez Infinite

PS4

*NEW*
68. Caladrius Blaze

PS4

*NEW*
Replays!:
1. Bare Knuckle III
Mega Drive
2. Die Hard Arcade
Saturn
3. The World of Illusion starring Mickey Mouse and Donald Duck
Mega Drive
4. Donkey Kong Country 3: Dixie Kong's Double Trouble
3DS VC
5. Trip World
3DS VC
8 to go...
Rez Infinite
Last year I played through Child of Eden for the first time, and it was great. I loved playing a music driven game that wasn't inherently a rhythm game, and the stunning graphics and eclectic soundtrack kept me hooked. So when I saw that it's predecessor Rez was getting a physical PS4 release, I jumped on it for the chance to give it a go.
In Rez, your flying avatar proceeds through 5 worlds shooting enemies and powering up before taking on a boss. The big gimmick here though is that enemies and attacks all work with the rhythm of the music, with the goal of creating a sense of Synaesthesia. As you fly down the on-rails course, the controller vibrates in time with the beat. As enemies appear, you lock on to them, Panzer Dragoon style, before releasing to launch a homing shot at them all, which naturally hits in time with the rhythm. Defeating certain enemies will reveal icons and power ups, the most important one of which takes you down to the next section of the level – you start at 1 and finish at 10, with each level adding more complexity to the soundtrack as you go.
Although you start as a simple flying box figure, some enemies drop items which can be gathered en-masse to 'evolve' your character. You become a 3D model of a man, before advancing to a meditating buddha-like figure and then a spirallking cortex. On the final level you become a baby at the highest form of evolution. Taking a hit will knock you down to a lower form and being hit in the lowest form will cause you to die, although I never once managed to game over on my run (the final boss cut it close though!). You can defend yourself from enemy attacks by locking on to them and shooting them down though, as well as using the 'bombs' you pick up which make you invincible briefly and destroy things around you en masse.
While the stages are generally very basic, with simple neon lines and not much to see, the bosses are the highlight of the game probably. Each fights in a unique way – whereas the 2nd boss shields itself before entrapping you and requiring you to shoot weak points on the walls it shoots at you, the 3rd surrounds itself with dozens of shield panels and cannons which must be shot down en-masse all whilst defending yourself from the dozens of missiles it will send after you.
I like Rez Infinite quite a bit, but if I was going to choose between the two games, Child of Eden is far superior. Not only is the gameplay more interesting thatnks to 2 types of weapon, and more engaging with it's first person perspective, I also much preferred the music in the later game, and the worlds of Child of Eden were far more spectacular and free-flowing, thanks to the superior hardware driving it. However, Rez Infinite's big reason for existing on PS4 is that it is VR compatible. Whilst I don't have the Playstation VR hardware, I have to imagine Rez was a good use for the system – the simple graphics would still look great on the lower-res (rez? Lol) screen, whereas Child of Eden would lose a lot from the lack of HD visuals.
Overall, Rez is a fun time, and worth playing if you can get your hands on it. It's pretty short (about 2-3 hours) and quite easy, but it's very engrossing. The physical copy of the original is pretty expensive from what I understand, so this PS4 disc is a great way to play – high res visuals, VR support and a cheaper physical copy all seem like a good reason to prefer this version to me!
Caladrius Blaze
Caladrius Blaze is a game I picked up on a whim. Limited Run Games said it was coming out, and in the back of my mind I registered something about hearing good things about it and though, 'eh, why not'. The game is a vertical shoot'em up of the bullet hell variety, but it has some interesting elements that I thought made it quite enjoyable, especially for a pretty mediocre shmupper like me.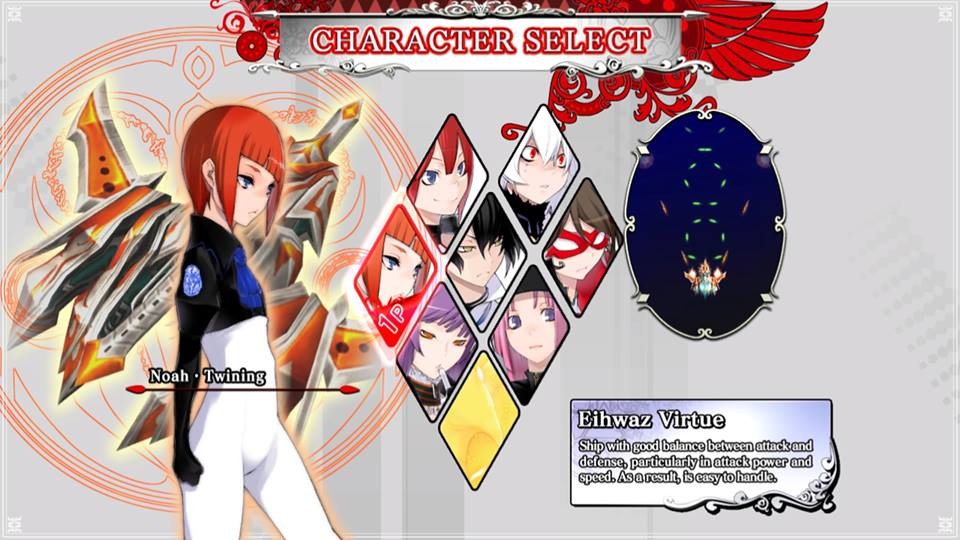 Caladrius Blaze is quite a story driven shmup, although as is the case with these games don't expect to particularly be enthralled. In fact, don't reall expect to be able to follow along. You can play as 8 different characters who all come with their own weapon attack pattern and more importantly, their own set of 'elementals'. Elementals are spells which can be used as alternate fires and come in 3 varieties – offensive, defensive, and support.
As an example, the first character I played as came with an elemental where the offensive option left delayed projectiles behind – they'd stall a second then shoot up the screen, adding additional fire power to your standard attack which they did not disrupt. The support skill was a homing laser which could be used to hit enemies across the screen when you were busy dodging their attacks. Finally, the defensive elemental created a barrier in front of me which dealt powerful damage and deleted enemy bullets, but was very short range and prevented me shooting. Elementals would drain quickly when being used, but refill very quickly when not being used quickly, so they're a core part of your kit.
In addition to the basic elemental attacks, you can also use a bomb to damage all enemies on screen or unleash all of you elementals at once to create a spiral of firepower. The latter option is useless though, as the elementals are too strong to waste this way, especially as they grow. Throughout levels you can find elemental shard which can be used to power up your elements at the end of each stage. My single homing laser eventually grew into a 5 pointed star of homing lasers, and my small defensive shield ended up growing to protect me from the front and sides and being much bigger than it started. The offensive option remained pretty crap though. These powerful effects allow people much worse at shmups to get by – the shield elemental is amazingly powerful and can make some enemy attacks a breeze to get buy as long as it hasn't ran out.
The elephant in the room for Caladrius Blaze is that it also has pervy weeaboo element. At the sides of the screen you can see your character and your opponents (if you're fighting a boss). Destroying a section of the bosses life gauge quickly enough causes a 'shame break', which allows you to deal more damage to the boss from that point on. You can shame break each section of their life bar. What shame break also does though, is rip your opponents clothes, which each successive shame break reducing their garments to less and less. In turn, losing a life of your default 3 lives per credit also causes your characters clothes to be torn.
In all honesty, this is a pretty pointless mechanic for several reasons, chief among them ebing that you won't be looking at the sides of the screen due to all the bullets you'll be dodging. However, there's also the fact that not many of the images are all that provocative, which kinda makes you wonder why they'd even implement the mechanic at all. At least it's equal opportunities – the guy characters are not exempt from this mechanic, and neither is the character who is a giant glowing god bird.
Caladrius Blaze is a fun little bullet hell shooter with some interesting mechanics that make it more welcoming to newbies. However, the difficulty ramps up very high despite this. The silly stories and various undressed images might be enough to drive casual players forward, but I suspect there's a lot more too it if you're the type who delves into the deeper mechanics of the genre. Either way you play, it's a fun time and I liked it quite a bit.