Review 4 & 5/6
Games Beaten:
1. 3D Power Drift
3DS
2. Maze Hunter 3-D
3DS
3. Hyrule Warriors Legends
3DS
4. Icarus Proudbottom's World of Typing Weekly
PC
5. Paper Mario
N64
6. Catherine
PS3
7. Glover
N64
8. Blast Corps
N64
9. Snipperclips: Cut It Out, Together!
Switch eShop
10. Pullblox
3DS eShop
11. Pokémon Picross
3DS eShop
12. Bare Knuckle III
Mega Drive
13. The Legend of the Mystical Ninja
SNES
14. Alisia Dragoon
Mega Drive
15. Shinobi III: Return of the Ninja Master
Mega Drive
16. Dynamite Headdy
Mega Drive
17. Runbow
Wii U eShop
18. The Mystical Ninja starring Goemon
N64
19. 3D Puyo Puyo 2
3DS
20. Fantasy Zone II: The Tears of Opa-Opa
3DS
21. SteamWorld Dig
3DS eShop
22. The Legend of Zelda: Breath of the Wild
Switch
23. Crash Bandicoot 3: Warped
PS1
24. Prince of Persia: The Sands of Time
GC
25. Pilotwings 64

N64
*NEW*
26. Fire Emblem: The Sacred Stones

GBA
*NEW*
Replays!:
1. Bare Knuckle III
Mega Drive
2. Die Hard Arcade
Saturn
3. The World of Illusion starring Mickey Mouse and Donald Duck
Mega Drive
Pilotwings 64:
Pilotwings 64 is an N64 'flight simulation' game, but not really, as its quite arcadey in how it plays rather than aiming for hyper realism. It was also the 3rd game I finished for my summer games challenge this year.
Pilotwings 64 focuses on qualifying for different flight tiers for 3 different vehicles – the hang glider, the rocketbelt (read: Jetpack) and the Gyro copter (an odd Helicopter/Plane hybrid, that controls more like a plane than a copter). Starting with the beginner class challenge where you have to pass one challenge for each vehicle, you progress to A class which has 2 and then B class and Pilot class, which have 3 each. Scoring an average of 70 on each test nets you a bronze medal, with 80 per test giving a silver and 90 per test awarding a gold. Bronze is enough to progress to the next set of challenges for that vehicle.
The vehicles and challenges are a mixed bag. The first vehicle is the hang glider, which in my eyes is also by far the hardest to control. Turning starts slow but often builds quickly, meaning you can overshoot turns easily, but small adjustments can sometimes be fiddly to make. Your speed and height slowly decrease as you go. Speed you can regain by point the hang glider downwards, but you'll lose height as a result. You can pull the hang glider up for a very slight increase in height too, but it's rarely worth the massive speed drop that results. Instead, you should use updrafts to ride up to higher altitudes. Besides this you can flare your glider to slow down quickly, useful for landings which have to be pretty much parallel to the ground at a fairly slow speed, and you can use Z to take photographs, used for some of the challenges.
The hang glider missions are by far the hardest, with the second hang glider mission where you play chicken with a mountain being BY FAR the hardest mission in the game. In fact, the games difficulty balance is often inconsistent, with some of the later missions being super easy, especially with certain vehicles. I didn't like the hang glider much, which is a shame as I quite enjoyed the same vehicle in Pilotwings Resort for 3DS. The photography missions were a pain too, as the scoring mechanics for them are super unclear. I took some great shots that scored only 17/30 points, and some medicore ones that got 29/30.
The second vehicle is the rocketbelt, which can rise quickly with A or slowly with B, or can thrust you forward with either at the expense of height. Controlling it is often about balances upwards thrust and forwards thrust to fly accurately. Luckily, you can stop on a dime with Z, which lets you hover, but drastically reduces the vehicles limited fuel gauge. R lets you view below you, which is mainly use for landings, which require you to slow your descent as you drop straight down onto the landing platform
Missions with the Rocketbelt normally require precision, such as flying through a tunnel whilst avoiding the walls, planning a route through multiple moving rings, landing on small platforms in order, or flying into bouncing balloons. They're all pretty fun, and much better than the hang-glider.
The last vehicle is the Gyrocopter, which controls like a plane. A raises your speed whilst B slows it. You can ascend or descend at will, thought your speed will increase or decrease as you do, requiring you to brake or accelerate to adjust your speed as you do so. Z shoots missiles in this vehicle, which are often used for challenges, whilst R switches to first person, which can be helpful for aiming missiles or flying through rings.
Gyrocopter missions tend to either focus on skilful flying through rings whilst maintaining high speed, or precision shooting of targets whilst flying around – sometimes these targets or giant robots, which is cool. Gyrocopter missions are easy and fun, and I also found the landing mechanics a lot easier than the hang glider, as you just needed to gradually descend onto a runway whilst lowering your speed.
And that's abnout all there is to Pilotwings. 27 missions across 3 vehicles, each of which only being 30 seconds – 5 minutes long at most. It's a very short experience. There are extras to find – human cannonball, skydiving and other missions to unlock by getting all silver or gold on various license classes, hidden birdman modes by finding stars hidden in levels, and some fun secrets to find like the hidden Wario on Mt. Rushmore. But overall, it's a fairly light experience that won't keep you playing for long unless you're obsessed with getting perfect scores on everything.
Pilotwings 64 is decent enough, and at it's best it's pretty damn fun. However, the inconsistency of the difficulty and the absolute fun vacuum that made up most of the hang-gliding stages, combined with the general lack of content mean that it's hard to justify as a must-own. Give it a try sometime, it's fun, but don't expect it to be much more than a quick to beat game that you don't really remember very well a year later.
Fire Emblem: The Sacred Stones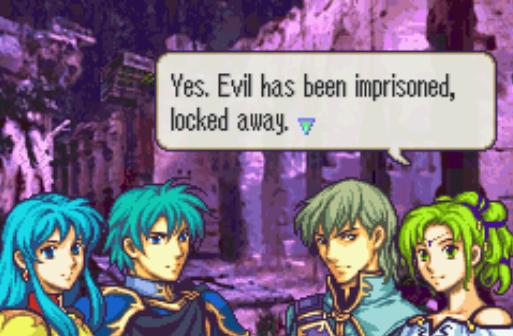 I started this game shortly before Breath of the Wild came out, and it took me until I'd finally beat BOTW 3 months later to get back to it.
Fire Emblem: The Sacred Stones is a turn based strategy game for Game Boy Advance (although I played it on my 3DS for convenience) and is the 8th game in the series, and the 2nd to be released in the west. It centres around the Princess Eirika and the Prince Ephraim as they fight to protect their land after the neighbouring Grado Empire attacks. This is all confusing as the Empire is run by their best buddy and yada yada yada, the story is serviceable but not especially exciting.
Recently Fire Emblem Echoes has been released, which is a remake of Fire Emblem Gaiden for NES. That game is consistently regarded as the series' black sheep entry, but in truth, a lot of it's key mechanics have been very prevalent in recent entries, including but not limited to the ability to grind outside of battle (which is in Awakening and Fates), the ability to reclass units into multiple class options (also in both of those), the ability to promote more than once (this was in Radiant Dawn), chapters where you follow different heroes (Radiant Dawn, Fates) and class specific skills (basically everything now). In many ways, it was way ahead of it's time in the series. And many of these mechanics made their first reappearance since Gaiden in Sacred Stones.
Sacred Stones allows for out of battle grinding, options between multiple classes to become upon promotion, class specific abilities on certain classes and split story paths between Ephraim and Eirika. The first third of the game has you playing as Eirika, before you have the option to continue with Eirika or play as Ephraim from that point on. The next 6 or so missions are unique to each character, before they reunite and you can use both units for the last third of the game. Even then though, these last few missions often differ depending which unit you chose as your main Lord.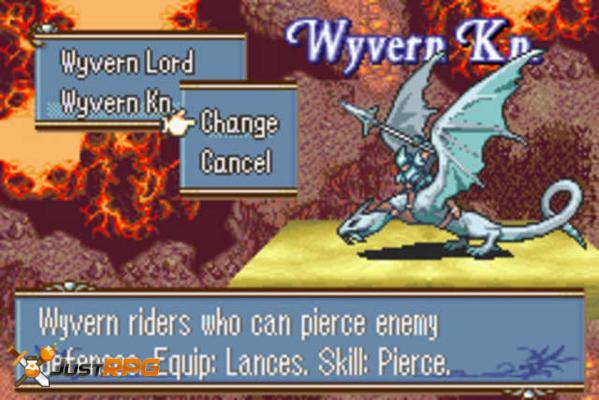 Class promotion is interesting, with every class having at least 2 options of who to promote into. For example, your bog standard cavalier can become a Paladin as usual, or switch to a Great Knight, a slower but massively armoured unit with greater weapon diversity. Many of these units can be promoted into by multiple base classes, such as the Assassin, which can be reached by promoting either a Thief or a Myrmidon. The one downside of this is that the class balancing is sometimes weird in order to allow for multiple ways to reach them, and some of them use their uniqueness.
For example, in previous games Bishops were the only advanced class that could use Light magic, but in this game, Sages can use both Light and Anima, meaning they're better rounded. This is made up for by the Bishop having a class ability, but sometimes the alternate classes are just outright worse – like the Paladin, who is basically a worse option than the great knight in almost every way. Also included are 'pre-unpromoted' classes who must reach 10 levels before getting a choice of base class to become – giving them 3 or 4 options for their final class as opposed to the normal 2, and offering them extra time to gain more stat gains from levelling.
At the time Sacred Stones came out, I liked it, but preferred Fire Emblem (7) in almost every way. I liked the characters more, the story more, the noticeably higher difficulty level more. I like no grinding outside of battle and I honestly like the simplicity of straight promotions too. I still tend to think that way too – whilst I loved Fire Emblem Awakening, I still prefer simplicity over it's myriad of systems that felt completely nonessential. I find it easier to enjoy the game when I can get on with things and not spend as long planning out progression for 15 characters. Nowadays, Sacred Stones feels like an acceptable middle ground to me. It's far closer to the basics than recent entries have been, whilst still offering enough options to let you customise your team better.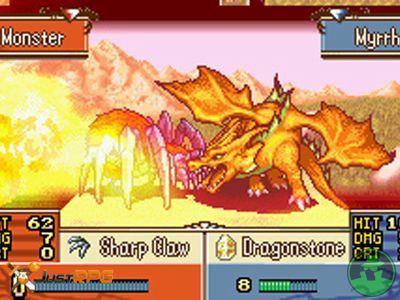 Sacred Stones is generally regarded as one of the lesser entries in the Fire Emblem series, as well as one of the easiest. They're not wrong on the latter, but I feel the former feels a bit harsh, even if it's only due to the high calibre of the series in general. Sacred Stones is a great game and a fun time, and I recommend it.
Just not as much as 7, that's the best one.