1. 3D Power Drift
3DS
2. Maze Hunter 3-D
3DS
3. Hyrule Warriors Legends
3DS
4. Icarus Proudbottom's World of Typing Weekly
PC
5. Paper Mario
N64
6. Catherine
PS3
7. Glover
N64
8. Blast Corps
N64
9. Snipperclips: Cut It Out, Together!
Switch eShop
10. Pullblox
3DS eShop
11. Pokémon Picross
3DS eShop
*NEW*
Pokémon Picross
This one has been a long time coming, as it's one of my morning commute games. I've been playing this one for at least 6 months now.
Pokémon Picross is a free-to-play puzzle game for Nintendo 3DS eShop. It takes the familiar Picross formula, of which there are dozens available on 3DS, and applies some Pokémon mechanics to it in order to create a game which is a lot of fun to play.
For those of you unfamiliar with Picross, you fill in squares on a grid using logic to figure which squares have to be filled in and which have to be left blank. At the end of each row or column is a set of numbers which indicate how many squares need to be filled in. For example, the number 4 would indicate that 4 consecutive squares need to be filled in. 4 3 would indicate that 4 consecutive squares must be filled in, then at least 1 space left before another 3 consectuive squares must be filled. Using these numbers in conjunction with numbers from other rows help you to fill in the grid, creating a picture at the end. In Pokémon Picross, these pictures are unsurprisingly Pokémon.
The Pokémon you reveal can be added to your team, and used to provide help on puzzles, based on their type. For example, water and Ice types have 'Blue Force' a skill which will highlight any columns or rows where you can conclusively know a square that can be filled in - useful for giving hints or speeding up problem solving. Fire types have 'Cross reveal' which highlights a square on the board and fills in the surrounding row and column. You can have up to 5 skills per puzzle, and the power and frequency of those skills is dependent on the Pokémon. Puzzles also fall into 10 x10, 15x15 and 20x 15 varieties, and skills can only be activated on puzzles of a certain size or lower - so a 20 power pokemon can be used on any map, but a 10 power can only be used on a 10 X10. The use of these abilities is limited by a cooldown timer - on weaker abilities it can be as short as 30 minutes or less, but the best abilities can take up to 30 hours to recharge.
In addition to these mechanics, you also have missions to complete per level. These will normally include 1 mission to beat the stage under a certain time. Other missions may include using a certain skill, not using more than x number of skills, bringing at least x pokemon or less than x pokemon, bringing a certain type, or only using a certain type. The last mission is always 'beat all the other missions in one go' which can be challenging when you have a tight time limit combined with being forced to use only a weaker skill. The rewards for the missions incluide picrites, will I'll cover shortly, and panels, which go towards a 10x10 board made up of picross puzzles. Beating them all will give you access to Primal Groudon and Primal Kyogre. The game also includes Mega Picross puzzles, where clues are sometimes given for 2 rows at once, instead of just one. These are fun, but I never actually got as chance to do many as of now, due to the free-to-play limitations of the game.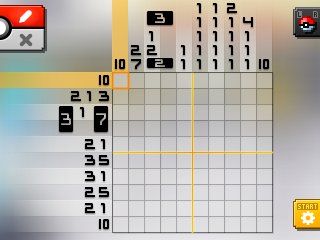 Now the elephant in the room - Pokémon Picross is a horrendously stingy free-to-play game. Levels can take up to 250 picrites to unlock, and each level gives up to about 50 picrites at most through missions, some of which you might not have the right pokemon to beat yet. A few picrites can be found from achievements such as 'use blue force 100 times' but only 300 are available this way - only enough to unlock 2 stages past the tutorial areas. Insdtead, Picrites must either be bought, or unlocked through daily training - a once a day course of 5 mini picross which will reward you with between 5 and 12 picrites depending on progress through the game. This meansd it takes about 20 days on average to open up each new area in the game, of which there are 30. It's a brutal way to progress, and it doesn't feel much fun to work towards a goal for that long, unless like me you just incorporate it into a daily commute to work or suchlike.
As if that isn't bad enough, the Mega Picross stages are hidden behind a 300 picrite paywall, the Mega Evolution stages require a 500 picrite payout to unlock them, unlocking mroe pokémon slots to go from the default 1 to 5 requires about 600 picrites, and extending your 'energy' meter from 100 to 300 or infinite requires another 300 or so picrites. This energy meter is used to limit how many stages you can complete in one sitting, as 1 energy is drain per square filled in. That means that evern when you do finally unlock a new set of levels, you can't play them all at once due to the energy meter without full extending your energy meter to make it infinite.
All this picrite stuff is massively to the games detriment, and makes it feel like an absolute slog to get through. The pricing of buying picrites doesn't feel fair either - it'd cost me about £40 to buy enough picrites to unlock everything, or £10 more than a brand new physical release for the system. For about £5 I could download another Picross game from the eShop with an entirely similar amount of content.
Pokémon Picross is a great, fun adaptation of Picross with some enjoyable game mechanics added. However, it is utterly ruined by it's overly tedious and greedy approach to the F2P model. Compared to the likes of Pokémon Shuffle and Pokémon Rumble, 2 other F2P Pokémon games on 3DS eShop, this one just feels moneygrabbing, and thats sad when Nintendo have otherwise had a pretty respectable usage of the model on other games. If you're patient enough to not bother paying, give Pokémon Picross a go, but know what you're getting into - it's either going to be a long grind or a pricy experience.