First 50:
51. Akumajō Dracula (Famicom Disk System)
52. Castlevania (NES)
53. Classic NES Series: Castlevania (Game Boy Advance)
54. Guardian Heroes (Xbox Live Arcade)
55. Metal Slug (Neo Geo MVS)
56. Metal Slug 2 (Neo Geo MVS)
57. Metal Slug 3 (Neo Geo MVS)
58. Soul of Darkness (DSiWare)
59. Code of Princess (3DS)
60. Super Mario Bros. 3 (NES)
61. Super Mario Land (Game Boy)
62. The Legend of Zelda 2: Link no Bōken (Famicom Disk System)
63. Phantasy Star Online: Blue Burst (PC)
64. Shan Gui (Steam)
65. Space Fury (ColecoVision)
66. Smurf: Rescue in Gargamel's Castle (ColecoVision)
67. Gateway to Apshai (ColecoVision)
68. MURI (Steam)
69. Pink Hour (Steam)
70. Pink Heaven (Steam)
71. Planetarian: The Reverie of a Little Planet (Steam)
72. Princess Remedy in a World of Hurt (Steam)
73. Haunted House (Atari 2600)
74. Gremlins (Atari 2600)
75. Alien (Atari 2600)
76. Xenophobe (Xbox - Midway Arcade Treasures 2)
77. Frankenstein's Monster (Atari 2600)
78. Ghost Manor / Spike's Peak (Atari 2600)
79. Higurashi When They Cry Hou - Ch.1 Onikakushi (Steam)
80. Dracula II: Noroi no Fūin (Famicom Disk System)
81. Castlevania II: Simon's Quest (NES)
82. Beneath the Cherry Trees (Steam)
83. Voices from the Sea (Steam)
84. Mushihimesama (Steam)
85. Sonic CD (Steam)
86. Shovel Knight (Wii U)
87. Super Mario World (SNES)
88. Super Mario Land 2: 6 Golden Coins (Game Boy)
89. Operation C (Game Boy)
90. Metroid (Famicom Disk System)
91. Metroid (NES)
92. Breath of Fire (SNES)
93. Elisa: The Innkeeper - Prequel (Steam)
94. Cally's Caves 3 (Steam)
Well, this was a pleasant surprise. Genre-wise,
Cally's Caves 3
is tough to pin down though I'm feeling elements of
Contra
,
Metroid
, and
Turrican
here.
Cally is a young girl whose parents have been kidnapped. On her way to retrieve them she must venture through 110(-ish?) cave levels. Yeah this is a mostly "interior" game like
Symphony of the Night
and
Ys Origin
, though the backgrounds are varied enough so you won't notice.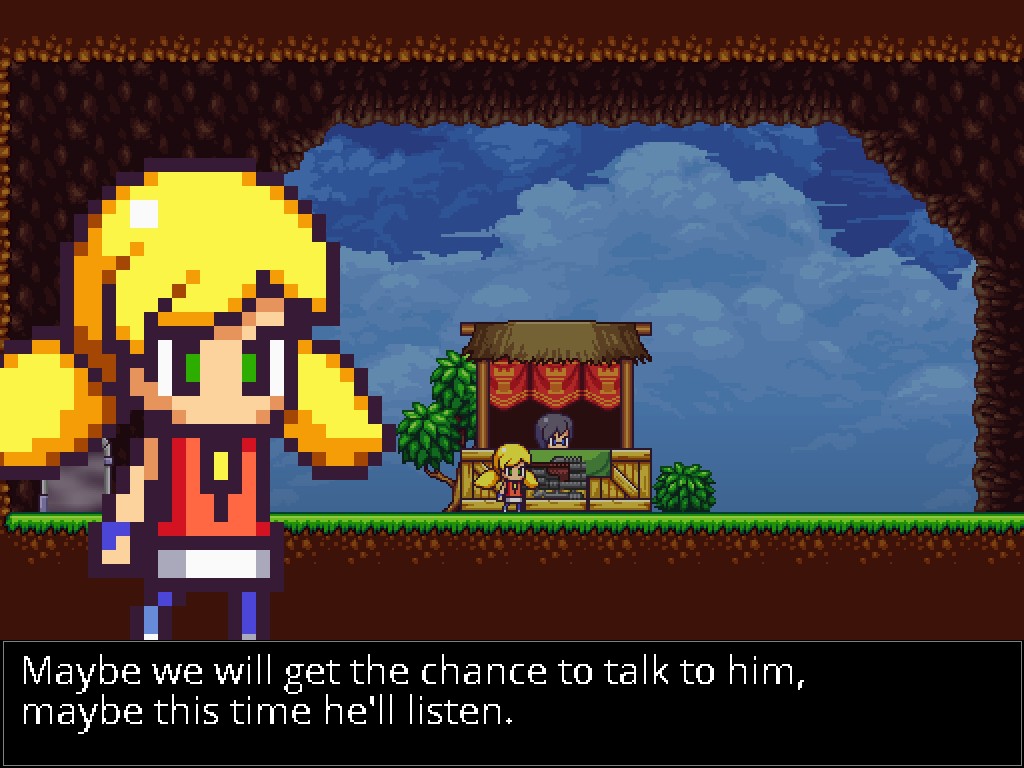 Cally has some tricks up her sleeve. With a double-jump, which later evolves into a triple-jump, she can bounce all around the terrain. She's equipped with a sword - for maximum stun damage - and an arsenal of guns. The guns are unique in that they evolve and level up over time. Not only do they get stronger, but their projectiles will also get longer and fatter. One even achieves homing capabilities eventually. That said, I was having flashbacks to
Secret of Mana
here as most weapons aren't worth leveling up or even using in the first place.
The stages are very brief and littered with enemies. The terrain typically varies in that there's one set path to take to the exit alongside branching paths that will lead to caches of money. Cally controls perfectly, even with the multiple-jump mechanic in play. The weapons have some nuance to their controls as some have auto-fire while others need to tap-tap-tapped. Backtracking to previous stages is encouraged, as certain areas will become accessible once new guns are obtained.
Graphics are decent. It's clear that this is a port of a mobile game but the visual style features plenty of chunky pixels rather than that terrible smoothed-over high-res gunk. There are some charming cutscenes where the characters become HUGE and screen-filling. It does feel like some animations are "missing" however - for instance, there isn't enough "umpf" when Cally gets hit. I found myself losing all my health a few times without even realizing how it happened.
The game's
soundtrack
is intriguing for two reasons. First, it's just really really good - a eclectic mixture of both upbeat and chilled-out techno tracks. Second, the way the score is implemented into the game is quite unique. Barring a few notable events most songs aren't "assigned" to any specific area. Instead, the soundtrack is simply shuffled and looped. It sounds odd but it somehow works here.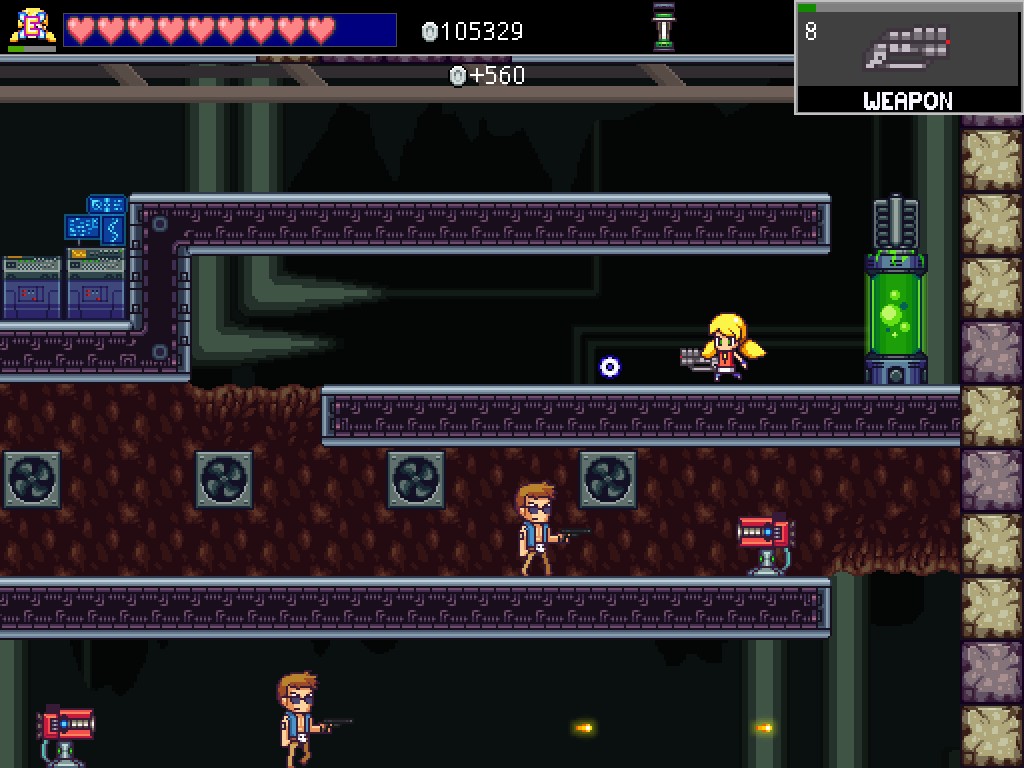 I found the game hardest at the beginning. Enemies don't change much throughout so once guns level-up the baddies become small obstacles in the wake of Cally's mass destruction. It's also possible to hold
six
HP-refill items at one time. There are stores scattered throughout the game where Cally can purchase power-ups, restoration items, and other various things.
The most disappointing thing about the game is perhaps the enemy selection. It's just a random assortment of spiders, wolves, and guys with guns. No variety and no cohesion. The enemies also suffer from "bullet sponge" syndrome; while most are rather easy they still take like 40 hits to kill. Bosses fair a bit better though most are just huge versions of regular enemies.
Overall, I dig this game and would recommend it. Preferably while it's on sale (I've seen it as low as $1.39). It may not hold a candle to many of the action games of yore but it's pretty damn fun in its own right.