Games Beaten in 2016 So Far - 83
January
(20 Games Beaten)
February
(8 Games Beaten)
March
(8 Games Beaten)
April
(13 Games Beaten)
May
(6 Games Beaten)
June
(13 Games Beaten)
July
(7 Games Beaten)
August
(8 Games Beaten)
83. Monster Monpiece - Vita - August 17
Monster Monpiece is yet another titty anime game in the Vita's library. This one only got a digital release in the West, but at least it got released here at all; what brought me to his game was having first played its spiritual successor, Moe Chronicle, which never got a Western localization at all (thank god for Asian versions with English subtitles). Anyway, after falling in love with the weeb af dungeon crawler Moe Chronicle, I decided to download the TCG RPG Monster Monpiece. I then proceeded to let it sit on my Vita's overpriced memory stick unplayed for a year until I eventually got around to it.
A bit about the game mechanics. The battles take place on a 7x3 grid with each player's "HQ" at either end. A 3x3 square in front of each HQ makes up that player's part of the grid with a 1x3 no man's land of sorts in the middle. Each card has a specific mana cost (you get 3 mana at the start of each turn) that is usually determined by that card's values for each of the three stats - HP, Attack, and Intelligence/MP (Intelligence for buff cards, MP for healer cards). There are four main categories of cards - Offense, Range, Buffs, and Healers. Offense cards are your heavy hitters that can only attack directly in front of them. Range cards usually have high Attack but low HP and have attack ranges varying from 2 spaces all the way up to 6 (the entire field). Buff cards boost the attack of the card directly in front of them and usually have moderate HP and Attack, and Healer cards heal lost HP from the card directly in front of them and usually have moderate to low HP and Attack.
In addition to these types, there are four "Auras" of cards - Red, Yellow, Blue, and Green. Playing cards in a certain aura consecutively gets you a bonus. Two cards in a row will get you an extra mana point, and playing three cards in a row will get you three extra mana points as well as an extra Attack stat point and an extra hit point for all of your cards currently in play. After three in a row, it resets to zero. There are also eight difference "species" of card, two for each type. Your Offensive species are Dragon and Demi-Human, your Ranged species are Bird and Beast, your Buff species are Undead and Hybrid, and your Healer species are Fairy and Nature; and there are multiple different "characters" within each species. If you play a card on top of a card of the same species (i.e. playing a Dragon card on top of another Dragon card), you can perform a fusion, fusing the two cards together and combining their stats. Let's say you have an Fairy card with 3 Attack, 5 HP, and 8 MP. If you play another Fairy card with 1 Attack, 3 HP, and 11 MP on top of that card, you'd end up with a Fairy card with 4 Attack, 8 HP, and 19 MP. You can only fuse two - no making a god card of 10 fusions - but it definitely helps you hold a defensive line or press into enemy territory. With Ranged card fusions, if one has a higher range than the other - say a 2 range card and a 4 range card - the final fusion will take the higher of the two attack ranges.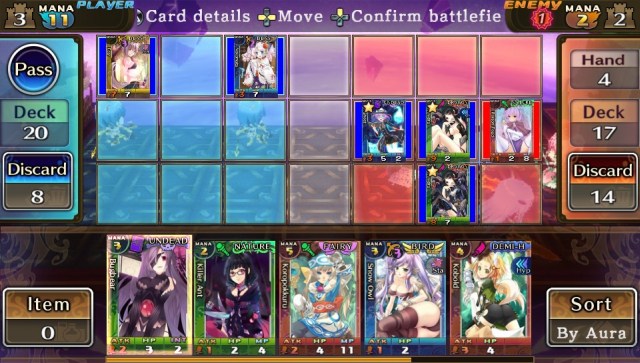 There's also a "rubbing" mechanic. If you have enough Rub points, you can (basically) molest the monster girls living in your cards and upgrade them. Each time you do this successfully, they lose a layer of clothing and (usually) gain some stats. Sometimes they lose, stats, though. I couldn't find any rhyme or reason to whether they end up stronger or weaker, though, so I only did this once or twice and then gave up.
This game starts off great. It's got a cool battle system, every card is a cute titty anime girl, and the tutorial stages do a great job of explaining the game and its mechanics. The chapters don't take too long - even if you do EVERYTHING like I did, maybe an hour per chapter. Then you get to chapter 8, and the pacing goes out the window. Chapter 8 takes as long as the previous seven chapters combined. THEN you get to chapter 9 - the final chapter - and that one takes as long as the previous EIGHT chapters combined (maybe not
quite
that long, but it's close). When you finally finish that, you discover that there's a post-game epilogue chapter to complete (assuming you don't just call it beaten when the credits roll and quit). That one, mercifully, wasn't too too long - maybe a two hours. The game had definitely overstayed its welcome by the end of chapter 8, though.
As for the difficulty, in general, the game is pretty easy. I just used my default starting deck for the first five or six chapters. After that, I got beaten, so I used the massive amounts of gold I had accrued to buy (literally) about 70 three and five card packs from the in-game store and reworked my entire deck. Obviously half the fun of TCGs is building your own deck, but what I found to the be the most effective was a deck of all one Aura and one of the two species for each category. My end-game deck, for example, was all Yellow with just Dragon, Fairy, Undead, and Beast cards. That way you ALWAYS keep your Aura bonuses continually repeating (unless you have to pass a turn for whatever reason; that breaks the chain), and it's extremely easy to fuse cards. Those Aura bonuses will make or break a game since they not only heal and buff all of your cards, but they also keep your mana pool supplied.
All in all, while it does get extremely tedious at the end, it's a fun game. If you're a fan of titty anime or of TCGs (or both), I definitely recommend giving this a download if you've got $20 you don't know what to do with. Oh, and you get a Neptune card from Hyperdimension Neptunia (since Compile Heart and Idea Factory made both games).