Soma - PS4 (survival horror)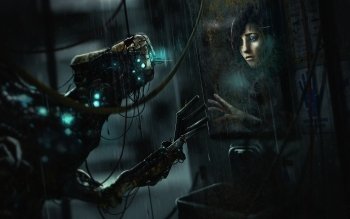 Truly engrossing story and immersive world, and some really memorable moments. It also has some genuinely terrifying moments. On the negative side, some of the enemy encounters are annoying or just tedious. It's especially aggravating when you're trying to figure out where to go, or trying to interact with things in your environment to learn more about the game's story and you have to constantly worry about some obnoxious enemy looking for you or chasing you as this is a game where you literally have no way to fight or kill an enemy that's after you. There are moments in Soma where you feel like you need to mentally focus and the game simply won't let you.
Plus, the game is very unclear about how you're supposed to avoid detection from or get around certain enemies. Soma is not a hold your hand kind of game. You can sometimes find things in the environment that can inform you about what to do or how to deal with enemies, but it's your job to explore and discover those things, and sometimes figuring out where to go is a matter of randomly walking around until you get lucky
The puzzles are all pretty good though. They are pretty much based in real world logic and common sense. Overall though, Soma works much better as an interactive novel than it does a video game. Story > gameplay here
That story will stay with you though. It's very thought provoking, disturbing, poignant and downright chilling. And there are moments in the game where you have to make some hard, even disturbing choices. While they don't change the main plot, they will slightly change the dialog you hear making the game feel a bit more personalized to your actions. Soma presents itself as a horror game with many scenarios built around making you uneasy or terrified, but the story is really more a piece of thought provoking sci fi built around making you think about what it means to be human, to be alive, and how much is worth sacrificing for survival. It's all filtered through the lens of a survival horror game though.
The game's visuals do a good job in creating a sense of place and an immersive world, but it's really the sound design that shines here. This is one of those games where you're constantly hearing things that will put you on edge and scare you, where you're always going, "What was that?! Oh...guess it was nothing. AH!!! What the fuck was that!? Damnit...I need to calm down". I played this with headphones, usually at night and there were literally moments where I would hear something and get startled thinking it was something in my room when it was just the game. I've heard some people criticize the voice acting. I didn't have an issue with it, though I don't think the game has any recognizable talent behind it. No Nolan Norths or television actors. Where the game's visuals and audio work really well together is in a distortion effect that occurs at times in the game. I won't spoil too much other than to say that when it happens, the hairs will stand up on your neck and your pulse will rise. You'll understand when you play the game.
This is a one and done game with zero replay value and you can finish the game quickly if you have a day off to devote to it. You'll have acquired all the trophies too, (although one I've heard it missable, but you'd have to do something rather stupid in order for that to happen), but it's a very memorable experience that you likely won't forget. It has moments that will permanently etch themselves into your mind...for better or for worse