Re: Games Beaten 2015
Posted: Thu Jul 16, 2015 7:50 pm
Batgirl A Matter of Family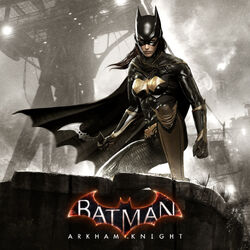 The most obnoxious piece of content I've played in the entire Arkham series.
Just to give you an idea how fun this crap is...
The game glitched at one point preventing my progress in a hostage saving scenario involving a ferris wheel.
The combat is sloppy. I once tried to use the grappling hook on a guy and watch it FUCKING GO THROUGH HIM
Early in this DLC, I died about 15 times in this FUCKING OBNOXIOUS segment where you have to beat up a group of thugs with a timer ticking down. By the time you finish and have about 10 seconds remaining, you have to defuse a bomb using that stupid, obnoxious password, hacking mini game. The game does not give you enough tactile feedback on the dual shock to help you figure out where to hold your analog sticks to crack the code and other than that you're left to try and fucking guess what the stupid goddamn password is. On top of that, Harley is incessantly taunting you and breaking your concentration.
Every time you get get blown up you have to wait for Joker to finish taunting you in those obnoxious game over screens, then wait forever for the fucking game to reload, wait for stupid Batgirl to finish her stupid, fucking conversation with Robin again, and then do the whole stupid fucking fight again before FINALLY getting a chance to try and crack the password again with whatever pitiful time you have left....only to get blow up AGAIN after listening to Harley make fun of you again...
Then you get to enjoy the Game Over screen again with Joker telling you what a fucking loser you are...AGAIN.
Fuck this DLC, FUCK WB GAMES MONTREAL, FUCK ROCKSTEADY, FUCK ARKHAM KNIGHT, FUCK OVERPRICED SEASON PASSES...AND FUCK THE GODDAMN FUCKING BATMOBILE!!!!!!!!!!!!!!!!!!!!!!!!!!!!!!!!!!!!!!!!!!!!!!!!!!!!!!!!!!!!!!!!!!!!!!!!!!!!!!!!!!!!!!!!!!!!!!!!!!!!!!!!!!!!!!!!!!!!!!!!!!
P.S. I'm not the only one who thinks this is a piece of shit:
http://www.gamerankings.com/xboxone/178 ... index.html
http://www.gamerankings.com/ps4/178131- ... index.html