Surprised nobody mentioned the abundance of places in Saitama and Chiba prefectures. Both require a little know-how, but there are a lot of shops near stations that sell good stuff. Especially Gyotoku station (just outside Tokyo) along the Tozai line.
You don't have to go to a "hard off' to find great deals, but it is a great suggestion. GEO (movie rental chain) is an often overlooked shop that also sells retro goodies and they can be found throughout Tokyo. I've bought some good stuff at the GEO store in Togoshi Kouen and Komazawa Daigaku branches. There are dozens of them spread out around Tokyo. Sometimes they have good stuff, sometimes they don't. Some things are pricey, some are dirt cheap. The best deal I got was a boxed Panasonic Q for 3,980 yen, and that was at the Togoshi Kouen store.
So you have two choices. Go to the outskirts or pay the Akiba premium. But since it's just a controller, just save your friend the trouble and pay Akiba prices. The most annoying thing to do while you're on vacation is looking for something for other people per their request. Do your friend a favor and make it easy for him/her.
This is also a great controller for fighting: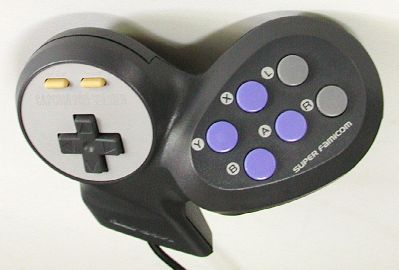 It looks awkward, but it's surprisingly comfortable, IMO. I use it to play Alpha 2 and Turbo on SFC. They are cheap and easy to find.