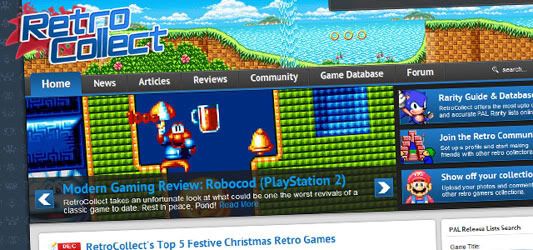 Today marks a special day for the RetroCollect team as we open the doors to fellow retro gamers worldwide. For years, myself and hydr0x have complained that there was a real lack of PAL Retro Gaming / Collecting resources online. The US have fantastic databases such as NintendoAge, Digitpress and RFGeneration, however the PAL gamers were always left in the dark.
RetroCollect aims to fill that gap by offering the most accurate
PAL Game Database
to date, spanning every console you can imagine with box scans, screenshots and much more. Our system caters for every region out there with it's detailed variants section, so should you have an unusual German version of
Super Mario World
or the Australian Platinum Collection of
Sonic The Hedgehog 3
, come check it online here. As of now, our system covers 20 different systems already, with many more under way.
There is also plenty of Retro Gaming News, Reviews and Articles posted up on a regular basis with the aim of keeping retro gamers up to date with the latest retro headlines you need to know about. And for the sociable bunch, we have a messageboard and community section for those that like to keep in touch. You can create a profile, share pictures of your gaming collection online and interact with the rest of the retro gamers online. Perfect, right?
And for those wanting to contribute and get on board, our database is always looking for new scans and screenshots, so please do get in touch. Feedback is very much welcome as we hope to carve this up to your every need imaginable.
http://www.retrocollect.com
So, what are you waiting for? We'd love to see you join up, get involved with the site, upload photos of your games room and begin tracking your collection with our release lists. After all, this is a website built by gamers, for gamers, so you should feel right at home.
----------------------------------
Time for a quick update from Team RetroCollect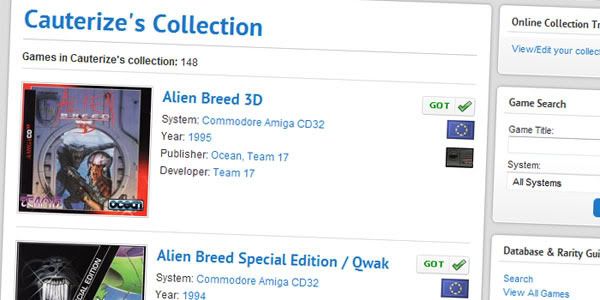 Update - 2nd January 2011: Online Collection Tracking
As RetroCollect's community continues to grow, so does the site and the features on offer. As of now, the Rarity Guide & Release List has been updated to allow every user to log in and create their own collection lists and track their retro game collections.
For example,
here is my own list
, featuring my humble collection of Commodore Amiga CD32 games and some of the Pokemon Mini games I have collected. Another good example is
GMass's fantastic collection of Sega Dreamcast games
.
All you need is an account on RetroCollect and you're set to start tracking your collection. Once logged in, the database will start to display small buttons to 'add' games too your collection, or you can hover over the 'Got' button and click Delete to remove them. Every user profile will now feature a 'View My Collection' button so you view other collections and share your collection lists online.
So head on over and register if you haven't already, to start tracking your retro game collection online. -
http://www.retrocollect.com
Update - 8nd January 2011: Updated Collection Tracking Tools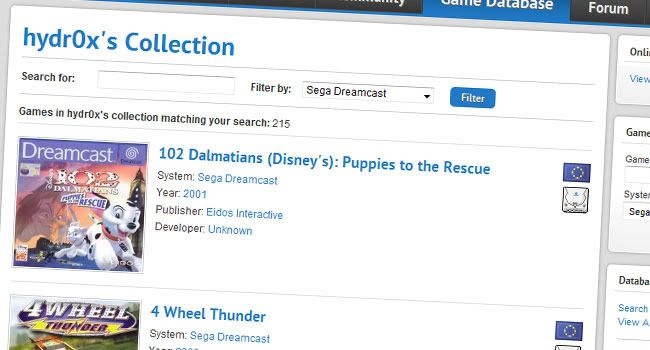 Following on from the recent additions this week, RetroCollect has refined the collection tracking features to be even more powerful and beneficial to collectors.
First up, every collection page has now been given the addition of a quick filter box. From here on you can see which games you, or other collectors own for each system or search term. So if you forgot
which Sonic games you own for the Sega Mega Drive
, or wanted to know
which Mario games hydr0x owns for the Super Nintendo
, you can find out in seconds.
Our other recent addition is mainly aimed at collectors aiming for full sets (you know who you are).
The database can now be used to see which games you do and do not currently own for every console / platform
. Think of it as the perfect assistant for browsing eBay for those last few titles you need. To use this feature, login and head over to your collection. Using the filter described above, choose the platform you want to view and a link titled 'View games missing from this set' will be awaiting your click.
So as usual, get tracking your retro games collection!
If you want to read more,
here is a more in depth feature on the new tools added to the collection tracker
.