I figure with everyone posting their gaming rooms and set ups I might as well show off what I've got. There is more to my collection (mainly boxes of systems) but I'm currently living at my parents house so space is kinda limited to what I can put up, mainly being in my bedroom. Plus I'm an anime fan so my anime figures and dvds are mixed in with my gaming set up. I'm currently going to college so I was living in a house with friends near college and had a much better set up. Most of the stuff is just things I've saved from my childhood (such as my SNES, Saturn, N64, etc)
Current Room Set-Up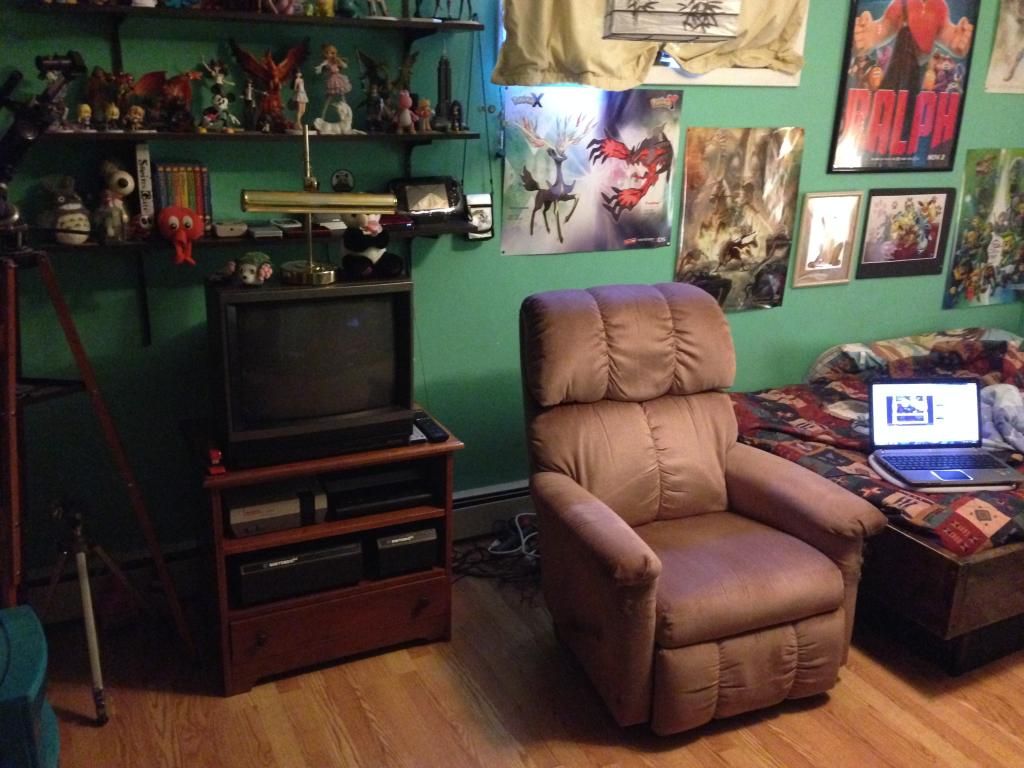 This picture is from my door, I only have chair and bed (with a laptop. I don't have a desktop since I am not a PC gamer. I don't even have a desk since I do all my work on my bed)
Closer look at my old tube TV. I got it from my parents attic. It only has RF signal so I can only put two systems on it before the signal becomes crap. I'll be using it until I find a better one at a flea market for a good price. Since with this I can play Duck Hunt and the Atari 7800 looks good since I don't have a second port on my big TV.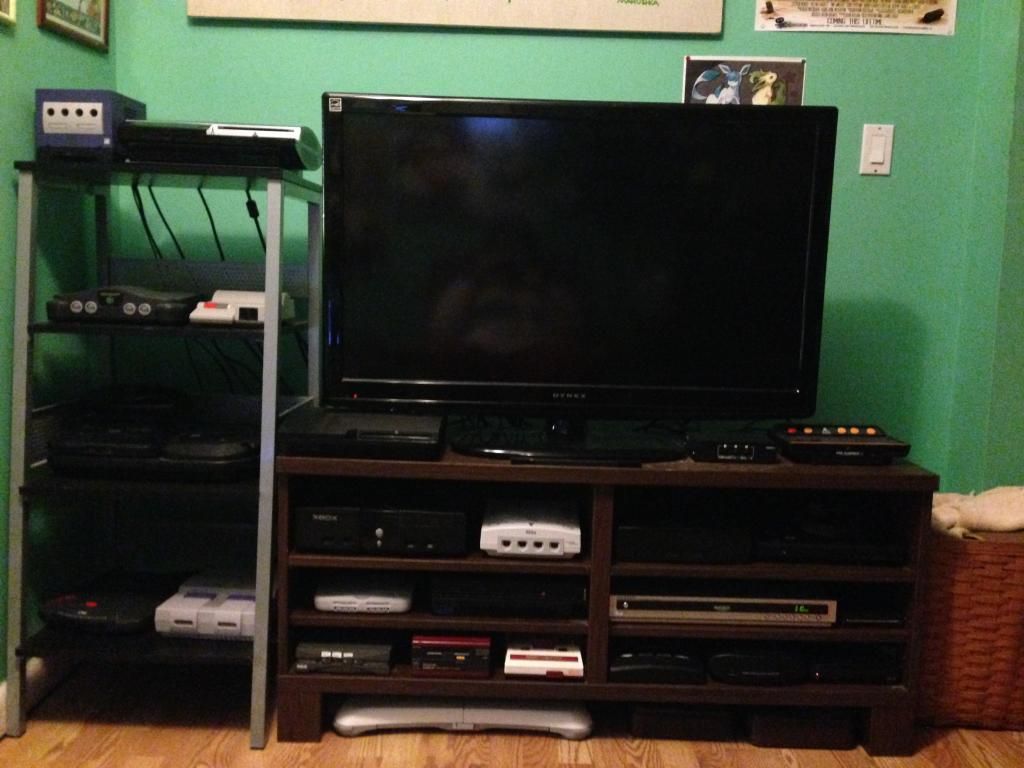 This here is my main set up (the other PS3 is my sisters). Everything here is connected to my TV one way or another. The TV is a Dynex 40". I have no plans to get a new TV since I am happy with it (even if there is a small green line going down the far left side of it). I also have a DVD recorder where I record some of game footage. Most everything set up is with S-Video cables so if I get a new TV is not really easy since I have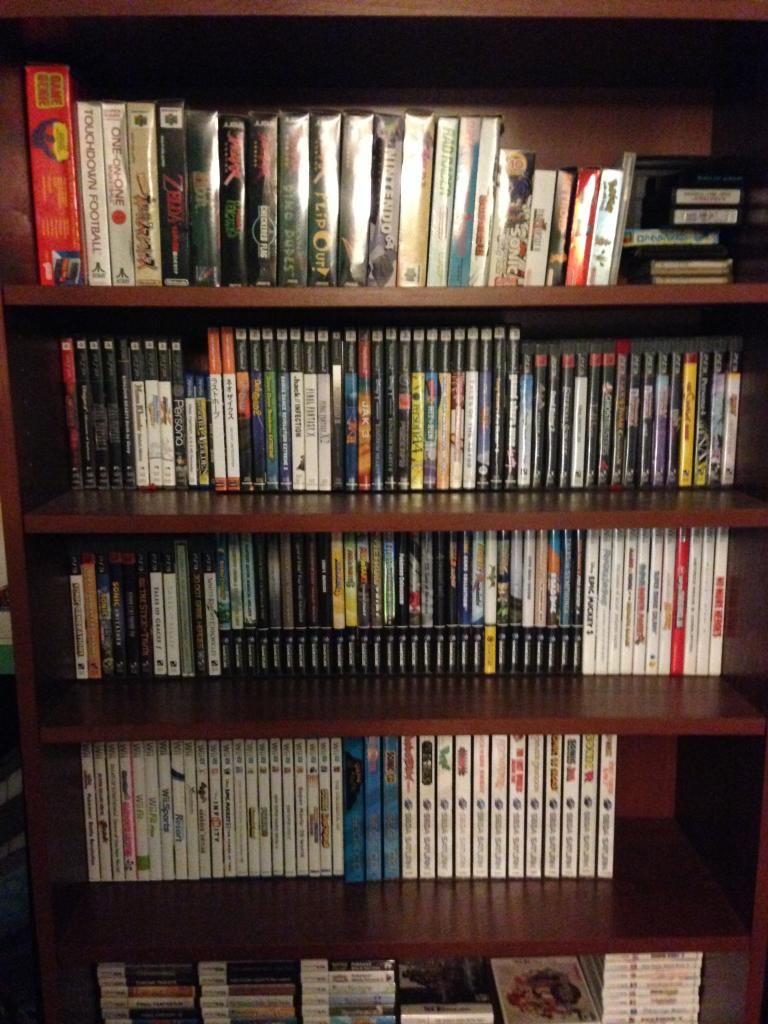 A picture of one of my bookcases. About 95% are my original games I got when released since I don't typically sell things or trade away things (with a few exceptions of course).
The lower half of my bookcase. I start using it as a DVD case by the time I get to the Sega Genesis games. In case you are wondering about the "tent" near the bottom.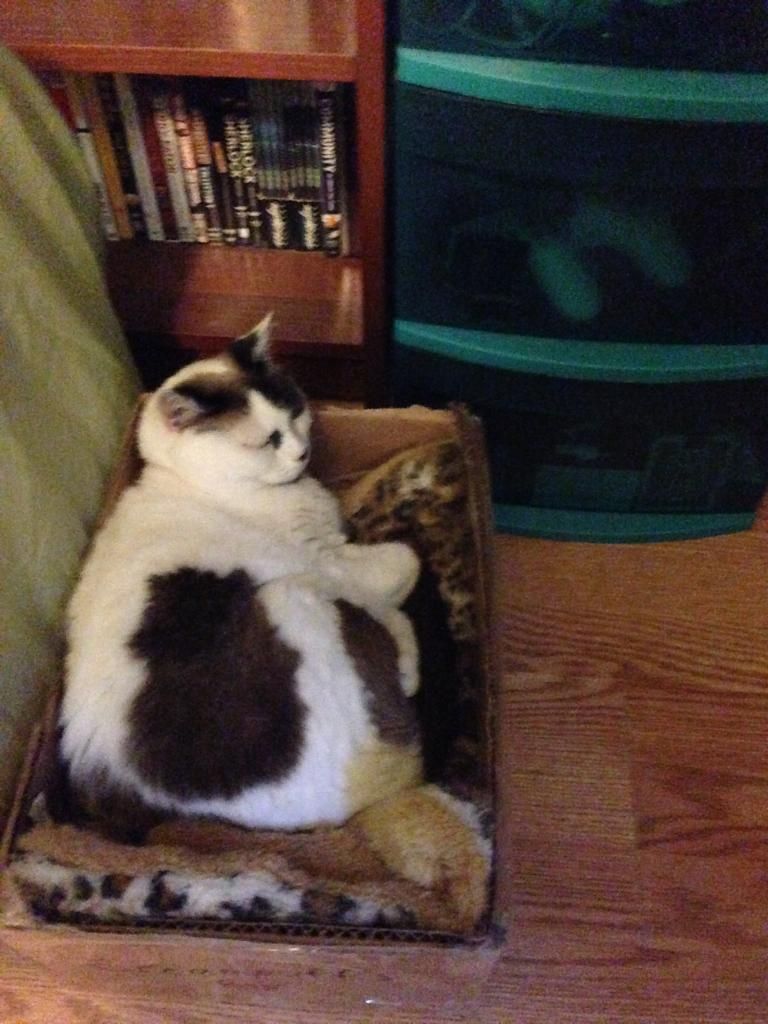 It is for my roommate's litter box. She is my 15 year old cat. I typically have a hard time getting to my Playstation & Nintendo controllers since her head is always in the way of my green storage area where I keep them.
My second shelf. I typically keep my anime DVD on this shelf except the first part. I shall do a more detailed list of my games at a later time when I start adding more and get a better quality camera since these came from my phone.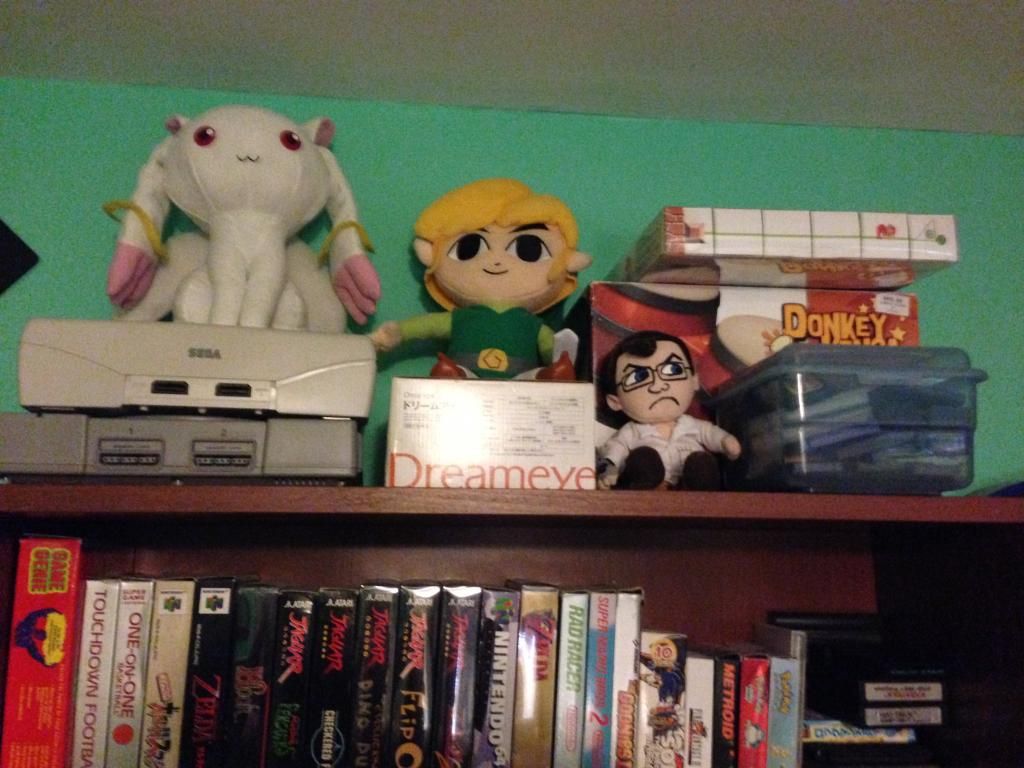 The top of my shelf. I keep my extra systems here such as my original Playstation and my Sega Saturn Japanese system. I also have my GBA & Gameboy games in the blue tub.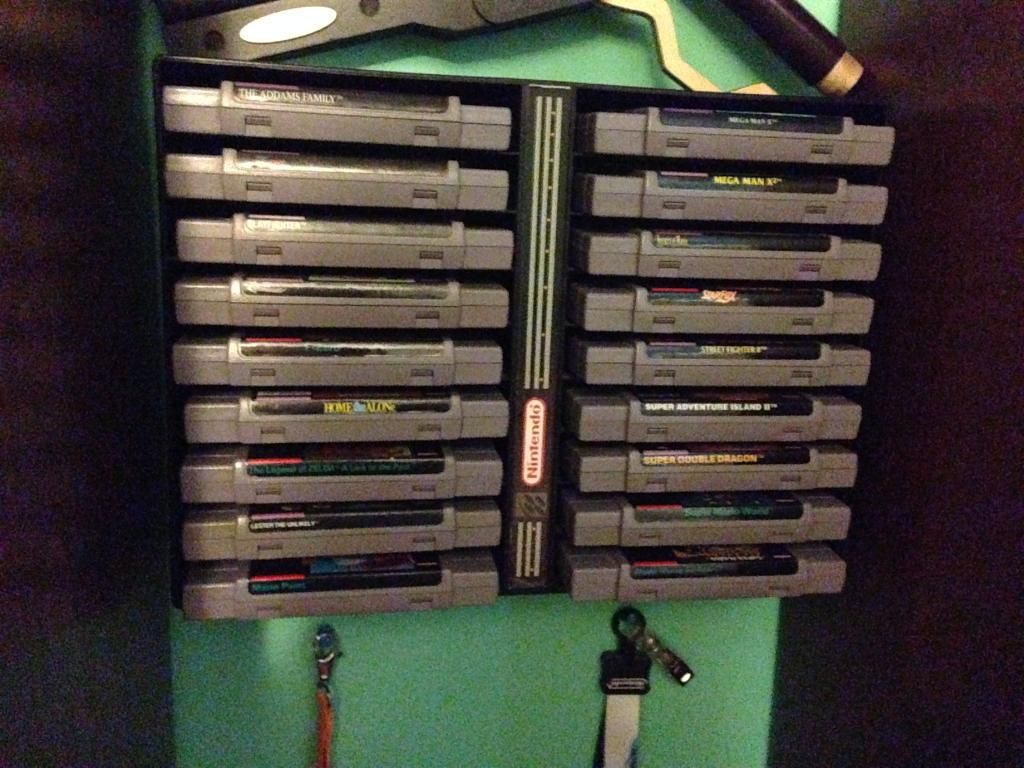 Picture of my SNES games, a majority of them are my original ones (like Secret of Mana, Starfox, Mega Man X for example)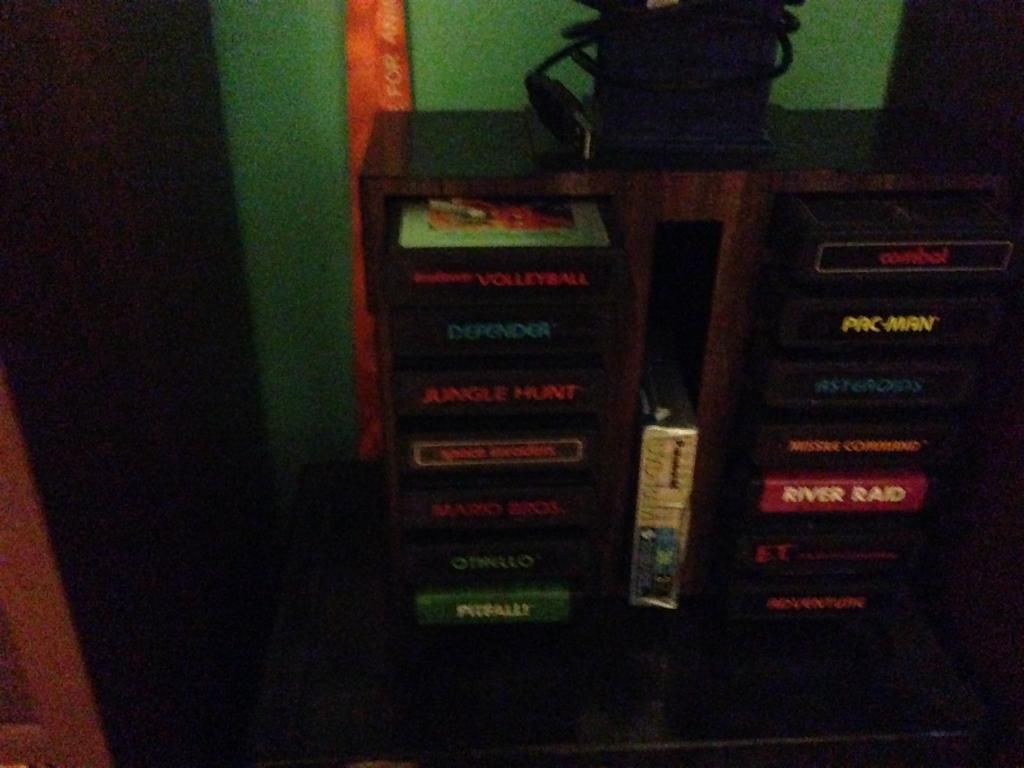 My Atari 2600 games. I haven't really decided where to put these yet since I got them last week. The case that it is sitting on is just old home movies my dad wants me to capture onto my PC.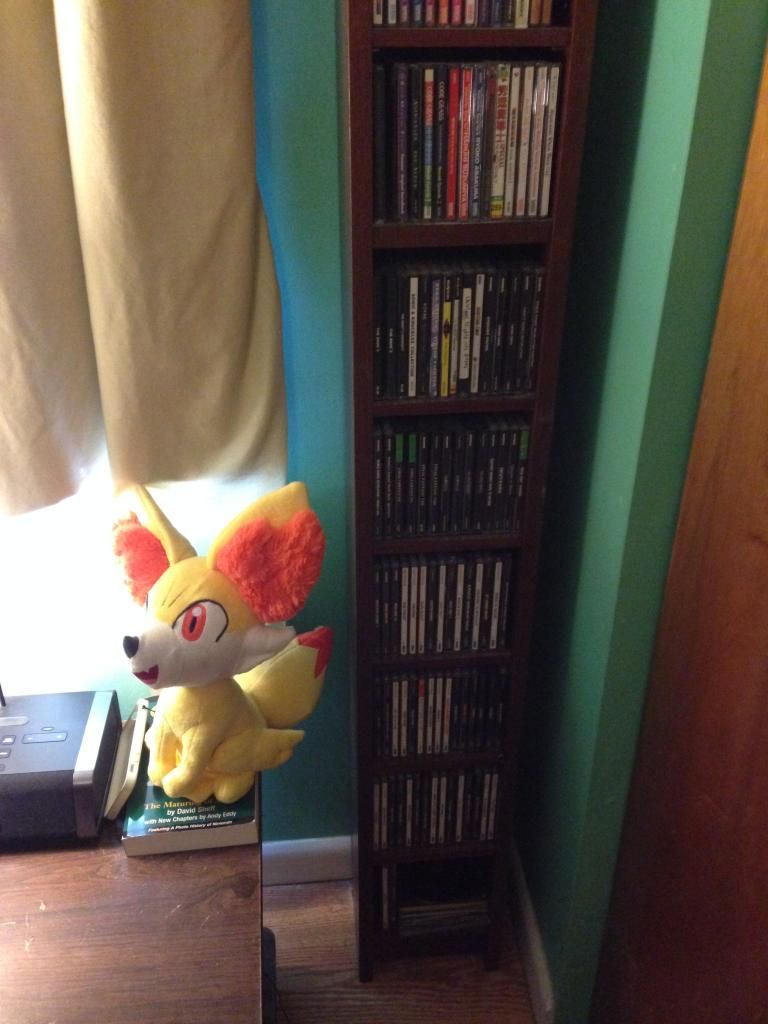 This is where I keep my jewel case games (PS1, Dreamcast, JP Sega Saturn). I'll show off them a bit better in the future once I get a better camera to use.
This is where I keep most of my portable systems (with the exception of my PSP, my sister was using at the time).
Just a picture of where I keep most of my controllers. I have my dresser in the closet so I have on section of nothing but controllers and what not.
I will most likely do an updated list of my games in the future once finals are done with at college and also get better pictures with a real camera than just on my phone.