Having moved into a new apartment with my girlfriend, I've finally been able to build the game room I've always envisioned. Compared to a lot, I don't have a huge collection, but what I do have, I'm pretty proud of. Most of it I've had since I was younger, and I'm glad I had the smarts to hold onto it. If I had to play favorites, the few things I'm most fond of would be my Super Nintendo Collection, my Final Fantasy Collection (I own almost all of them), my Nintendo Power magazines, and a couple of the posters (Zidane and Ocarina of Time).
(3/19 UPDATE)
I decided to reshoot most of my collection since I've accumulated a bunch of new games since the last time I took photos. Updated pics are below. Notable additions include:
-Harvest Moon (SNES)
-Super Ghouls N' Ghosts (SNES)
-The 7th Saga (SNES)
-Mario Party (N64)
-Banjo-Kazooie (N64)
-Perfect Dark (N64)
-Starfox Adventures (GCN)
-F-Zero GX (GCN)
-Wario Ware: Smooth Moves (Wii)
-Pokemon X (3DS)
-Streets of Rage (Genesis)
-Earthworm Jim (Genesis)
-Ecco the Dolphin (Genesis)
-Soul Reaver (Dreamcast)
Previous Updates
FULL ALBUM
w/ larger images
--------------------------------
Game Room Main Wall
Consoles
Nintendo Wii, Gamecube, N64, SNES, NES, Sega Genesis, PS2, PS3, and Xbox 360 all hooked up via an A/V switcher.
Handhelds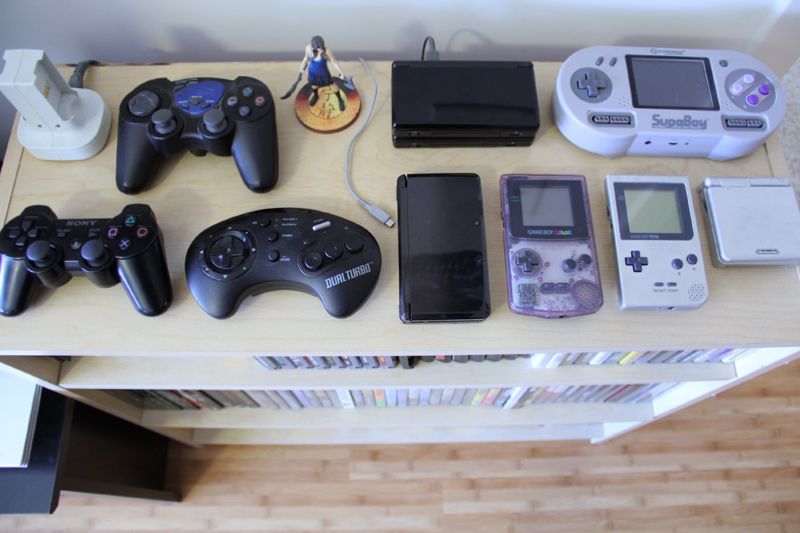 Nintendo 3DS, Nintendo DS (x2), Hyperkin Supaboy, Gameboy Color, Gameboy Pocket, and Gameboy Advance SP
Media
Nintendo Games
PlayStation Games
Xbox Games
Sega Games
Handheld Games
Controllers, Magazines, and Manuals
Desk / Home Office
PC
PC Games
PC Manuals / Guides: