So I am buying a house. Originally I was going to turn this Den area in the back of the house into a game room, but a little problem arose. I inheritted a LARGE amount of antiques and have no where to put them... except this den.
So I changed it up. I am now going to convert the garage into a game room. I will be carpeting it, putting AC out there, building a bar and buying a kegerator, Billiards table and small air hockey table....
I was then discussing this last night with my girlfriend and her eyes went wide eye because I didn't say arcade machine. She asked if I would get a Pac Man machine or Tetris because she loves those two games (she isn't much of a gamer).
Due to the amount of money that these boxes usually go for I told her I would build a MAME box out there that looked like an arcade machine. The dilemna is what style arcade machine!?
She likes the little horizontal table ones that two people can sit across from eachother of. I don't like how uncomfortable the controls are on it though... something similar to this one in this pic.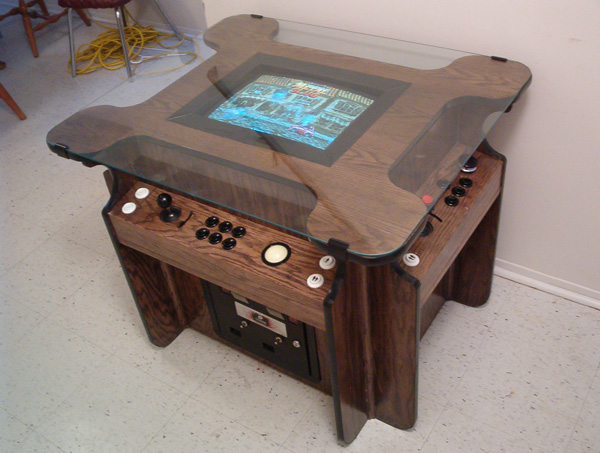 I like the standup units. But she hates having to stand at it as that is uncomfortable and she has to stand at work all day long already. (I sit at my office job).
What do you think I should get?
My cousin who lives with me is a carpenter and can build just about anything... so the ability to build it isn't the problem.