I guess it's time for the first item to be officially sold by me on Racketboy
Complete, Mint, Sealed, Star Wars 2005 Pin Set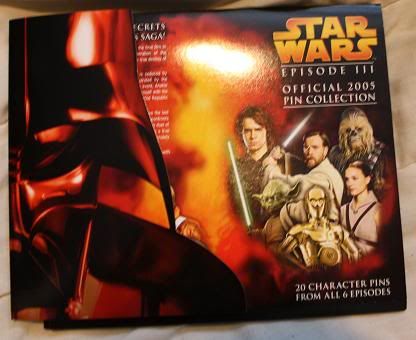 As the title suggests, I am selling a complete, mint, never opened Star Wars Pin Set collection from 2005. I had a very hard time finding any actual information online about it to use as a reference when trying to explain it to people, so I will do my best to give a brief description and the background on the item.
I live in Canada and the pin set was on sale only through a promotion in the news paper here. Every day in the Free Press there would be a coupon for a specific pin, and you had to cut it out and either take it to the Free Press Building or mail it in (if I remember correctly) and there was a new pin every day for 20 days.
I had a connection with someone in the advertising department at the time so they got a chance to buy the entire pin collection all at the same time, before it went on sale to to public. It was awesome because I got all the pins upfront and I didn't have to worry about collecting each individual pin over the course of 20 days.
It came with a promotional poster showing off all the pins that were available and a booklet you are supposed to keep the pins in with a brief description of the associated characters. The poster is still flat and only has one tiny wrinkle in it (its even hard to notice and I am sure it could be flattened out easily), the booklet is completely untouched and the pins are all individually sealed, inside another bag that is also sealed.
Normally I am not the type to buy something and keep it completely mint and unused, but I really had no idea how to properly display and take care of the entire collection so I just left it the way I got it for six years. I completely forgot I even owned it until I was going through my storage case and I came across it again.
I am also not trying to be like every other idiot on eBay and adding taglines like "RARE COMPLETE MINT" etc to my item just to make it seem more valuable, I am the original owner and I had it stored in a cabinet since the day I bought it. There is no damage, sun fading or even a fingerprint on the pins themselves.
I was a huge Star Wars fan growing up and I still like it, but I am no where near as into it as I used to be. Also Episodes 1-3 really didn't help my relationship with Star Wars but I am sure that I am not the only person who feels that way, and that is another issue altogether.
I don't have a set price in mind so feel free to offer. I am only really selling it because I am currently laid off (starting a new job this month though, thankfully) and I need some more expendable cash to throw around. I am very open to the idea of a trade because I would probably just spend most of the money from this on games anyways. Refer to my WTB list below for ideas of what I am interested in.
Other pictures:
http://i1103.photobucket.com/albums/g46 ... G_0747.jpg
http://i1103.photobucket.com/albums/g46 ... G_0748.jpg
http://i1103.photobucket.com/albums/g46 ... G_0750.jpg
http://i1103.photobucket.com/albums/g46 ... G_0751.jpg
http://i1103.photobucket.com/albums/g46 ... G_0752.jpg
http://i1103.photobucket.com/albums/g46 ... G_0753.jpg
http://i1103.photobucket.com/albums/g46 ... G_0754.jpg
I live in Canada and I have +3 positive ratings for transactions. I have only bought two different times so far on here but it was a couple hundred dollars worth of stuff both times.
Let me end this thread with a picture of my cat Goldie next to my poor old discoloured Super Nintendo. For some reason she likes hanging out next to it, smart cat I guess.