Rayman Origins - 2D Gameplay on the Wii
A return of the 2D platformer Rayman. Thanks to the popularity of cell phone "Flash" 2D gaming, games with Retro roots are available on the current consoles. Instead of the latest 3D maneuver with camera control, Rayman Origins takes the simpler 2D approach and throws in surprises at every level. There are elements in the game that play homage to older games, renewed for a newer audience.
What I really like is the way the game reels you in just like the original NES
Super Mario Bros
. Even when there is a spot where you miss a jump, I can really see the addiction trying again, learning the obstacle. In failing, a pleasant anticipation to take and win that roller coaster ride again. Think of gameplay of a great platformer and throw in every weird cartoon from Ren and Stimpy or other strange Adult Swim cartoons and you get the idea.
Control
The key to a great game is how tight the controls are. Wii Rayman Origins offers multiple ways to play. An Arcade stick can also be used.
Wii Remote Turned Sideways
DPad - Movement
B Button - Hold to Sprint
1 Button - Punch, Hold for Power Attack
2 Button - Jump, Hold to Fly
Nunchuck Attached
Control Stick - Movement
Z Button - Hold to Sprint
B Button - Punch, Hold for Power Attack
A Button - Jump, Hold to Fly
Classic Controller
Left Analog Stick - Movement
ZR Button - Hold to Sprint
Y Button - Punch, Hold for Power Attack
B Button - Jump, Hold to Fly
Tatsunko Capcom Fight Stick
Arcade Stick - Movement
R or ZR Button - Hold to Sprint
A Button - Punch, Hold for Power Attack
B Button - Jump, Hold to Fly
The Wii Remote turned sideways gives a great rendition of playing the game as the NES GamePad just like the original
Super Mario Bros
. I prefer the Arcade stick, hitting the buttons to make the jumps and punching. Just like playing an Arcade Cab, I'm finding myself slapping the button one more time after missing a jump.
Jibberish Jungle
Jungle themed levels, here is where you obtain the attack skill. Get you feet wet literally learning the platformer skills, riding water falls and jumping at vines, cliffs and the helping hands of Swingmen.
Desert of Dijiridoos
Musical themed levels, learn how to glide in this set of levels. A fun level, bounce off Drums, climb Didgeridoo and jump on birds balancing on musical scales. Stay too long on the bird beak and they drop down the note scale. Subtle elements such as the piano key sounds as Rayman runs on the ivory really add to the game. The musical wind instruments provide the air to help Rayman glide over the enemies.
In some levels you ride a segmented Didgeridoo. Now where did I see riding a snake in an old Arcade? It is the dragon in the SHMUP
Syvalion
! I am loving how Rayman Origins brings back obscure forms of game play to rediscover!
Gourmand Land
Food themed levels, gain the ability to shrink to go thru narrow passages. On one level, there are ice blocks to break thru. Very satisfying crashing thru a whole row of ice blocks
Mr Driller
style. Be careful when digging under large food cans. Reminiscent of
Dig Dug
or
Rockford
, a large can might drop and crush Rayman. When dispatching an enemy, they inflated and slowly float harmlessly away. Very satisfying to jump up and popping the bubble. Be sure to rescue Betilla and her sisters in each set of levels. They will grant a power up when freed.
Sea of Serendipity
Gain swimming skills and dive into the deep blue sea. I see inspiration from Sega Genesis
Ecco the Dolphin
in the water levels. Swim in the ocean around sea life and caverns. Avoid any sea creatures with spikes, a gentle touch is needed at times to get pass the glowing "Jellyfish" eels. In deeper caverns, stay with lighted sea creatures to avoid getting grabbed by giant claws.
Mystical Pique
Mountain levels, learn running up the side of a hill power. Think of Hot Wheels or Sonic running the loops. The opening level
Moseying the Mountain
is very difficult, a chase to rescue the Nymph.
Beat the Mountain
As you progress thru the inner mountain, run upside down at times to avoid spikes. Sometimes you run on a large wheel like a lumberjack on a floating log, leaping at the last minute. Other times after running the loop, leap out and catch a monkeys tail.
SHMUP Levels
The final Boss Battle of each world are side scrolling Flying Moskito Shootem Up levels. Ride a mosquito and shoot spitballs bullets at the enemy. The mosquito has an inspired
Kirby
capability of sucking in an enemy or missile which in turn can be used as a missile spitball to kill a row of targets. This works great in killing bosses such as the
Angry Bird
look alike Mocking Bird Boss. Oh, this is so much fun making the fat yellow bird squawk!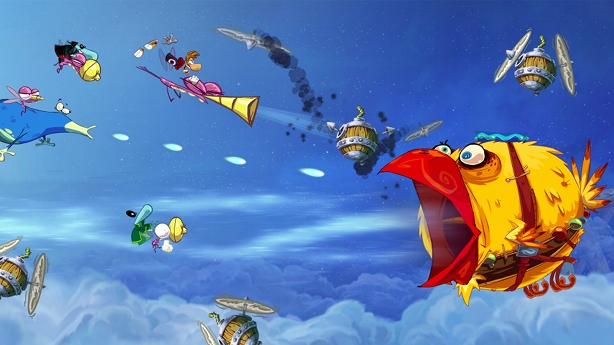 Replay Value
YES! The levels are so much fun, addicting and such a wide variety. I have not completed the game and already replaying levels. Going back to the first SHMUP Moskito level, the large Bird Boss is a blast to kill.
A level is over when won and the fat lady sings. Now go back in and beat your score.
Multi-Player
Up to four players on the screen at once slapping enemies or each other silly. I really need to drag some friends over and try this out. I can see this being the most addicting part of the game.
Collectors Edition
There is a Collectors Edition, but only for the 360 and PS3 in the Europe market. Includes a 50 page Hardcover Art Book, Soundtrack, Cardboard Foldout and Collectors Edition packaging.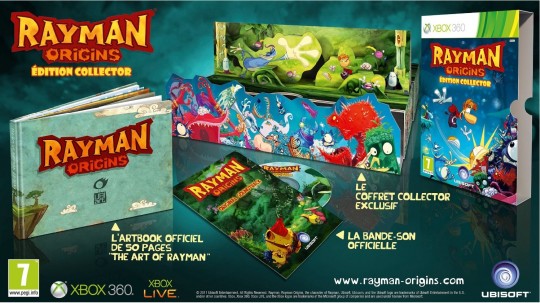 Editorial Comment


Rayman Origins is normally the type of game that would be a Download purchase. Ubisoft took a chance and packaged the game as a retail disc which has not sold as well as expected. Both ToysRUs and Gamestop have reduced the price of the once priced at $69.99 game to $19.99 to reduce inventory. This is fortunate for anyone buying the game now, but unfortunate this type of game Genre may be destined to remain just a download.
MATTHEW STEWART of Gameranx wrote:As many of you probably already know from first-hand experience, Rayman Origins will be passed over by most, which is understandable. So, if you haven't followed Rayman Origins closely, allow me the pleasure of informing you – this game is no less inspired, relevant, and downright fun than Super Mario World was during its heyday. However, unlike Mario, Origins is the antithesis of what sells in its era. It's a light, cute and endearing 2D platformer, standing in sharp contrast to the violent, gritty, realistic games comprising the majority of any retailer's shelves.

But don't mistake this game for a dinosaur. In every way possible, Rayman Origins carries the torch of its ancestors into the modern era, reminding those of us in our 20s and 30s why we fell in love with series like Super Mario Brothers, Sonic, and Earthworm Jim.

Rayman Origins is a brilliant statement at the end of a long-lost, all but dead genre. Its prose, constructed by Michel Ancel and Ubisoft, tells its audience about a type of game that was to the 16-bit era as the FPS is to today's consoles.
Why Rayman does not have Arms or Legs
Rayman PC wrote:

Appearance

Rayman was originally designed to simply be an athletic character and to have a full body, but because it could not be fully rendered even on games consoles in the mid-90s, he was left without arms, legs and a neck – his hands, feet and head float around his body. The Manual of Rayman Origins gives out a new explanation for Rayman's limblessness: the lack of Lums had the consequence of preventing the creation of his limbs.
References


http://raymanpc.com/wiki/en/Rayman_Origins
http://www.gameranx.com/updates/id/3942 ... nx-review/
http://www.gamezone.com/reviews/rayman-origins-review
http://www.g4tv.com/thefeed/blog/post/7 ... n-origins/

Like platformers? Another gem,

Kim Possible on the PS2