More gruesome goodies from beyond the pale:
24. The Witch (2015)
People in America can get crazy religious sometimes, and that's what happens here. Yes, their fears are justified, there really is a witch in the woods, but this is more about paranoia setting in and a family falling apart as tragedy besets them all, ultimately getting everybody killed and turning one person towards Satan. Or as I like to think of it, it's a movie about Dave's childhood. What? He had freaky religious parents and is now an atheist. It totally works.
What works here is the combination of how isolated the setting feels, the near constant New England gloom that pervades everything, and the hardbitten frontier live of exiles doomed to die by a town council who is freaked out about just how religious they are. That's a good way to proclaim just how religious these people are: freaking Puritans think they're too much. Anyway, the family tries to scrape out a meager existence on a farm, but a couple of little lies start to generate mistrust, and then the youngest baby goes missing while the oldest daughter is watching her, and instead of banding together, everyone turns on each other in an instant. Also, there's a hint of incest and most definitely a witch nearby.
Look, you want a piece of advice? If your freaking kids start talking to a black goat, kill the damn goat. No good things come from goats. I know, I've played
Goat Simulator
.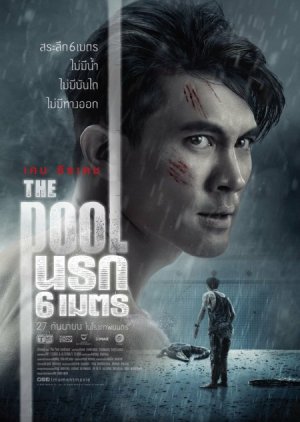 25. The Pool (2018)
Ok, so here's the premise: a guy gets trapped in an empty swimming pool, and there's a crocodile in there with him. That's it. That's the movie. Why doesn't he climb out? There isn't a ladder in this pool, and it's six meters deep. Why isn't anyone around? Because the pool is being abandoned, and while his girlfriend finds him, she's too dumb to notice the water is draining and knocks herself out trying to jump in. What else could go wrong? The guy is diabetic. And he gets trapped in that pool. For seven days. With the crocodile.
Look, just stop thinking about how dumb this is and instead focus on how this Thai movie is all about things going from bad to worse. It's basically about people thinking "Oh, it can't get worse," and then it does. For example, a fence gets down nearby because it's monsoon season. But the fence is barb wire. The main character tries to climb, but the fence is falling in, so he's not only cutting himself up, he's also not making progress. And then the fence gives, and he falls and breaks his leg. And then the crocodile mauls him a little, because why the hell not?
There is something both fascinating in watching the drive for survival as well as perverse in seeing just how bad things can get. You will have to get past the fact that this is the most unlikely scenario one could possibly think of, but if you like seeing folks hit rock bottom only to discover they can go deeper, here you go.
Also, I'm gonna give you a spoiler about the ending: he gets out by using an animal corpse for a ladder. And it's not the crocodile.
This movie...
26. The Gorgon (1964)
We were talking about Hammer films, and hey, several came on TCM. I hadn't seen this one before, so I decided to check it out. It features an interesting turn where Peter Cushing is a villain while Christopher Lee is a good guy, along with a non-traditional horror film monster: a honest to goodness, snake haired Gorgon who turns people to stone by looking at her and happens to possess the soul of a young woman whom a bunch of dudes seem to fall in love with.
Unfortunately, this is nowhere near Hammer's best. It lacks both the quality of the early works and the exploitative elements of the later years. Instead, it just kind of sits as a dud, one that doesn't make a lot of sense but still plays a bit with mythology in an atypical way. The shining light here is Christopher Lee as this goofy professor who repeatedly bests the local constabulary as well as every other villain that arrives.
They can't all be winners, but it's fun sometimes to dive into the forgotten Hammer stuff too.
27. The Texas Chainsaw Massacre Part 2 (1986)
There comes a time in every man's life where he asks himself, "What the hell am I watching?" That time is now.
So after the original
The Texas Chainsaw Massacre
, Leatherface and the family apparently set up shop in a run down amusement park near Dallas, open up a catering company, kill people for meat, and goof off a lot. Then Dennis Hopper shows up, having gone crazy over his family members dying in the first film. Also, a radio DJ overhears a chainsaw murder in a phone call, so she gets involved and plays the tape on air. Next thing you know, she's running around the amusement park screaming a lot while Hopper has a screaming chainsaw match with Leatherface, and the rest of the family just acts weird. It ends with the DJ, Stretch, doing her impersonation of Leatherface at the end of the first film while standing on top of the amusement park, the flag of Texas proudly flying above her in the wind.
What's to love about this movie? It's freaking ridiculous. My favorite character is probably the absurdly disgusting Vietnam vet who likes to eat bits of his own dead skin off a coat hanger, Chop Top. He's so ludicrously bizarre and hideous that he makes Leatherface seem like a pretty regular guy by comparison. Also, apparently a big chunk of the film was cut in which there was supposed to be a massive massacre in a movie theater, including a cameo by Joe Bob Briggs, but none of this made it into the final product.
What did make it? They skin a guy and make Stretch wear his face while dancing with Leatherface, one guy gets a chainsaw sodomy and then complains about the small business owner taking up the ass, and Dennis Hopper screams and sings while chopping things up with a chainsaw. This may be the greatest depiction of Texas I have ever seen.