Last day of the sale is Monday, December 1st 2014.
A bump heads up, the sale is on again! 50% off Criterion and Arthouse titles, I'm going nuts again. So many great films; Ooooh, my wife is going to kill me!
9

$14.99

$7.49
A Tim Burton animated film, another adventure in a dark mysterious world nice animation!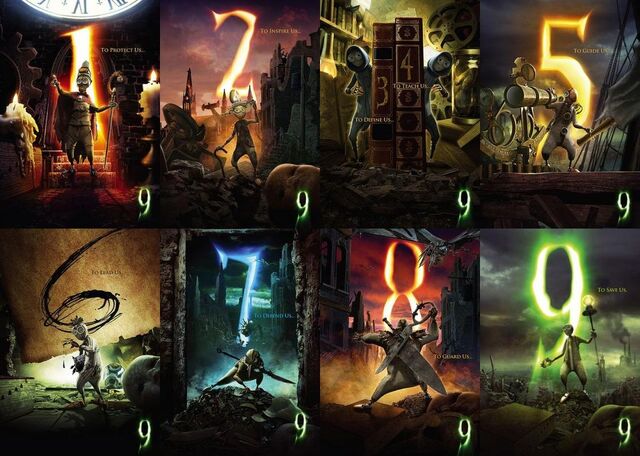 The Beatles Hard Days Night

$19.99

$9.49
Movie showing the early days of the Beatles. Put together with Music Videos decades before MTV debuted.
Charlie Chaplin City Lights

$39.99

$19.49
A duel DVD and BluRay two disc package. The nice thing about Criterion that I wish all studios would do is that
ALL extra footage is on both disc formats
. Charles Chaplin is famous for the comedy, there are also great moments when you will cry while smiling. The ending in this movie very powerful.
Charlie Chaplin Modern Times

$29.99

$14.49
I had not watched this movie before, having focused on
The Kid
,
Gold Rush
,
City Lights
and many of the
Mutual Shorts
. A nice price to see a "new" classic movie!
Les Misérables

$14.99

$4.99
I was planning to buy the BluRay and DVD combo pack, but only five bucks for the DVD! Hugh Jackman has been interviewed in the past on how he sang all his own parts. Personally, I think Russell Crowe is the one that shines, wow the baritone voice. Very well done musical with suburb effects that has been stated to set a new standard for musicals. This really wants me to experience the other editions.
Neil Lumbard wrote:

http://www.dvdtalk.com/reviews/60040/les-misrables/

Les Misérables is a great movie musical. I don't think it encapsulates everything I cherish about Victor Hugo's novel (which remains my favorite novel), but it does manage to excel as an interesting adaptation with its own unique merits. The performances and singing blend together perfectly. The fact that the film was made with live signing is incredible. The casting was strong. This may not be a definitive version of Les Misérables when comparing it to Hugo's novel, but it's certainly something that can qualify as a definitive spectacle as Les Misérables: The Musical. This is ambitious film making and one of the finest efforts of 2012.
The Killing

$29.99

$14.49
Ah, an older Stanley Kubrick flick this is as Film Noir as you can get. There are actually two movies on the discs. Includes
Killer Kiss
, another Kubrick movie that I never heard of. I have the MGM version of The Killing which has its own exclusive four page insert, a great story with fast pacing told Dragnet style. Speaking of Dragnet, still waiting for the Jack Webb movie
The D.I.
to be pressed by Criterion.
My Darling Clementine

$29.99

$14.49
My favorite Western film of the era would be
Winchester 73
with James Stewart. This John Ford film also well done and is heralded as one of his best. A different take on the OK Corral shootout which includes Henry Fonda and Walter Brennan.
Color photo from the black and white film
The Men Who Built America

$19.99

$9.49
I love history and the History Channel when they are not doing reality shows. This documentary is a great presentation on the early industrial age of America, a fascinating period. Many perceive Microsoft as ruthless in dominating the PC market; take a look at Rockefeller, Westinghouse, Vanderbilt, Carnegie and J.P. Morgan hostile takeovers. Henry Ford was amazing in his day, the Model T as fragile as it looked had to handle dirt trails before roads were built.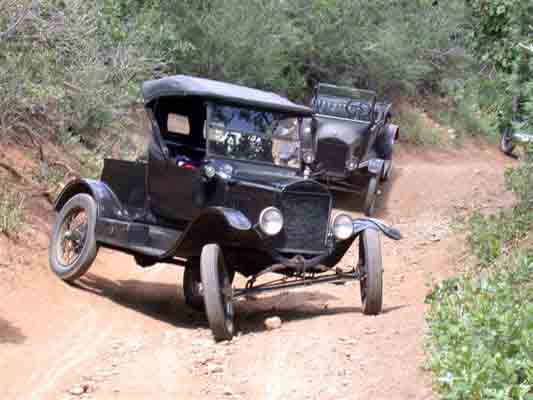 Its a Mad Mad Mad World

$49.99

$24.49
Already own the Laser Disc and MGM DVD releases, this is my 3rd purchase of this movie. Well worth it for the story and the huge cast of famous comedians from the 60s, even the 3 Stooges and Buster Keaton have cameo roles. Criterion offers two versions of the movie in BOTH the BlueRay and DVD discs. There is a huge amount of extras as well as exclusive extended footage of the movie with a total runtime of 3 hours 22 minutes.
Look for the inspired remake
Rat Race
which is also quite funny.
Gary W. Tooze wrote:

http://www.dvdbeaver.com/film3/blu-ray_ ... lu-ray.htm

EXTRAS:

• Something a Little Less Serious: A Tribute to It's a Mad Mad Mad Mad World (1:01:21 4:3 in 480i)

• Extended Scenes (59:16 in 480i)

• Trailer (3:27 in 1080P)

• Reissue Trailer (3:21 in 1080P)

• New audio commentary featuring It's a Mad, Mad, Mad, Mad World aficionados Mark Evanier, Michael Schlesinger, and Paul Scrabo

• New documentary on the film's visual and sound effects, featuring interviews with visual-effects specialist Craig Barron and sound designer Ben Burtt (36:28)

• Excerpt from a 1974 talk show hosted by director Stanley Kramer and featuring Mad World actors Sid Caesar, Buddy Hackett, and Jonathan Winters (36:46)

• Press interview from 1963 featuring Kramer and cast members (35:08)

• Excerpts about the influence of the film from the 2000 AFI program 100 Years . . . 100 Laughs (11:10)

• Two-part 1963 episode of the TV program Telescope that follows the film's press junket and premiere ('A Winters Tale' 24:56 + Part 2 - 'A Junket Into Madness' - 25:22)

• The Last 70mm Film Festival, a 2012 program featuring Mad World cast and crew, hosted by actor Billy Crystal (37:38)

• Selection of humorist and voice-over artist Stan Freberg's original TV and radio ads for the film, with a new introduction by Freberg

• Restoration Demonstration (5:20)

• Trailers and radio spots from both 1963 and 1970 re-release

• Two Blu-rays and three DVDs, with

all content available in both formats

• PLUS: A booklet featuring an essay by film critic Lou Lumenick and new illustrations by legendary cartoonist Jack Davis, along with a map of the shooting locations by artist Dave Woodman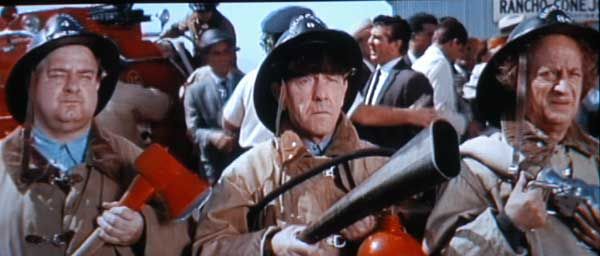 Right Click for a larger view
Avoid BluRay for 4:3 movies to prevent a 1:1 squeeze; see the OP.